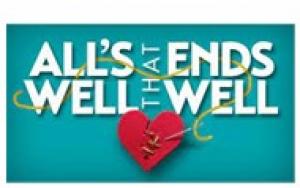 **** Highly Recommended **** There are so many good things to say about Chicago Shakespeare Theatre's production of All's Well That Ends Well, it's hard to decide where to start.  It is so well written it might just be Shakespeare's best, although it was never staged during his lifetime.  The characters have more depth, the women's roles are stronger, and it appeals to our 21st century selves.  Kudos to Director Shana Cooper who has assembled a stellar cast.  The CST production will keep you spellbound until the end.  4 BIG Spotlights
A note or two: All's Well That Ends Well, written in 1603-04, had its first production in 1741!  It is considered difficult to categorize and rarely produced, a problem play if you will.  Interestingly enough, the only reason even exists today is because it was included in the First Folio which was compiled in 1623 after his death by fellow actors John Heminge and Henry Condell.  At any rate, I think that All's Well That Ends Well is really appropriate today, since it's about people who will do anything to get what they want. 
A young woman named Helen (Alejandra Escalante) is at the center of this play.  She has lived with the widowed Countess of Rossillion (Ora Jones), the former Count's physician.  She's suffering from a bad case of unrequited love for Bertram (Dante Jemmott), the new Count.  I'm not sure what Helen sees in Bertram, who pats her on the shoulder in passing, like he would a pet. 
Since Bertram is off to Court, Helen is determined to follow him – and she has a plan!  She's found a recipe among her father's papers that she's sure will cure the King of France (Francis Guinan) who is very ill.  After the Countess assures Helen of her love, she welcomes her as a future daughter-in-law, and sends her off to Court. 
When Helen finally gets an audience with the King, he's skeptical of her claim, but eventually decides to let her try.  To the amazement of everyone, it worked!  Grateful, the King asks Helen what he can do to thank her.  She tells him she wants Bertram. 
When the King orders Bertram to marry Helen, he is furious, going so far as to yell at the King.  He feels trapped, but eventually he gives in, and they marry.  After the wedding, witnessed by the King, he vows he'll never bed her and runs off to join the army.  His conniving, cowardly flunky, Parolies (Mark Bedard), grabs a drum and goes along.  Helen, unable to take no for an answer, follow him to Italy. 
In Florence, Bertram and Parolies (with his drum) join the army.  The Duchess of Florence (Christiana Clark) is in command.  More kudos here to Director Shana Cooper for her 'drill team' dance moves.  It made watching an army drill enjoyable. 
Back home, Lavatch (Elizabeth Ledo), tries to cheer up the Countess with her clowning around.  As they grow closer, trust builds until the Countess sends Lavatch on a mission.
The women of Florence are playful and flirtatious, as illustrated by their introductory dance moves, leading Bertram to fall in lust with Diana Capilet (Emma Ladji).  When Helen meets Diana, she notices that she is wearing the ring she gave Bertram for their wedding, a ring that the King gave her.  After she explains who she is, the ladies plot Bertram's downfall. 
NOTE: Audience members must show proof of Vaccination (or Negative COVID-Test), either on a smartphone or a physical copy with current Photo ID.  Guests must wear a mask at all times during their visit. 
All's Well That Ends Well runs through May 29th in the Courtyard Theatre at Chicago Shakespeare Theatre on Navy Pier, Chicago.  Parking in CST's designated area in the Navy Pier Garage is available at a 40% discount with validation from CST.  Running time is 2 hours, 20 minutes, including an intermission. 
Performances are Wednesdays at 1:00 & 7:30 pm; Thursdays & Fridays at 7:30 pm; Saturdays at 3:00 & 8:00 pm; Sundays at 2:00 pm with additional performances on Tuesdays, May 17th & 24th at 7:30 pm. 
Accessible performances: Open-captioned, Wednesday, May 18th at 1:00 and & 7:30 pm; ASL Duo-interpreted, Friday, May 20th at 7:30 pm; Audio-described, Sunday, May 22nd at 2:00 pm. 
Tickets range from $49-$90.  FYI (312) 595-5600 or www.chicagoshakes.com/qchristmas.