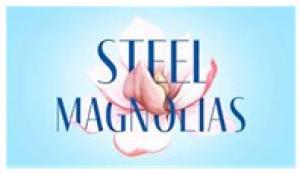 **** Highly Recommended ****  Drury Lane's production of Steel Magnolias is an emotional roller coaster, heartwarming humorous ups followed by heart-wrenching downs.  In case you're thinking you've seen Steel Magnolias before, so I can skip this one, I have one word for you – don't!  The cast is magnificent.  In fact, I can't imagine anyone else in any of these parts.  They made me laugh and made me cry.   Kudos to Johanna McKenzie Miller, the cast and the all-female production crew for an outstanding job!  4 BIG Spotlights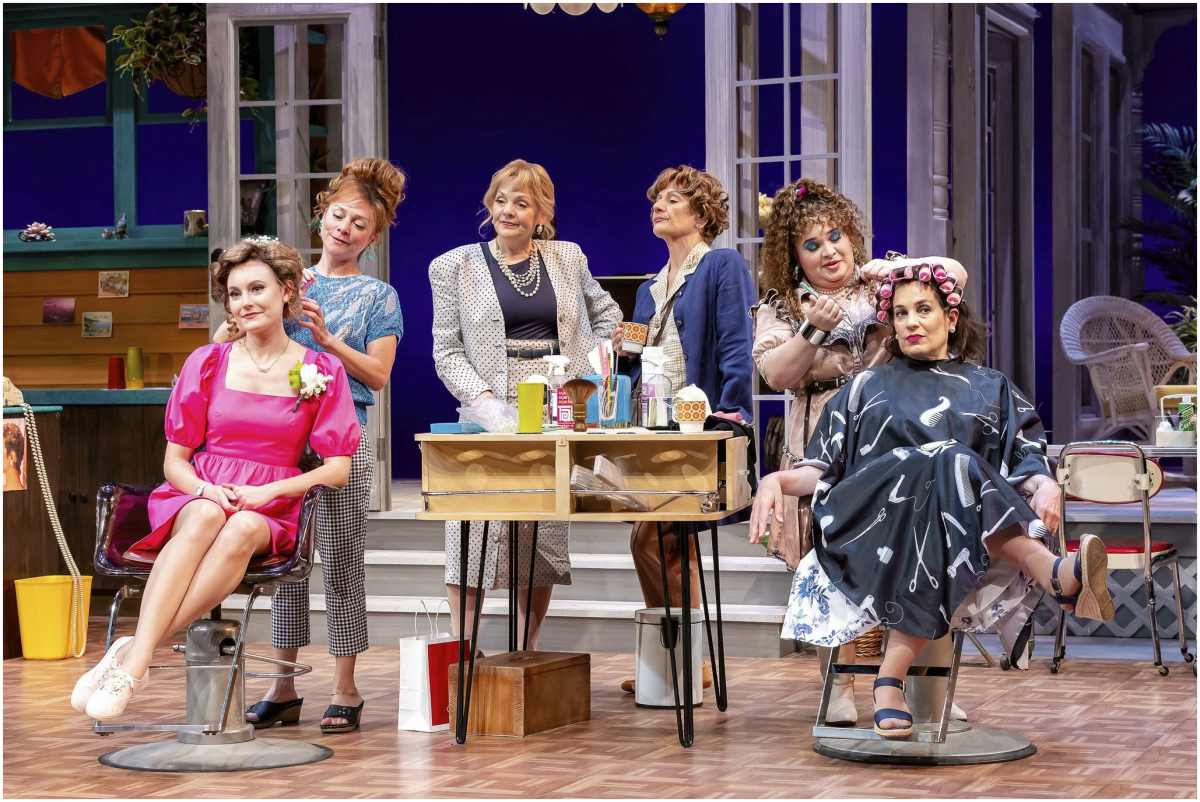 Playwright Robert Harling based "Steel Magnolias", which opened off-Broadway in 1987, on his experiences when his sister passed away.  His title refers to Southern women, who seem to be as delicate as magnolias, but actually are tough as steel. 
The smash-hit 1989 movie starring Julia Roberts, Sally Fields, Dolly Parton, Shirley MacLaine Daryl Hannah, Olympia Dukakis and Shirley MacLaine remains one of my favorite films. 
For those few people who have never seen "Steel Magnolias", the story is divided into four parts – Shelby's wedding, Shelby's pregnancy, Shelby's kidney transplant and the poignant final scene.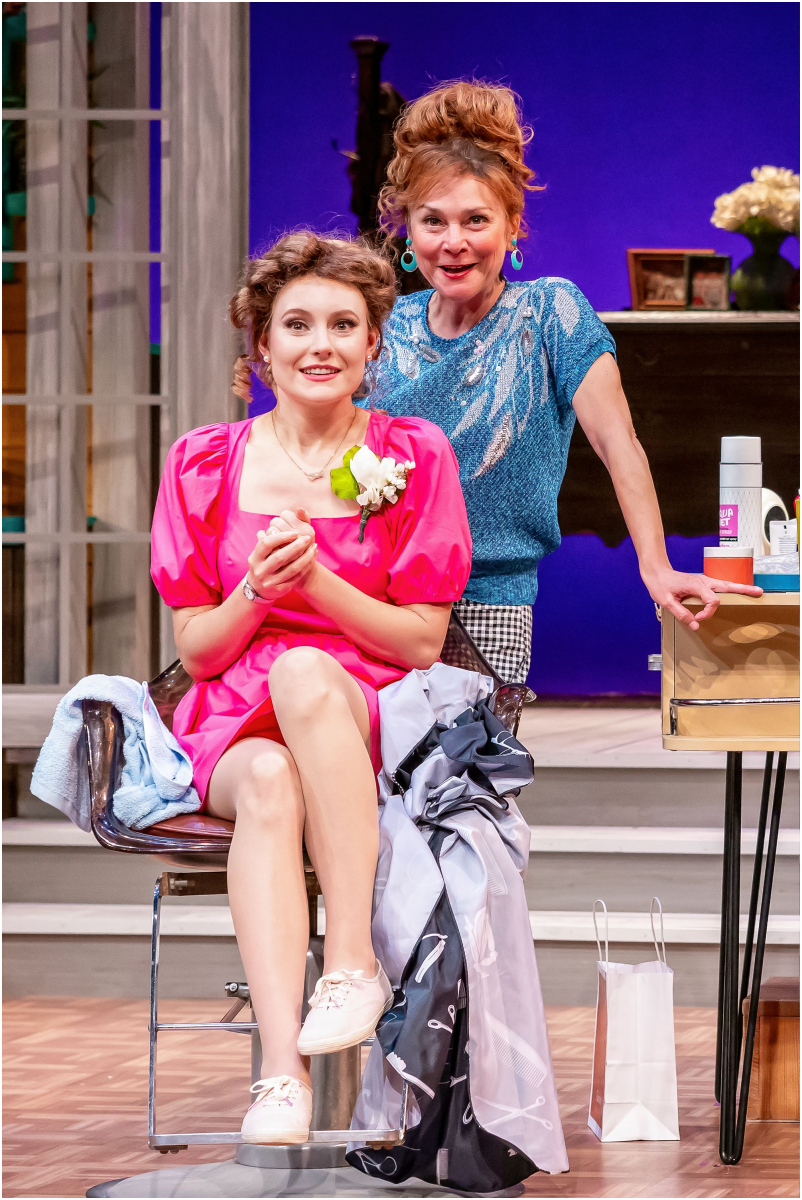 One Saturday morning, Truvy (Elizabeth Ledo), owner of the best beauty shop in Chinquapin Parish, Louisiana, praises her new employee, Annelle (Lillian Castillo), for her deft touch with hair.  As Annelle rushes around getting the shop ready for Saturday customers, Truvy tells her not to rush, the shop will be closed this morning to everyone except her regulars, Claree (Susie McMonagle), Ouiser (Janet Ulrich Brooks) and M'Lynn (Amy J. Carle) because M'Lynn's daughter Shelby is getting married today.
Shelby (Cordelia Dewdney) has definite ideas about her wedding.  Her signature color is pink, so of course her wedding colors are two complementary shades of pink.  She wants to wear her hair up, with a baby's breath band, but her mother hates that idea.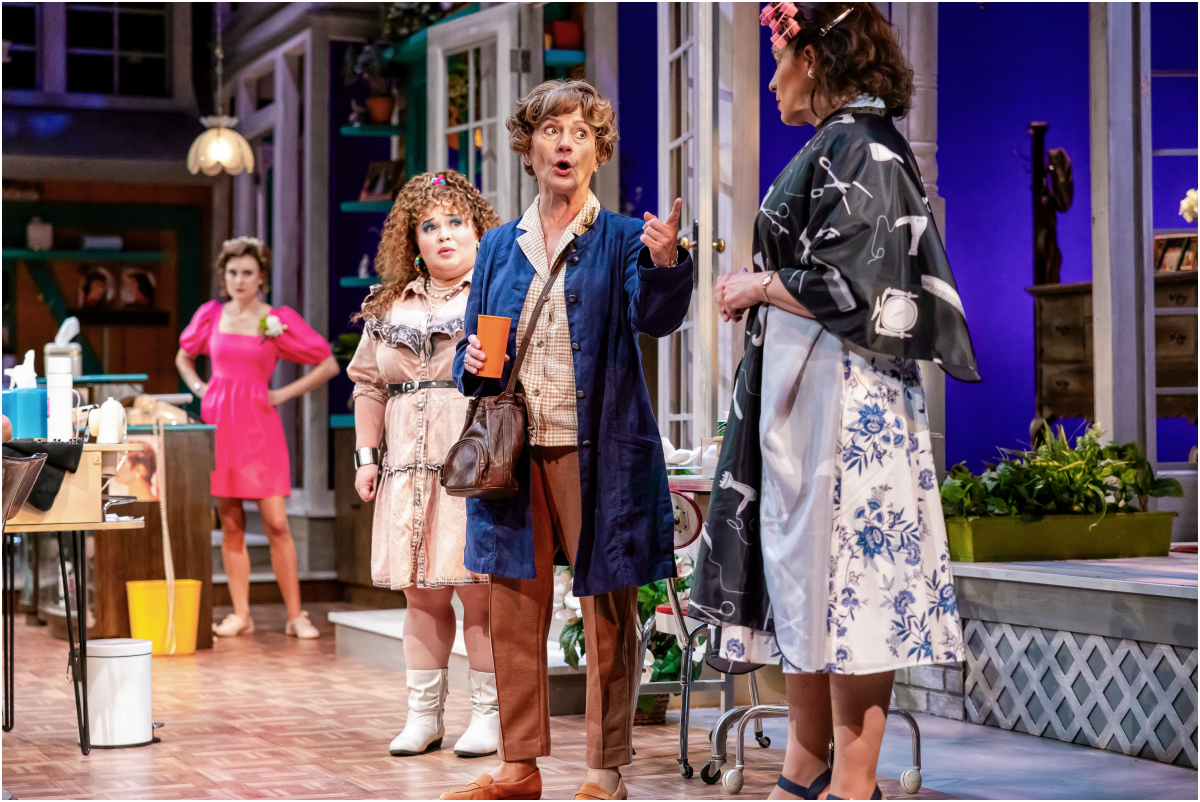 Although the story is wrapped around Shelby, the other ladies are real people too.  M'Lynn seems like an over protective mother hovering over her daughter – and she is, especially when Shelby lets her diabetes get out of control – but when the chips are down, she shows incredible strength.  I've always thought of M'Lynn as a gracious, soft-spoken Southern lady, so Carle seemed kind of abrasive at first.  I have to say I was in awe as I watched her mourning Shelby – angry, almost howling, with an undertone of tears.  Amazing!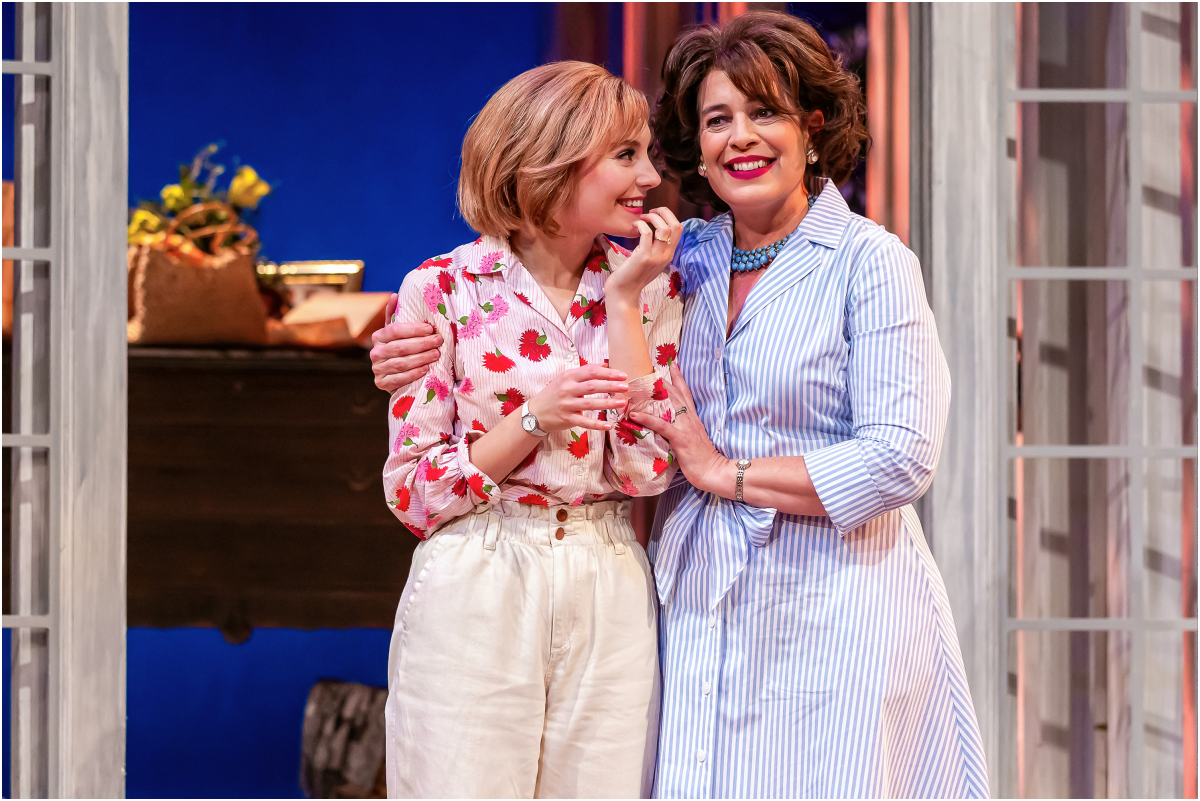 Claree, Chinquapin Parish's # one football fan, is lonely since her husband died, so she buys the local radio station.  Ouiser loves being the neighborhood Grinch, yelling about the magnolia tree which has been denuded of blossoms just in time for the wedding.  Claree and Ouiser would do anything for each other, up to and including offering each other as a punching bag when M'Lynn has a meltdown.  Janet Ulrich Brooks and Susie McMonagle can trade insults with aplomb.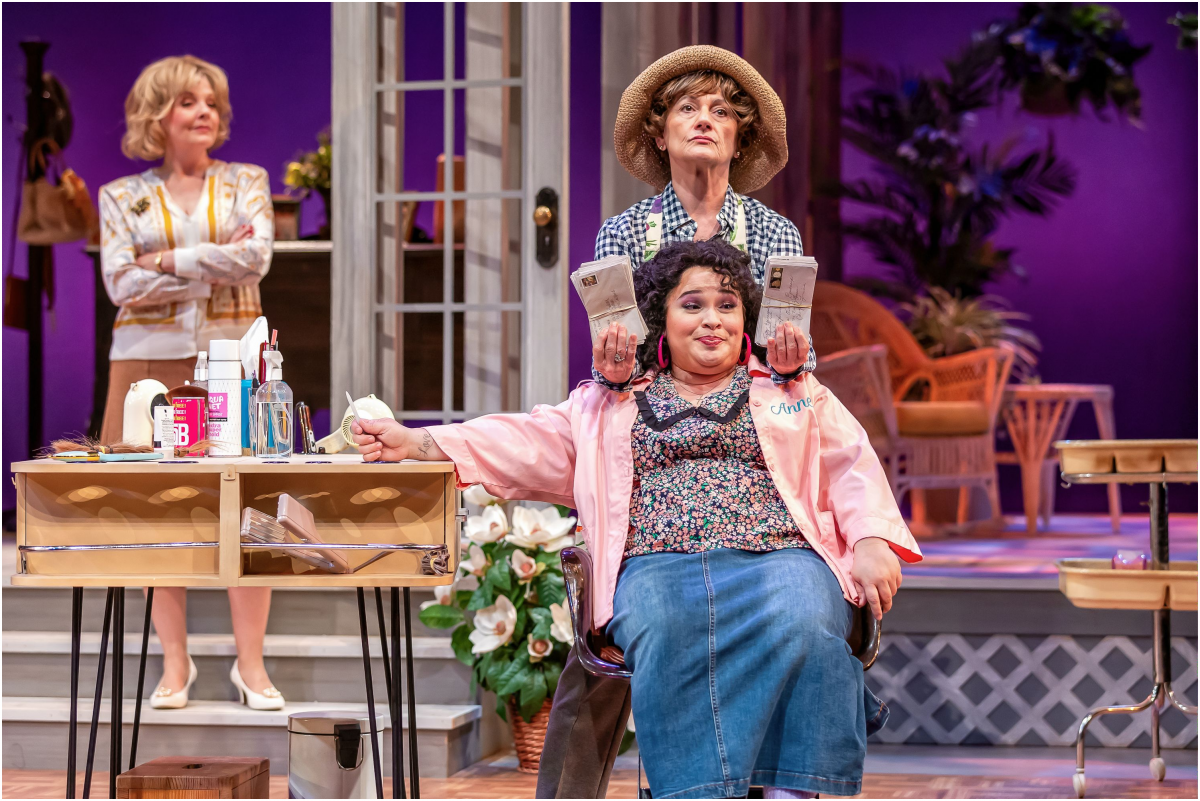 Truvy's husband doesn't have a job and spends all of his time on the couch watching TV.  In fact, she says, the last time he did anything was when he enclosed the carport so she could open a beauty shop and support him.  Her two sons are both grown and gone too, so she offers Annelle, who was abandoned by her dead-beat husband, her son's tiny garage apartment, at least until she gets back on her feet. 
I loved Angela Weber Miller's beautifully airy, yet warm and welcoming set.  All the things you'd expect to see in a beauty salon are here, plus.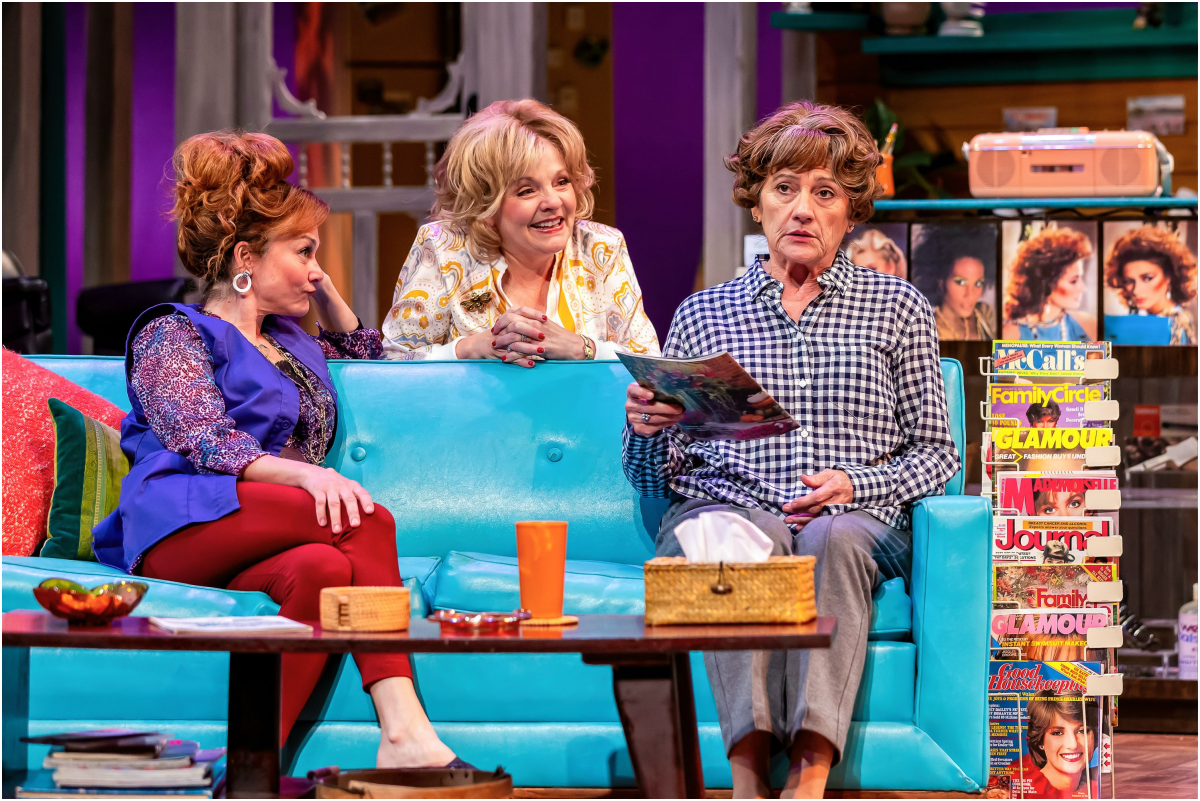 Guests are encouraged to wear masks while inside the theater. 
Steel Magnolias runs through August 7th at Drury Lane Theatre, 100 Drury Lane, Oakbrook Terrace.  Parking is free.  Running time is approximately 2 hours, 25 minutes, with an intermission.  Performances are Wednesdays at 1:30 pm; Thursdays at 1:30 & 8:00 pm; Fridays at 8:00 pm; Saturdays at 3:00 and 8:00 pm; Sundays at 2:00 & 6:00 pm.  Tickets range from $64-$79.  FYI (630) 530-0111 or www.drurylanetheatre.com.