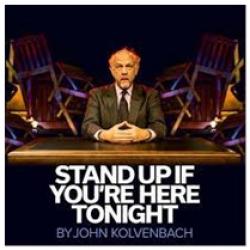 **** Recommended **** Over the years, I think I've heard entirely too many motivational speakers.  None of them ever seem to get where I am or what I'm feeling.  Curiously, this Man (Jim Ortlieb) in the American Blues Theater production of Stand Up If You're Here Tonight seemed to understand exactly how long it had been since any of us felt connected.  John Kolvenbach has written a brilliant script, incorporating the angst of the past two years in among the motivational clichés.  Ortlieb, who can play almost any part and give it credibility, made it look easy as he convinced the opening night audience (full of critics – skeptics all) to read from a paper, clap, sigh, hum, or stand on cue.  Amazing!  4 Spotlights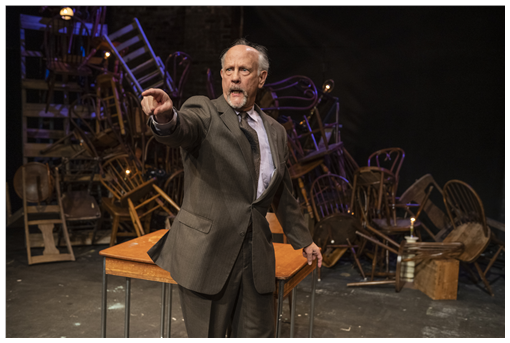 Whatever the problem – or not problem – someone's got an easy solution.  The opening dialogue illustrates that well.  "You've tried everything. Yoga. Acupuncture. Therapy. You floated in salt water in the pitch black dark. You juiced, you cleansed, you journaled, you cut, you volunteered. You got a mattress that fitted itself to your fetal form. You ate only RINDS for three days and nights. You reached out, you looked within. You have tried. And yet here you are."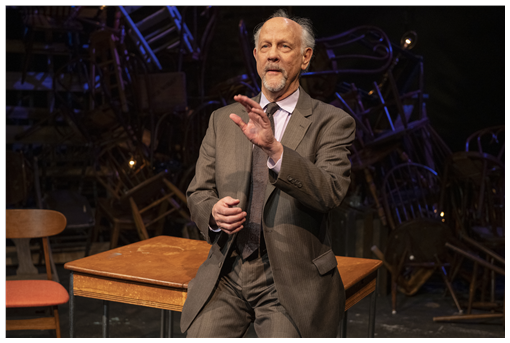 At the beginning, the Man gives the impression of uncertainty, diffidence, maybe a lack of self-confidence.  As he gets into his presentation, he visibly gains confidence, becoming more assertive by the minute.  As one point, he fell down with a temper tantrum, even beating his feet on the floor to make his point. 
When he repeated the phrase, "when I say clap, clap" the audience clapped.  Explaining that the telephone dial tone is made of two notes, he had half the audience hum an 'a' the other half a 'b', reminding everyone to repeat that hum whenever he the phone's receiver was lifted.  Raising a card with the word SIGH, he asked everyone to sigh.  He pulled people out of the audience, giving them other people's names, then had them read a passage or a script.  This truly was a tour de force performance!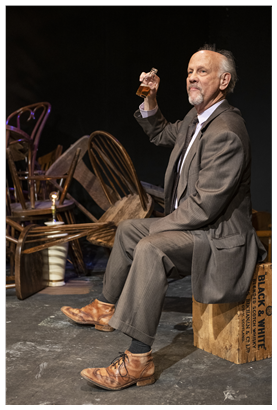 Note: Guests must show proof of vaccination with photo ID before entering the theater.  Guests are required to wear masks while inside the building.
American Blues Theater's production of Stand Up If You're Here Tonight runs through April 9th at Theater Wit, 1229 W. Belmont, Chicago.  Parking is available in Theater Wit's lot across the street, $8.00 payable at box office.  Running time is about 55 minutes, no intermission.  Performances are Thursdays and Fridays at 7:30 pm, Saturdays at 4:30 & 7:30 pm, Sundays at 2:30 pm with an additional performance on Wednesday, April 6th at 7:30 pm.  Tickets range from $25-$45, plus $2.75 Theater Wit venue fees.  FYI (773) 975-8150 or www.americanbluestheater.com.