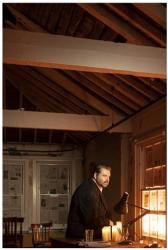 If you watched "Downton Abbey", then you'll probably remember Brendan Coyle's understated performance as Mr. Bates, the inscrutable valet.  A one-man play is very different from an ensemble television show, but Coyle brought that same inscrutability to both performances.      
Walking onto a dimly lit stage, Coyle scatters handfuls of something which makes small pellet noises – maybe birdseed or rice – without saying a word.  His first words set the tone for the rest of the play.  "When I was a boy, I was afraid of the dark… What was there. And maybe one of the things I thought was there was vampires."  As he rambles, it's up to the listener to decide whether to believe he encountered vampires or not.   
I've heard this play described as 'mesmerizing'.  I think that's an exaggeration.  I do think I might have been less bored and more involved in the story had I been able to hear it.  Unfortunately, Coyle wasn't wearing a microphone and I was sitting near the back of the theater, so I missed the quiet parts of his monologue. 
"St. Nicholas" runs through January 27th in the Goodman Theatre's Owen Theatre, 170 N. Dearborn, Chicago.  Most reasonable parking options for the Goodman is the Government Center garage on Lake between LaSalle and Dearborn, online advance payment at www.interparkonline.com/goodmantheatre, $17. 
Running time is just under 2 hours with an intermission.  Performances are Wednesday at 7:30 pm; Thursday at 2:00 and 7:30 pm; Friday at 8:00 pm; Saturday at 2:00 and 8:00 pm; and Sunday at 2:00.  Tickets range from $25-$60.  FYI (312) 443-3800 or www.goodmantheatre.org.