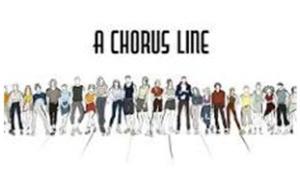 **** Highly Recommended **** Drury Lane's production of A Chorus Line is absolutely fabulous.  A Chorus Line, one of my favorite musicals, is unique in that it has no stars.  Rather it pays homage to all the dancers competing for a spot in the chorus.  This show   Who's who in the chorus?  We never have a clue, they're just names in a program – except in    A Chorus Line!  4 Big Spotlights
On an empty stage, 24 dancers are competing for eight spots in the chorus of an upcoming show.  The show's director, Zach (Ryan Watkinson), and his assistant, Larry (Jorge Guerra), teach a sequence, then ask everyone to dance it. 
Zach leaves the stage, disappearing into the darkened house, leaving Larry to continue teaching the sequence of steps.  Some dancers get it quickly, some struggle.  Zach continues to give instructions from somewhere off stage.  After they start running through the whole sequence in groups of four, Zach makes the first cut, eliminating several dancers. 
The remaining dancers line up across the stage waiting.  Zach asks them to talk about themselves, and try to explain why they became dancers.  He said he wanted to see their passion. 
Mike (Sam Linda), the youngest child in his family, watched his sister's dance class and thought I Can Do That.
Streetwise Sheila (Alexandra Palkovic) said ballet helped her escape her life.  Bebe (TJ Tapp) and Maggie (Alley Ellis) agreed.  All three sang at the Ballet.
Kristine (Jordon Taylor) and Al (Trey DeLuna) just got married.  She's tone deaf, but Al can really Sing.
Mark (Christopher Kelley) is the youngest dancer on stage.  His memories of adolescence are recent and vivid.  Hello Twelve, Hello Thirteen, Hello Love
Connie (Devon Hayakawa) is always the shortest person in the room no matter where she goes
Diana (Yesy Garcia) had a horrible HS acting class where she was belittled constantly, Nothing
Don's (Alex Benoit) first job was in a nightclub which wasn't a good fit at all..
Greg (Oz Shoshan) tells about how he figured out he was gay
Richie (Ivory Leonard) almost became a kindergarten teacher 
Val (Caleigh Pan-Kita) explains how silicone can improve body image – Dance: Ten; Looks: Three
Zach had Larry take everyone downstairs to learn a dance, but asks Cassie (Sara Andreas) to stay behind.  As she waits on stage, he asks her why she's there.  She explained that she needed a job.  Zach was scornful and said she was too good to be auditioning for the chorus, and he didn't need a soloist.  She said she couldn't make it as an actress, she hasn't worked in two years and just needs a job.  As Cassie started dancing, the dark panels in the background all swivel revealing mirrors …The Music and the Mirror
Zach calls Paul (Martín Ortiz Tapia) onstage to share his story.  When he shares how his parents threw him out when he came out and that his first job was in a drag club, he broke down and Zach offered comfort.   
As Zach and Larry put the dancers through their paces, the number starts to take shape, although Zach kept on ragging at Cassie.  Just as everything was looking good, Paul fell, hurting his knee and was carried off.  Everyone thought about what they'd do if they couldn't dance – What I Did for Love – and Zach picks the lucky eight.
In the finale, the company, wearing sparkly silver costumes – men in top hat and tails, women in silver fishnets and shorts, with the top hat and tails - strut onto the stage, singing A Chorus Line signature song, One.  Truly spectacular! 
Also appearing but not mentioned above: Becky (Ashton Norris), Bobby (Sawyer Smith), Butch (Lance Spencer), Frank (Terrell Armstrong), Judy (Melody Rowland), Lois (Abbey Friedman), Tom (Andrew Tufano), Tricia (Lisa Revis), Roy (Ben Broughton) and Vickie (Bryanna Ciera Colón).  Swings: Collin Bradley and Madison Sheward
Note: Guests are encouraged but not required to wear masks while inside the building. 
A Chorus Line runs through March 19th at Drury Lane Theatre, 100 Drury Lane, Oakbrook Terrace.  Parking is free.  Running time is approximately 2 hours, 30 minutes, with an intermission.  Performances are Wednesdays at 1:30 pm; Thursdays at 1:30 & 8:00 pm; Fridays at 8:00 pm; Saturdays at 3:00 and 8:00 pm; Sundays at 2:00 & 6:00 pm.  Tickets range from $85-$95.  FYI (630) 530-0111 or www.drurylanetheatre.com.