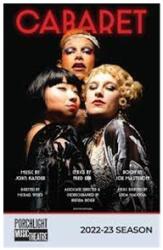 **** Highly Recommended **** Porchlight Music Theater's deliciously decadent production of Cabaret is not to be missed!  Cabaret was written by Kander and Ebb, who are famous for jazzy music with edgy, provocative lyrics.  I can't say enough about the cast.  I thought Josh Walker was perfect as the Emcee, while Erica Stephan definitely has the voice for Sally Bowles.  The costumes are sexy and sequined, the choreography energetic and suggestive.  Kudos to Director Michael Weber and Assistant Director/Choreographer Brenda Didier!  Porchlight pulled out all the stops for this show!  4 BIG Spotlights
Cabaret is based on a 1951 play, I Am A Camera, adapted by John Van Druten from Christopher Isherwood's 1939 novel, Goodbye to Berlin.  On Broadway, Julie Harris starred as Sally Bowles.  I Am A Camera was made into a film in 1955, again starring Julie Harris, with Lawrence Harvey and Shelley Winters.  Isherwood's memoirs and I Am a Camera fit exactly into the kind of depressing/scary genre Kander and Ebb often used.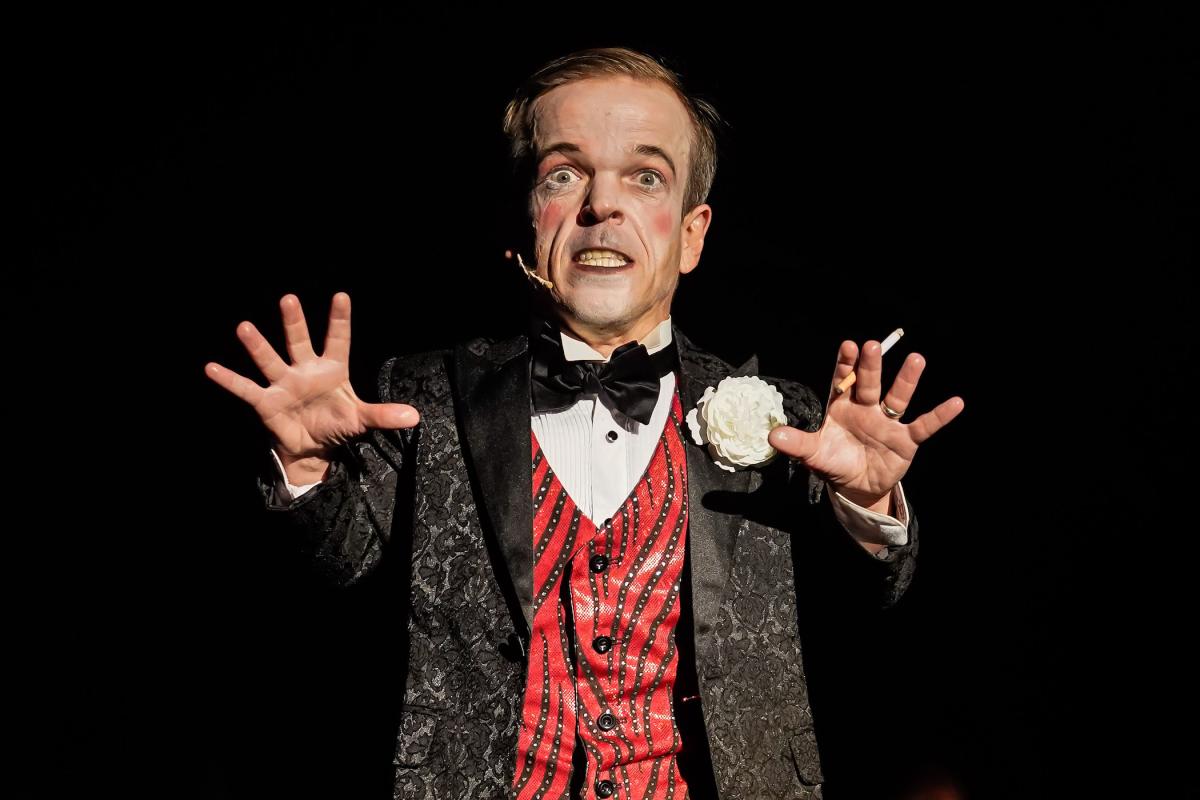 The armistice at the end of World War I left created a power vacuum in Germany and the country was impoverished.  The seedy Kit Kat Klub was a place for weary people to escape their dreary lives. The lives of the characters in Cabaret play out against the rise of the Nazi Party.  Their naiveté about the Nazis is reflected in their behavior. 
This Cabaret is done in as a flashback. After the war ended, Clifford Bradshaw (Gilbert Domally) returned to Germany.  In Berlin, he shot some flash photos of the former Kit Kat Klub which is just a heap of bombed-out rubble.  Out from the blackout comes the Emcee (Josh Walker) playing Wellkommen on his Victrola.  By the way, I had wonder how he survived the war, since he was definitely someone the Nazis would have sent to the concentration camps for extermination.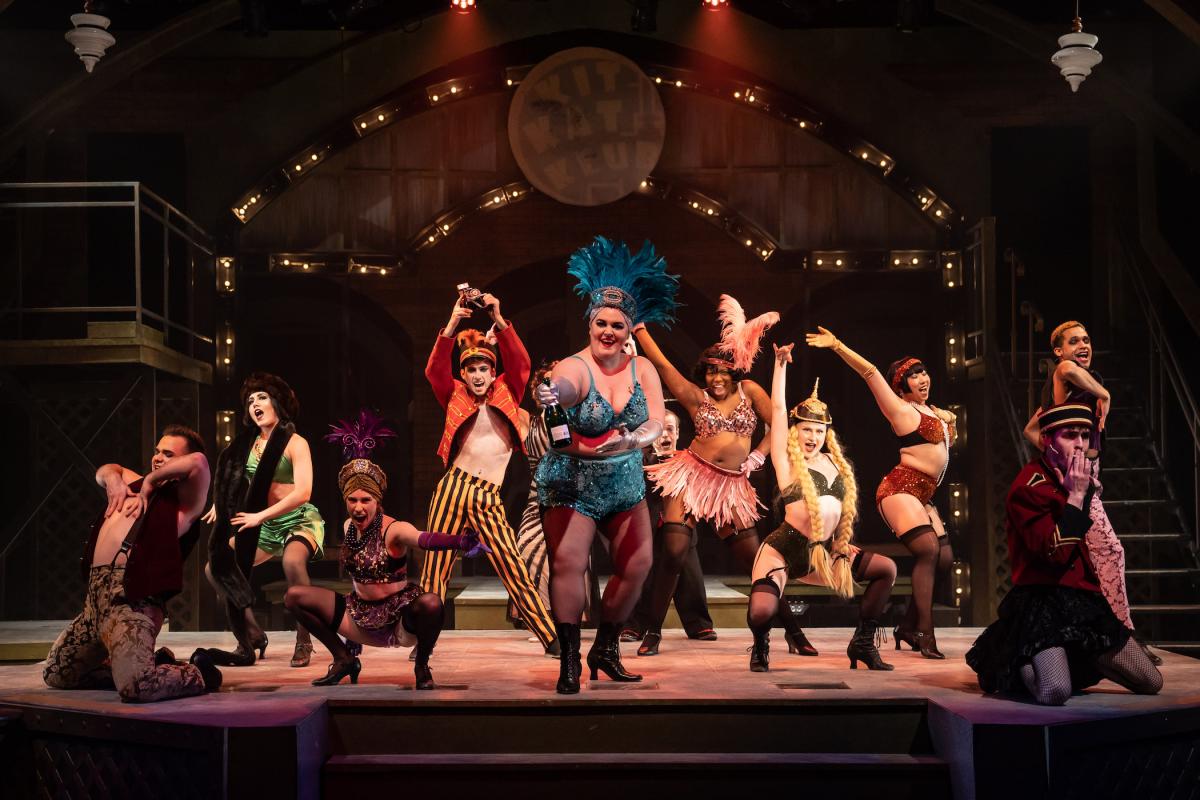 Flashing back to 1931, the Emcee sings Willkommen, the signature song of the Kit Kat Klub.  Willkommen is a seductive somewhat salacious invitation to enjoy the Klub's delights, including the Kit Kat girls – Rosie (Natalie Henry), Lulu (TJ Tapp), Frenchie (Haley Gustafson) and Helga (Julia Fleckenstein); the Kit Kat boys – Bobby (Shaun White), Victor (Lance Spencer), Hans (Evan Wilhelm) and Herman (Tim Foszcz); and finally, the toast of Mayfair, Sally Bowles (Erica Stephan).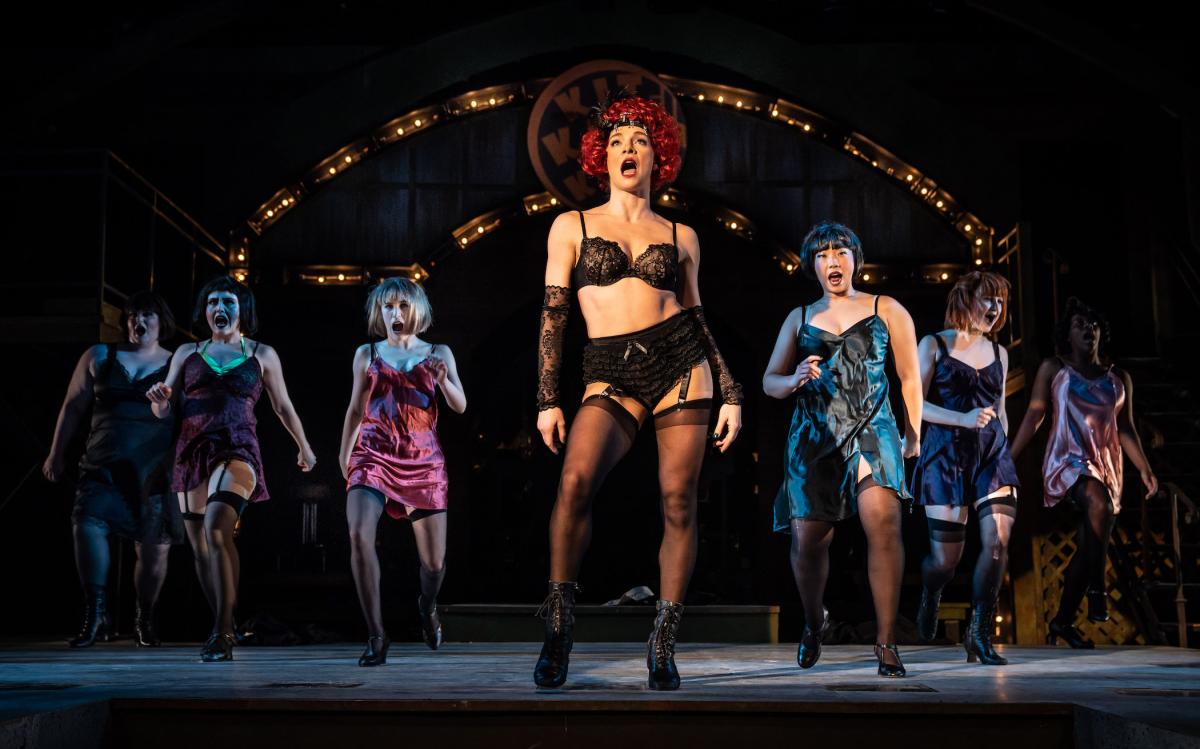 A poor American would-be writer, Clifford Bradshaw (Gilbert Domally), riding a train bound for Berlin, is befriended by Ernst Ludwig (Josiah Haugen).  When a customs officer comes by Ernst sneakily slides his brief case under Cliff's seat.  As they chat, Ernst recommends an inexpensive boarding house, then invites Cliff to visit the Kit Kat Klub.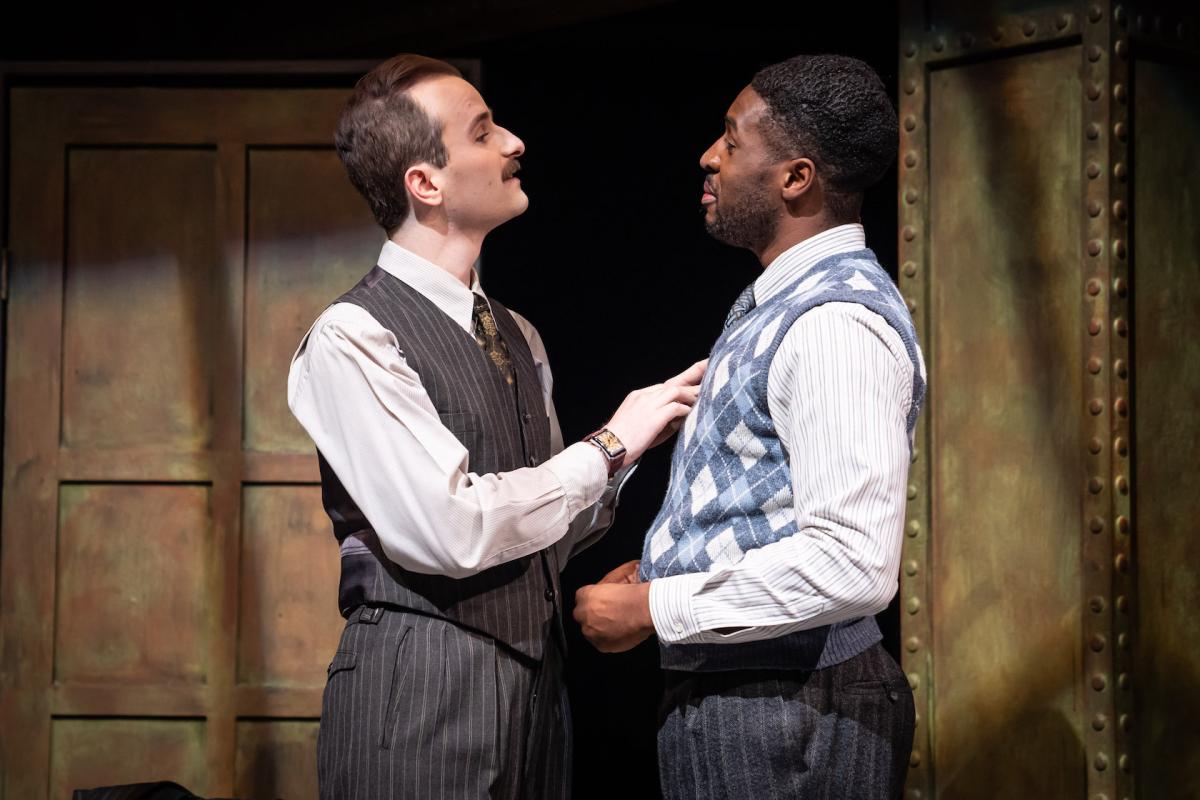 Clifford does rent a room from Fraulein Schneider (Mary Robin Roth), after bargaining over the rate.  That night, he does go to the decadent Kit Kat Klub, where he watches Sally Bowles sing Don't Tell Mama.  With every table in the Klub furnished with a house phone, Sally was able to call Cliff and begin a flirtation, which she later continued in person.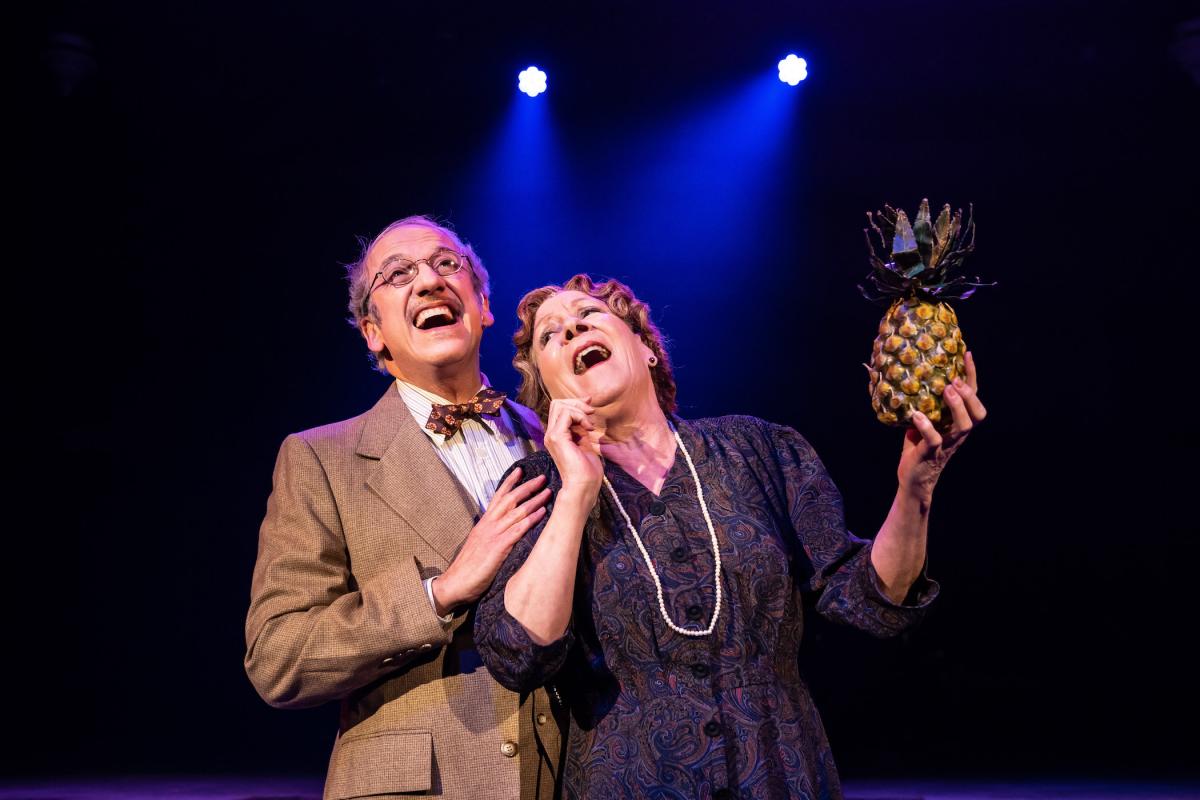 Meanwhile, at the boarding house, Fraulein Schneider catches Fraulein 'Fritzie' Kost (Neala Barron), 'entertaining' a sailor and warns her not to do it again.  Fraulein Schneider and Herr Schultz (Mark David Kaplan), a Jew who owns a fruit market, begin a flirtation. 
After she's fired by club owner, Max (Shane Roberie), Sally shows up at Clifford's room, with multiple suitcases and a trunk.  When he learns she's expecting, he lets her stay.  After an ugly incident at a party, Clifford finally figures out what the Nazis are all about, deciding to get out of Berlin.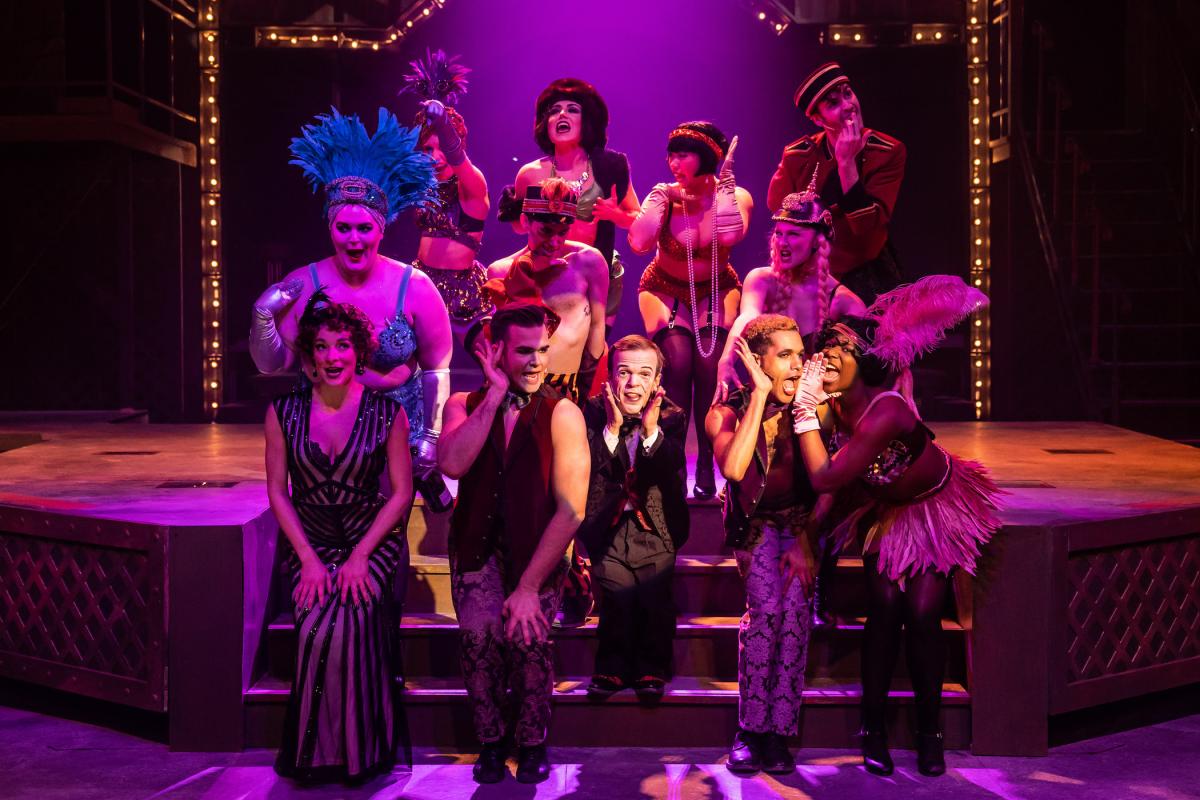 Also in the cast: Frankie Leo Bennett (standby The Emcee and Max), Jordan Beyeler (swing), Morgan DiFonzo (Texas/ensemble), and Cam Turner (swing/Dance Captain).
Lots of kudos today! 
Kudos to Costume Designer Bill Morey.  The Kit Kat girls' and boys' sequined outfits are just this side of risqué and mostly feature underwear.  The girls show a lot of leg above their stockings, while the boys are bare-chested under their suspenders.  Sally's stage costumes are equally sexy.  My particular favorite is a long, slinky, nude-colored gown with lines of black sequins forming a star-burst pattern.   
Kudos to Scenic Designer Angela Weber Miller for the simple yet complex set design which utilizes the entire Ruth Page stage for the cabaret performances, even placing tiny tables on the landings of two stairways at the rear.  At the front of the stage, a couple of rolling doorways and a trunk become the boarding house. 
If you look hard, you can make out the Cabaret band behind some golden doors with somewhat transparent windows.  Music Director/Conductor Linda Madonia also plays the keyboard with band members: Cara Strauss (reeds); Alison Tatum (violin); Greg Strauss (trumpet); Stephanie Lebens (trombone); Jake Saleh (bass) and Justin Akira Kono (drums).
Note: Guests are required to wear masks while inside the theater.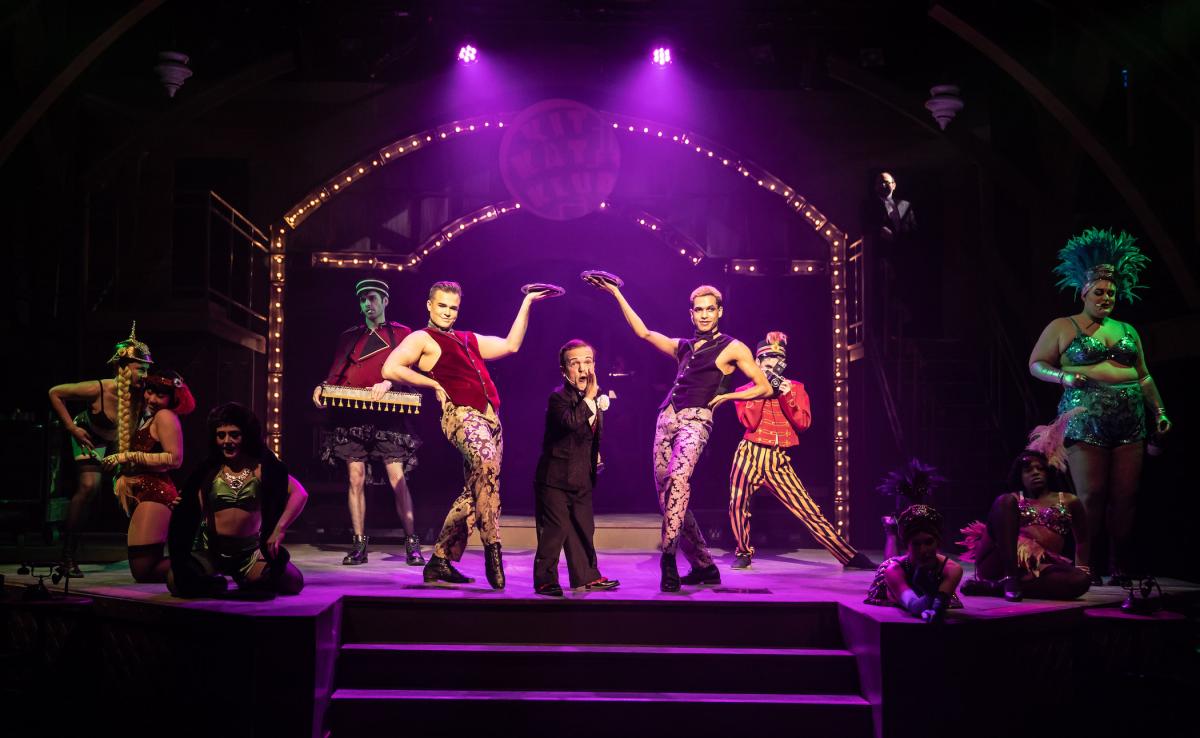 Porchlight Music Theatre's production of Cabaret has been extended to March 5th at The Ruth Page Center for the Arts, 1016 N. Dearborn St., Chicago.  Valet parking is available.  Running time is 2 hours including an intermission. 
Performances are: Thursdays at 7:30 pm; Fridays at 8:00 pm; Saturdays at 3:30 & 8:00 pm; Sundays at 2:00 pm; with a weekday matinee Thursday, February 2nd at 1:30 pm.  Open Caption Performances: Saturdays, January 28th & February 4th at 3:30 pm.  Tickets start at $25.  FYI (773) 777-9884 or www.porchlightmusictheatre.org.