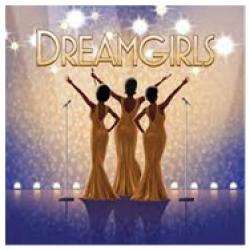 **** Recommended **** Paramount's production of Dreamgirls was exactly what I expected to see – a big, spectacular, sparkly, sequined extravaganza.  Set in the 60s, Dreamgirls is loosely modeled on the experiences and successes of the Supremes, minus Motown.  Fans of 60s music will love this show.  People were chair dancing all over the auditorium. Unfortunately, it was also loud, so loud that I couldn't understand what the actors were saying.  3 1.2 Spotlights
Dreamgirls is directed by Christopher D. Betts, with choreography by Amy Hall Garner.  Samantha C, Jones designed the gorgeous sparkly costumes.  I wasn't impressed by the backdrop, which seemed to be a bare backstage area.  At one point, there were dancers in black tuxes dancing on the balcony against that dark, dark wall, and it just didn't work for me. 
Deena Jones (Tyler Marie Daniel), Lorrell Robinson (Mariah Lyttle) and Effie White (an amazing portrayal by Nama Alakham or Bevannah Tilman) are the Dreams (a lot like the real-life Supremes).  The girls took a train from Chicago to compete in a talent contest at the Apollo.  Even though they got there late, they got to compete against acts like the Stepp Sisters (Daryn Alexus, Shantal Cribbs, Aalon Smith & Shelby Voss), Little Albert & the Tru-Tones (Averis I Anderson, Christian Denzel Bufford, Austin Nelson, Jr. & Wildlin Pierrevil) Tiny Joe Dixon (Evan Tyrone Martin) and the Five Tuxedos (Averis I. Anderson, Jarrett Anthony Bennett, Christian Denzel Bufford, Juwon Tyrel Perry & Wildlin Pierrevil). 
Although they didn't win the talent show – due to Curtis Taylor's (Lorenzo Rush, Jr.) machinations, they did sign with him as their manager, after he got them hired to sing back-up for Jimmy ("Thunder") Early (Ben Toomer) on tour.  Curtis took over managing Jimmy too.  Effie's brother C.C. (Denzel DeAngelo Fields)) wrote a song called Cadillac Car which Curtis gave Jimmy to record. 
Effie fell for Curtis as soon as she set eyes on him.  Meanwhile, Jimmy and Lorelle grew closer, even though he was married.  Eventually, Curtis started getting the Dreams their own gigs, but he replaced Effie with Deena as lead singer because he wanted a 'different look'.  When Effie rebelled, he forced her out, bringing in Michelle Morris (Aerial Williams) as a replacement.   
While the Dreams' career soars, Effie is back in Chicago raising a daughter.  With help from Marty (Joshua L. Green) – Jimmy's former manager – she auditions for a Chicago club owner and gets the job.  Meanwhile, Curtis had changed C.C.'s newest song, "One Night Only", which was written as a ballad, to disco.   Disgusted and frustrated, C.C. quits and returns to Chicago.  He apologized to Effie for everything he let Curtis do, then he gave her One Night Only to record. 
When her record starts to climb the charts, Curtis is furious.  He releases the Dreams' disco version, and sends his people out to pay every DJ across the country to play the song.  Soon after, Effie, C.C. and Marty show up at a Dreams gig with their lawyer and evidence of what Curtis was doing.  Meanwhile, Deena has been begging Curtis, now her husband, to let her make a movie.  When she finds out about his illegal activities, she tells him she's quitting the Dreams to make a movie. 
Naima Alakham (sharing the role with Breyannah Tilman for some performances) gave an incredible performance.  She totally owned the stage.  Although his character is kind of a conniving, manipulative control freak, I was glad to see the very talented Lorenzo Rush, Jr. in a leading role.
Note: Masks are optional but guests are encouraged to wear them during the performance. 
Dreamgirls runs through October 16th at the Paramount Theatre, 23 East Galena Blvd, Aurora.  Valet parking is available, plenty of street parking too.  Running time is 2 hours, 30 minutes, with an intermission. 
Performances are Wednesdays at 1:30 and 7:00 p.m.; Thursdays at 7:00 p.m.; Fridays at 8:00 p.m.; Saturdays at 3:00 and 8:00 p.m.; Sundays at 1:00 and 5:30 p.m.  Dreamgirls is suggested for ages 10 and up.  Tickets range from $28-$79.  FYI (630) 896-6666 or www.paramountaurora.com.