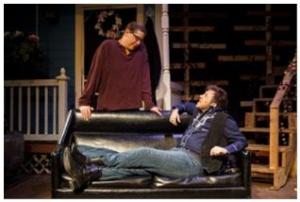 "Southern Comfort" is the name of the play, but is the name of the annual Cotillion that these characters have dreamed of attending and during the 2 plus hours of story-telling we learn more about the party and those who are or have "transgendered", allowing those who have not paid attention t learn something about the plight that they deal with.
Robert ( a brilliant performance by North Homeward) is a transgender man , who we later find out was previously Barbara (Kimberly Lawson, one of the musicians takes on that role), lives on a small farm or ranch in rural Georgia. He lives with his "Chosen Family" ( one of the songs) composed mostly of other transgender friends. He has cancer and his great desire is to live long enough to make it to the Southern Comfort Transgender Conference. He wants nothing more than to be there and have a dance with his new found love, Lola (deftly handled by Kyra Leigh).
While Robert tries to live day- to- day until that final day comes, his "Chosen Family" struggle to process what will be the day that also changes their lives. The cast is made up of some very talented people, including the five transgender members of this "family" all played by trans actors. The cast is composed of Benjamin Flores as Sam, Sinclair Willman as Melanie ( Sam's love), Lizzy Sulkowski as Robert's "son" Jackson", Ricki Pettinato as Carly **(see note) and the musicians, who are storytellers taking on small roles as needed : Mario Aivazian, Taylor Dalton, Justin Harner, Candice Kight and the aforementioned Kimberly Lawson.
** NOTE Tonight was one of those rare happenings. One of the players,Ricki Pettinato was taken ill and Director JD Caudill took over the role of Carly. While JD has script in hand, one hardly noticed it and the casy worked very hard to make sure that Carly was where Carly was supposed to be at all times. Of course, being the director, Caudill had it all down. Great work by Caudill and the entire cast.
Caudill's direction was as smooth as can be expected in a small intimate space. The set (Jeremy Hollis) was a bit contrived and hard to follow at times, but the solid cast and the musicians overcame all the problems of a low-budget musical production in a small storefront theater.
"Southern Comfort" has some surprises that I will not divulge and I can tell you ,you will see an enjoyable performance and possibly learn a little about an existing lifestyle that is happening all over the world. This production will continue thru March 31st at Pride Arts Center- The Broadway at 4139 N. Broadway with performances as follows:
Thursdays  7:30 p.m.
Fridays  7:30 p.m.
Saturdays  7:30 p.m.
Sundays  3:30 p.m.
Premium seats are $40, general admission ( there are no bad seats) $30 and students, seniors and military $25 (not valid on Saturday nights)
call 866-811-4111 or 773-857-0222 or visit http://www.pridefilmsandplays.com
Parking is a bit of a struggle so I suggest using public transportation. The bus is 35 yards from the theater