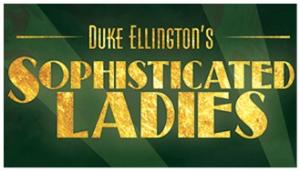 So, why Duke Ellington? Duke Ellington is without a doubt one of the best American composers of the twentieth century.  His career led from Harlem's Cotton Club to Carnegie Hall, including hit songs on Broadway and in Hollywood.  His band/orchestra was with him throughout.  His biggest hits include "Mood Indigo", "Take the 'A' Train", "It Don't Mean a Thing", "Sophisticated Ladies" and many more.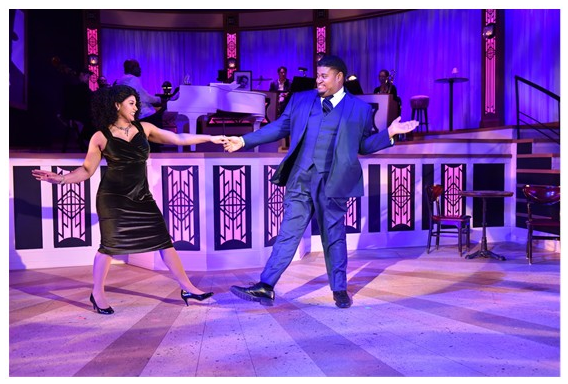 This diverse group of 15 multi-talented actors is one of the best I've seen in a long time.  They all have great pipes – and they can dance!  Seriously though, this is a tough assignment.  Everyone has to be able to sing everything from ballads to blues to jazz.  They even sing scat – a challenging style in which the singer's voice becomes an instrument by singing nonsense syllables – it's not something you hear a lot these days, but it's neat listening all the same. 
Although this is very much an ensemble show (the actors have titles, not names), there are standouts.  The Chanteuse (Donica Lynn), who really belongs on Broadway (but we're REALLY glad she's still in Chicago), definitely has star power.  The other female leads, The Soubrette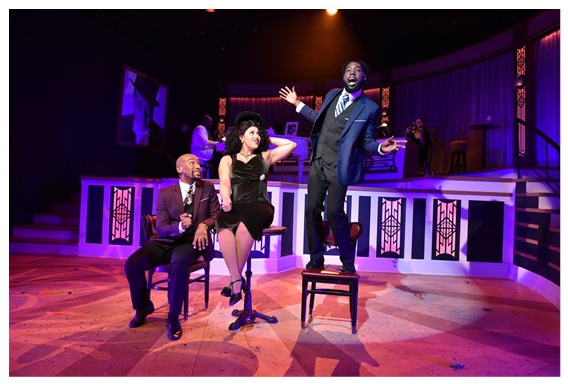 (Molly Kral) and The Danseuse (Lydia Burke) are equally strong. 
The Jazzbo (Donterio Johnson) can sing and dance with the best of them.  The Raconteur (Lorenzo Rush, Jr.) is the epitome of 'cool', he's so suave.  The Hipster (John Marshall, Jr.) might be a janitor, but he is totally hip as a song and dance man.  The Danseur (Eustace J. Williams) is cool even when he's standing on a chair to belt out a song.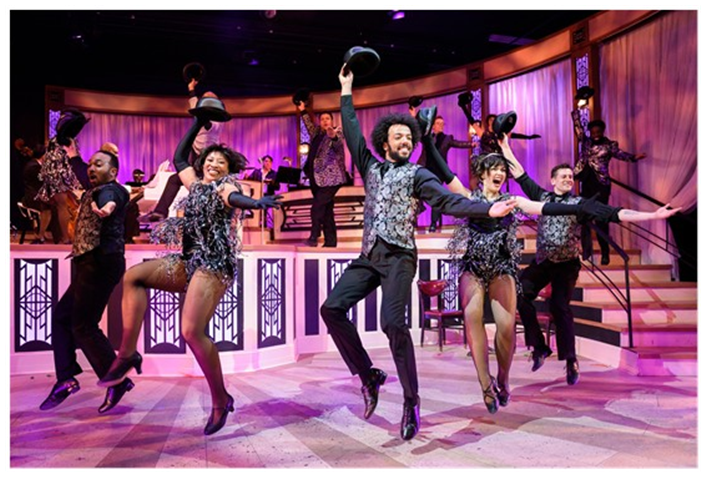 I love shows with big tap dance numbers.  Kudos to Co-Directors/Choreographers Brenda Didier and Florence Walker-Harris for making this a show a tap dance extravaganza!  All I can say is Wow!   The tap-dancing Sophisticated Ladies are Shantel Cripps, Madison Piner, Jenna Schoppe and Terri K. Woodal.  The equally Sophisticated Gentlemen are Chuckie Benson, Tristan Bruns, Kaimana Neil and Joey Stone. 
Theresa Ham designed costumes running from '20s flapper to '30s glam.  The gowns were gorgeous, featuring rich fabrics in bright colors.  The ensemble's dance costumes had glittery flirty skirts.  The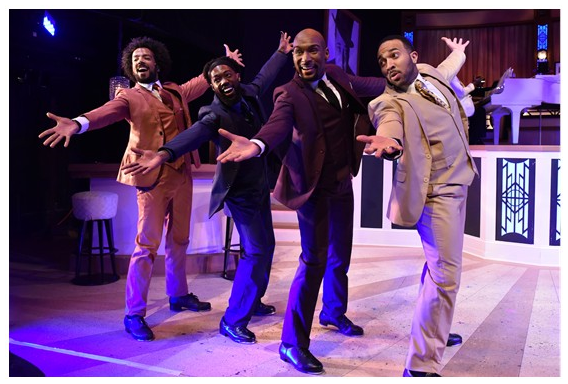 men's suits had double-breasted jackets and matching vests.  Their dance costumes sometimes had glittery vests, sometimes hipster vests and fedoras. 
Scenic Designer Angela Weber Miller set a nightclub kind of mood. All glitzy and glamorous with subtle touches of inlaid wood and backlit panels.  I really felt like I was walking into one of those nightclubs I used to see in old black and white movies! 
Since Duke Ellington's orchestra was so important to his success, it's fitting that the Porchlight Orchestra has pride of place on the upper level of the "Sophisticated Ladies" club set.  When Music Director Jermaine Hill, in white tie and tails, takes a bow before taking his seat at the grand piano, he gets an impressive round of applause.  The rest of the orchestra – Marcel Bonfim (Bass), Jonathan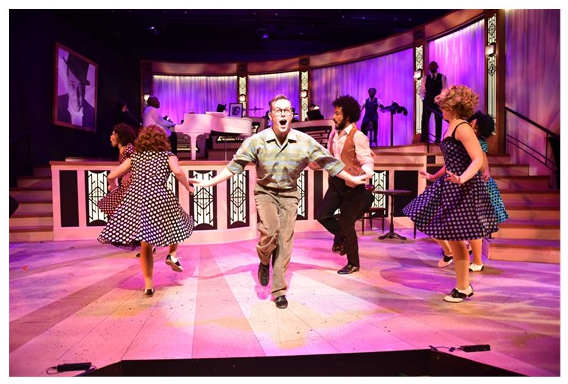 Golko (Reeds 2, Bass), Darius Hampton (Reeds 1), Justin Kono (Percussion), Stephanie Lebens (Trombone) and Sam Wolsk (Trumpet) – are grouped around the piano.
Porchlight Music Theatre's production of "Sophisticated Ladies" runs through March 6th at the Ruth Page Center for the Arts, 1016 N. Dearborn Street, Chicago.  Valet parking is available. 
Running time is 2 hours with an intermission.  Performances are Thursdays at 7:30pm; Fridays at 8:00 pm; Saturdays at 3:30 and 8:00 pm; Sundays at 2:00 pm.  There are additional performances on Wednesday, February 26th at 7:30 pm; Tuesday, March 3rd & Wednesday, March 4th at 7:30 pm; and Thursday, March 5th at 1:30 pm.  Tickets range from $39-$66.  FYI (773) 777-9884 or  www.porchlightmusictheatre.org.