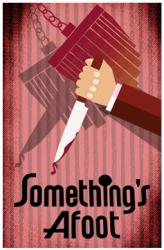 It was fun and delightful!  This little neighborhood theater with only seating capacity of 100+ put on a "downtown performance" of a musical called Something's Afoot.  One set with the help of a perfectly synched band track, sound and lighting effects, some great mechanical effects, and the perfect acting and singing ensemble, took this murder mystery to a great place.  A few little twists and turns kept you guessing until the very end when the "whodunnit" part became an "Aha" moment.  Hats off to Director Wayne Mel for making this surprisingly fun and entertaining at an affordable price.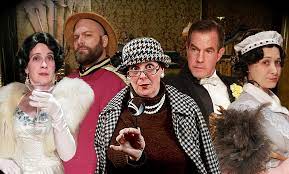 Appearing in Somethng's Afoot! are Debra Criche Mell, Sean Michael Barrett, Andrew Buel, Heidi Hansfield, Wilson Hicken, Gretchen Kimmeth, Peter Leondedis, Joe Lewis, Mary McCormack, Dennis Schnell, and Craig Zeller.
This reviewer highly recommends this musical.  
Something's Afoot, part of the Madkap Productions 2021-22 play series, runs through April 30th at the Skokie Theater, 7924 Lincoln Av., Skokie.  Running time is one hour, 45 minutes with an intermission.  Performances are Fridays & Saturdays at 7:30 pm and Sundays at 2:00 pm with a matinee on Wednesday, April 13th at 1:30 pm.  The performance on Sunday, April 24th will be at 3:00 pm.  Tickets are $45, $38 for Seniors/Students.  FYI www.skokietheatre.org/somethings-afoot.html.  
Review courtesy of TSP News