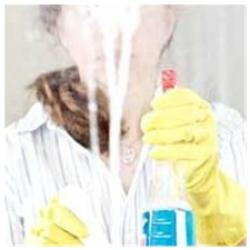 The other character in this play is Charlotte's husband of almost 30 years, Doug ( deftly handled by Guy Massey, who also takes on another role in one of the many scenes) and two others who are never seen, but key members of the story itself, the son and Joey's "boyfriend". The play is about living with guilt. Charlotte gets the job at the center and we watch her struggle with the situations she is faced with. We learn that she is dealing with her son's guilt as a sexual offender and his incarceration is her reason for taking this position. She has the need to atone for his crime and to find a way to deal with her life as it has become. 
Charlotte was a good mother ( at least she always felt she was) and a wonderful and loving wife ( again, she thought she was), but this situation has changed all that. Her relationship with her husband is just that they live under the same roof. How can they ever be whole again? How can a mother make sense of what her child has done? And, is she the cause or root of that problem? There are a few holes in the writing of this play, but the actors are able to help  us understand the direction of the playwright.
Joey helps her to learn to deal with the situation, telling his story as well. He was abused as a young child and has dedicated his life to helping others. We learn that he has found happiness ( or what in his mind is happiness) with an older man and we see that perfection in life is different for all the players. Directed by Lauren Shouse, this play is powerful but there are times we can get confused. The set ( a wonderful design by Arnel Sancianco) shows almost every item one might find in a home on the wall and is breathtaking. There were a few tech problems with it during this performance, but overall I loved the set.
Shouse uses the set to go from scene to scene quickly but doing so made a few questions arise for fellow audience members. Putting that aside, the development of the two main characters and their relationship was beautiful and if I were to rate the performances on their own they would get 5 stars! "Something Clean" speaks to Charley ( the name she uses the center) and her trying to get rid of the dirt and garbage of her past. A very detailed woman wih a pure motive, we watch her develop into someone who truly wants to get rid of her guilt and have a life.
Doug, not knowing what Charley is doing on a daily basis just sort of lives his life, day- to -day, hoping that one day they can get back what they had. The transformation that we witness is special as later in the play, a lot comes out and not to spoil it, I will only tell you that you will be pleased with the outcome. On a technical note, during the final scenes, the first row might be in the line of fire for a moving and powerful tirade by Ms Cross as Charley.
The sound and music ( Eric Backus) is spectacular and Diane D. Fairchild's lighting brilliant. Noel Huntzinger's costumes are very fitting, but I was taken aback by the attire Ms Cross wore when retiring each night. The props might be considered as another character in the play- Jonathan Berg-Einhorn does a great job of assembling just the right stuff!
"Something Clean" , a joint production of two of our smaller companies, Sideshow and Rivendell  Theatre Ensemble will continue at Victory gardens Theater located at 2433 N. Lincoln Avenue through July 21st with performances as follows:
Fridays  8 p.m.
Saturdays  8 p.m.
Sundays  2:30 p.m.
Tickets rage from $20-$30 ( open seating) and are available at the box office, by calling773-871-3000 or online at www.victorygardens.org
Students, seniors and industry tickets are $15
ACCESSIBLE PERFORMANCES:
Sunday, July 14th  1 p.m. touch tour audio description
Open Captioning
July 19th and 20th
Town Hall on July 13th