Sir. Real. A Joffrey Celebration Honoring Greg Cameron
WHEN - Friday, June 23

WHERE - The Old Post Office | 433 W. Van Buren Street

TIME - 7:30 PM

TICKETS - On Sale May 1, 2023
Cost: $1000/person. Other sponsorship levels available
Description: In honor of President and CEO Greg Cameron's ten year anniversary of extraordinary leadership, the Joffrey Ballet will transform The Old Post office into an all-consuming surreal dreamland for the senses, with bizarre surprises and dazzling curiosities around every corner. Leading with empathy and a focus on Joffrey's impact, Cameron's vision to create a Joffrey for All will be his lasting legacy.
About Greg Cameron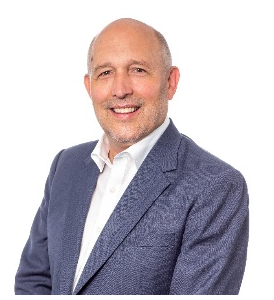 Driven by his lifelong love for the arts, for his hometown, and for connecting with people from every background, Greg Cameron leads The Joffrey Ballet as President & CEO, responsible for organization-wide administration and strategy. Under Greg's partnership with Mary B. Galvin Artistic Director Ashley Wheater MBE, the Joffrey has set new records at the box office and built the strongest financial foundation in its history.
His 2013 appointment was the culmination of three decades of work in arts administration and philanthropy. "I always loved art, but I wasn't a great artist," he says. "I could paint by numbers, or I could connect the dots. I realized early on I was a good dot connector. I could connect people to each other and help them get involved with the things they believe in."
As a child in suburban Chicago, Greg ran a makeshift theater out of his garage and sold more mints than anyone else for his local YMCA. And as an adult, he turned those passions into a career raising funds for the cultural organizations he loves. At the Chicago Department of Cultural Affairs; the Art Institute of Chicago; the Museum of Contemporary Art, where he rose to the role of Deputy Director and Chief Development Officer; and WTTW/WFMT, where he served as COO, Greg dedicated himself to supporting art and artists and to creating meaningful experiences for others.
"The Joffrey brings it all together for me," he says. "It's about collaboration, partnership with the community, honoring and supporting artists, and telling stories that truly move people."
Today, Greg leads the Joffrey's efforts to support unforgettable productions and new commissions, reach out to organizations and communities across Chicago, and open up world-class ballet for audiences from all backgrounds. Greg serves on the Dance/USA Managers' Council for Large Budget Organizations, while also staying an active member of the Chicago cultural community, volunteering for a wide range of nonprofit organizations and civic committees including the Facing History and Ourselves Chicago Advisory Board, and current Chair of the State Street SSA Commission.
About The Joffrey Ballet­­
The Joffrey Ballet is one of the premier dance companies in the world today, with a reputation for boundary-breaking performances for more than 60 years. The Joffrey repertoire is an extensive collection of all-time classics, modern masterpieces, and original works.
Founded in 1956 by pioneers Robert Joffrey and Gerald Arpino, the Joffrey remains dedicated to artistic expression, innovation, and first-rate education and engagement programming. The Joffrey Ballet continues to thrive under The Mary B. Galvin Artistic Director Ashley Wheater MBE and President and CEO Greg Cameron.
The Joffrey Ballet is grateful for the support of its 2022–2023 Season Sponsors: Abbott Fund, Alphawood Foundation Chicago, Daniel and Pamella DeVos Foundation, The Florian Fund, Anne L. Kaplan, Nancy and Sanfred Koltun, and Live Music Sponsors Sandy and Roger Deromedi, Sage Foundation, and The Marina and Arnold Tatar Fund for Live Music. The Joffrey also acknowledges Season Partners Chicago Athletic Clubs, and Athletico Physical Therapy, official provider of physical therapy for The Joffrey Ballet.
For more information on The Joffrey Ballet and its programs, visit www.joffrey.org. Connect with the Joffrey on Facebook, Twitter, Instagram, YouTube, and LinkedIn.
For more information: https://joffrey.org/performances-and-tickets/sir-real-a-joffrey-celebrat...