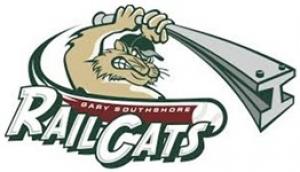 Down to their final two outs, the Gary SouthShore RailCats looked down and out. However, a four-run rally turned a 1-0 deficit into a 4-1 victory to stun the Chicago Dogs. 
Through the early stages, the pitching took center stage as both starters dominated their opposition.  While Jeff Kinley dealt for the Dogs, John Sheaks matched him pitch for pitch as he faced the minimum in his first four innings, holding a potent Chicago lineup in check. 
Nevertheless, the Dogs took advantage of a series of fortuitous breaks to take the game's first lead in the bottom of the fifth.  A walk and an infield single placed runners on first and second before a fielder's choice recorded the first out.  But, as the 'Cats attempted to turn two, the throw to first escaped the field of play, allowing a run to score and giving Chicago a 1-0 lead. 
Despite giving up the unearned run and going up against an excellent pitching performance on the other side, Sheaks continued to carve through the Chicago lineup and keep the 'Cats within a run.  He shook off the fifth-inning tally to produce three more scoreless innings, facing just nine batters from the sixth to the eighth. 
With just two outs separating them from a loss in the top of the ninth, the Gary SouthShore offense came alive to mount a furious comeback.  Michael Woodworth drew a six-pitch walk, and Sherman Graves immediately doubled him home to tie the game and prompt the Dogs to remove Kinley.  
Jesus Marriaga then drew a walk, placing runners on first and second while setting the stage for Victor Nova.  The third baseman proceeded to launch a towering three-run home run to straightaway center field off reliever Ryan Clark, completing the comeback and positioning the 'Cats just three outs away from a victory. 
At that point, manager Lamarr Rogers handed the ball to closer Yeison Medina, and he took care of the rest.  He went on to retire the top three hitters in the Chicago lineup in succession, putting the final touches on a dramatic comeback win. 
The RailCats return to Impact Field for the series finale tomorrow at 6:00 p.m. as they look to sweep the Dogs.  All the action will be streamed on www.aabaseball.tv, 95.9 WEFM, and the Gary SouthShore RailCats Broadcast Network through the Mixlr app.