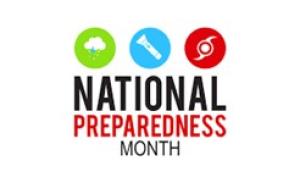 The Munster Police Department is sharing the following information about National Preparedness Month.
National Preparedness Month is observed each September to raise awareness about the importance of preparing for disasters and emergencies that could happen at any time.
Be sure to make a plan today. Be aware of which types of disasters could affect your area. Know how you'll contact your loved ones if you are separated. Establish a family meeting place that is familiar and easy to find as well as your shelter plan, evacuation route, and emergency preparedness kit.
In addition, sign up for emergency alerts and warnings through Smart911 (at www.smart911.com) by setting up a free Safety Profile through their site. It's easy to do and can go a long way towards keeping your family informed while also providing emergency services with important information when responding to your household (such as individuals with disabilities or mobility issues).
For more information and safety resources, please visit www.ready.gov/plan.