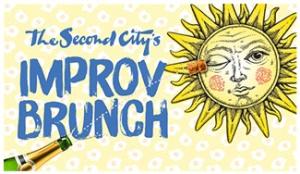 **** Highly Recommended ****  A couple of Sundays ago, my friend Helen Garrison and I went to The Second City's Improv Brunch.  The show was completely interactive, with skits based on concepts provided by the audience.  Delish food and improv – we had a blast!  4 Spotlights
When I looked for the names of the cast, I discovered that they change every week.  On the day we were there, the five person cast included Rich Alfonso, Jillian Ebanks, Leila Gorstein, Hannah Ingle and Jordan Stafford.  They were hilarious! 
In one skit, someone in the audience suggested spiders – and Rich Alfonso became a spider, seemingly adding arms and legs around his body.  It was hilarious. 
Food options include French Toast Sticks $10, Breakfast Sandwich $12, Breakfast Burrito $14, Yogurt Parfait $12, Avocado Toast $12, Mimosa $12 and Bloody Mary $12.  Helen and I had the French Toast Sticks which were served with warm maple syrup and whipped cream.  It was delicious.
The Improv Brunch Director, Adam Schreck; Ensemble Director, Jeff Griggs; Musical Director, John Love; Stage Manager, Kathrin Sparger, Sound Design, John Love; and Lighting Design, Sara Stock,
The Second City's Improv Brunch is served up every Sunday at 12:00 noon in the UP Comedy Club, The Second City, 230 W. North Avenue, Chicago.  Seating begins 45 minutes prior to the show.  Parking in the adjacent garage is readily available but pricey.  Running time is 70 minutes with a 15-minute intermission.  A wide variety of libations are available, in addition to the Improv Brunch menu.  Tickets are $35.  FYI (312) 337-3992 or www.secondcity.com