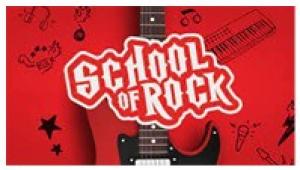 **** Highly Recommended **** Paramount Theatre's production of School of Rock is a totally fun show.  Although the story is rather predictable, nobody cares!  From their first appearance until the final number, a dozen (or so) of the most amazingly talented kids steal the show.  Take your family - kids, grandkids, even a rent-a-kid – School of Rock is the perfect musical to introduce them to live theater.  4 BIG Spotlights
School of Rock is based on the 2003 movie written by Mike White.  The book was written by Julian Fellowes – the same Julian Fellowes who created Downton Abbey – with new music by Andrew Lloyd Webber, lyrics by Glenn Slater.  Lloyd Webber decided to move the focus in his stage musical from Dewey to the kids.  Explaining the need for new music, he said, "… you can't do heavy metal for hours and hours in the theatre – everyone would be screaming. So they have to be theatrical songs too. And we've obviously got to use the iconic songs from the original show. It would be a shame not to do a Stevie Nicks song."  The final product premiered on Broadway in 2015.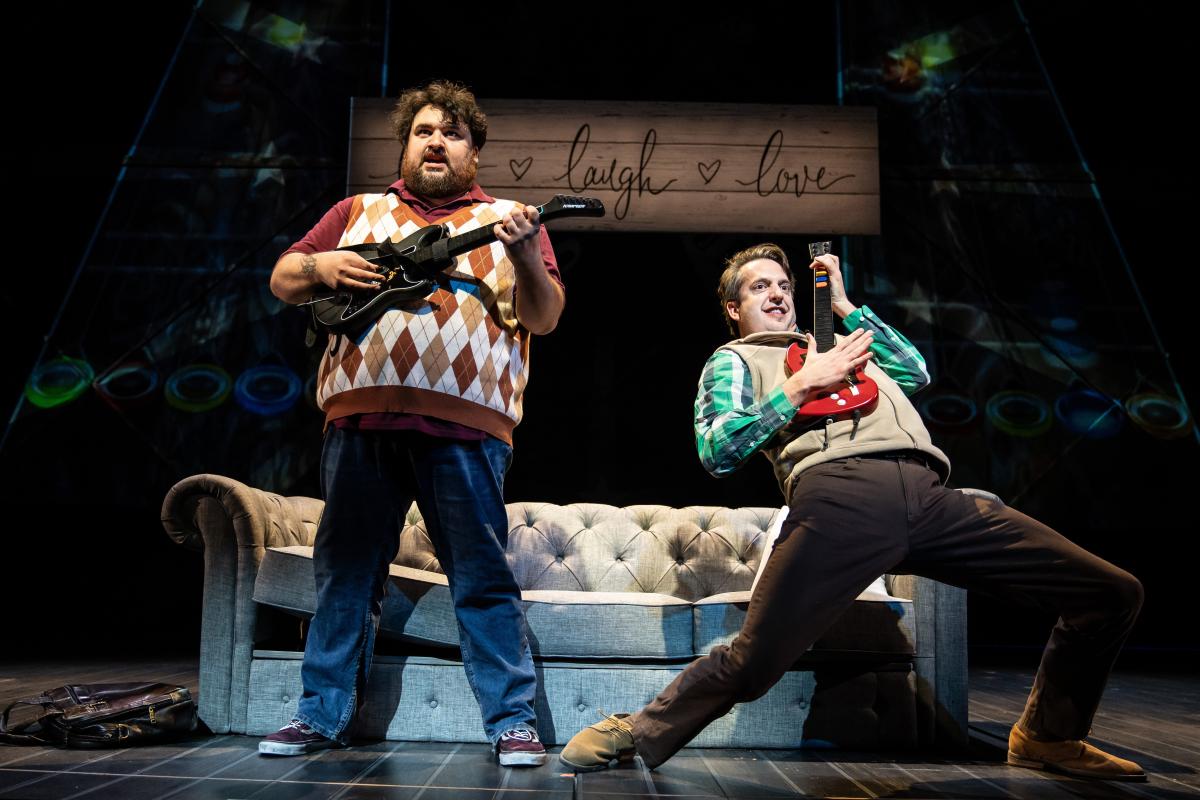 Dewey Finn (Nick Druzbanski) is having a really bad week.  His bandmates threw him out of the band he started, just before Battle of the Bands which was supposed to be his big break.  He got fired from his job.  He's about to lose his rent-free flop with his nerdish best friend Ned Schneebly (Jackson Evans), since Ned's girlfriend, Patty Di Marco (Lucy Godinez), is ready to throw him out unless he pays his rent.   
Answering Ned's phone brings a solution to Dewey's problems.  When the caller offers Ned a job as a substitute teacher, Dewey takes the job.  The Horace Green School is a snooty prep school full of over-achievers.  The Principal, Rosalie Mullins (Veronica Garza), frequently reminds her staff that parents are willing to pay big bucks to make sure their darlings get the very best education.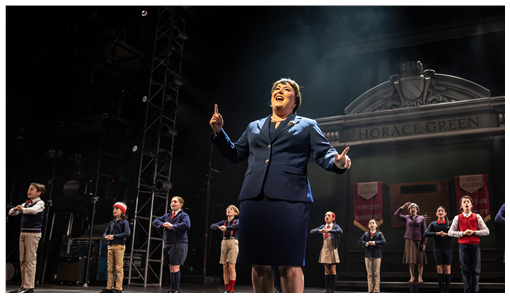 Naturally Dewey had to celebrate, so he showed up late and hungover at his new job.   Since he has no idea what to do with these kids, he turns them loose to do whatever they want.  When he sees them playing classical music the next day, he gets an idea.  They can be his band. 
He has the instruments, so he asks the kids, "Who wants to be in the band?"  He picks   Zack Mooneyham (Julian Wanderer) to play Electric Guitar.  When he finds out Katie (Julia Dale) can play the cello, he gives her a Bass almost bigger than she is, and she plays a riff.  He puts Freddy Hamilton (David Mattle) on the Drums.  Finally, he asks for someone who can play the piano.  When Lawrence (Leighton Tantillo) raises his hand, he puts him on Keyboards.  Finally, he picks Shonelle (Meena Sood or Genevieve Jane) and Marcy (Maya Keane or Clare Wols) as backup singers.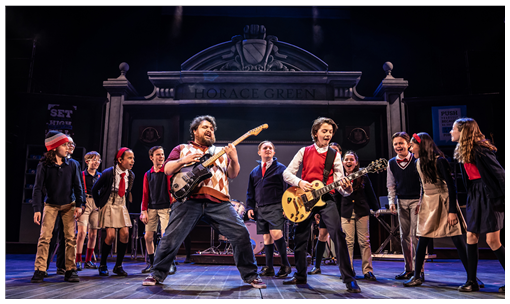 When the rest of the kids clamor to be in the band, he puts Mason (Elias Totleben or Levi Merlo) in charge of lights, James (Lily Martens or Roxy Salzman) in charge of security and makes Sophie (Naya Rosalie James or Annabel Finch), the roadie in charge of equipment.  Billy Sandford (Jaxon Mitchell) will be the band's stylist.  When bratty Summer Hathaway (Omi Lichtenstein), who always has to be first in everything, demands a part, he makes her the manager.  In the end, the only student without an assignment is Tomika Spencer-Williams (Kayla Norris), a new student who never speaks.  When Tomika finally the courage to sing Amazing Grace, Dewey made her a soloist.   
Classroom time is now rehearsal time as the kids get ready for the Battle of the Bands.  The kids have camouflage – Washington crossing the Delaware - when Miss Mullins made a surprise visit to their classroom.  Later, she sits in as Dewey uses music to teach math.  After class, Dewey invites her out for a drink.  When he plays a Stevie Nicks song on the jukebox, Mullins starts to dance!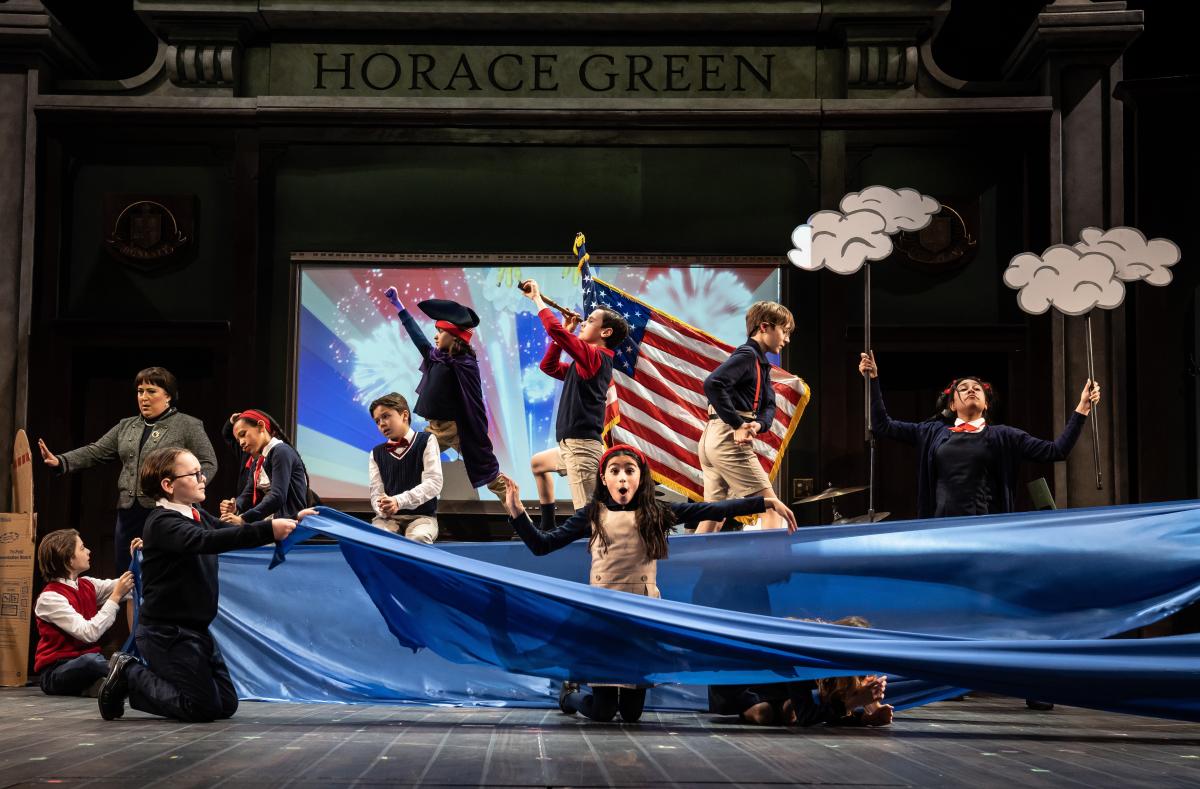 When they got to auditions for Battle of the Bands, the director says they're too late, so the kids use the terminal illness ploy, which got them an audition which they nailed.  Back at school, Dewey learned that the all-important Parents Night is the same night as the Battle, but they're ready.
When evil Patty bursts into Parents Night with accusations, the parents go ballistic, but   Dewey tells them what he's learned about their kids.  Zack is a brilliant guitar player and composer and so on.  When he gets to Summer, he said that she could run for President tomorrow and he'd vote for her!   While the parents are berating Rosalie, Dewey and the kids sneak out to the Battle of the Bands, where they perform wearing a more sparkly version of their school uniforms.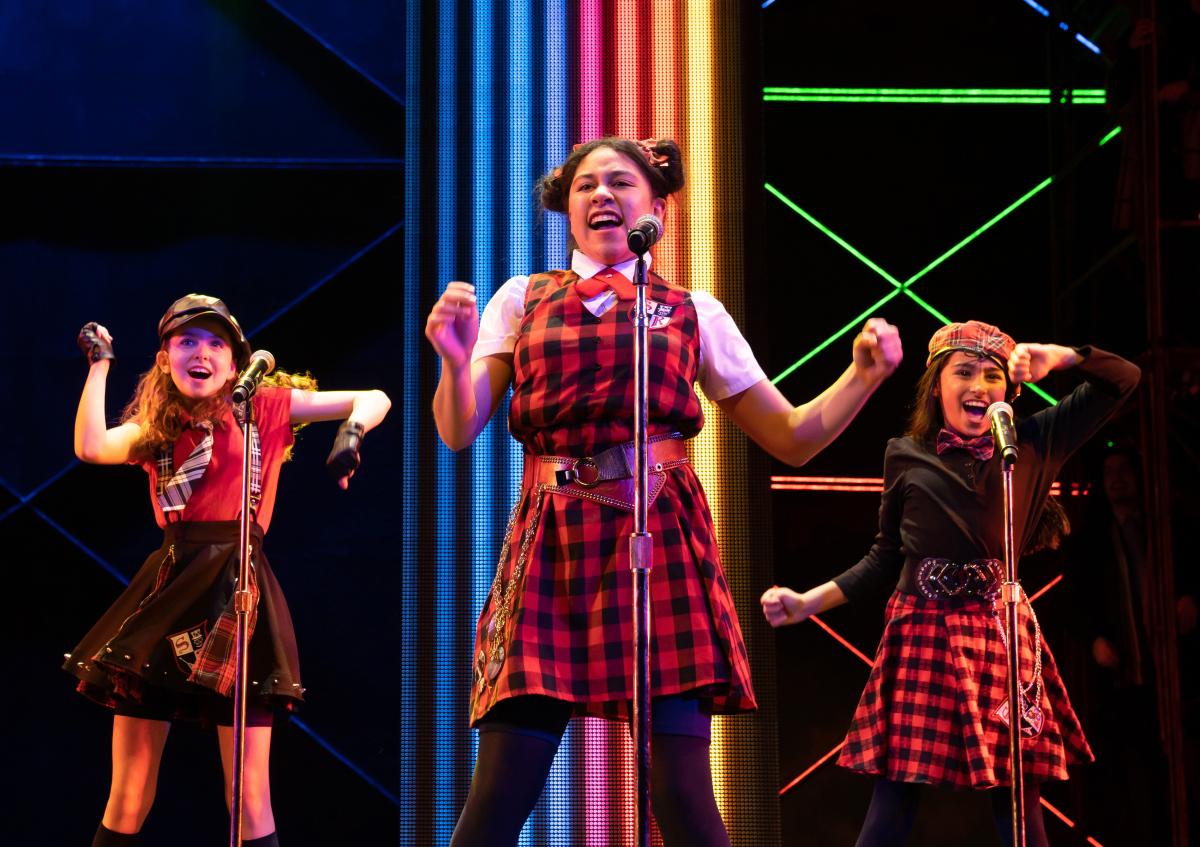 The School of Rock ensemble includes Alex Benoit, Alley Ellis, Andrés Enriquez, Dakota Hughes, Greta Kleckner, Em Modaff, Timothy Michael Quinn, Jason Richards, Andrew Sickel, Allison Sill, Ana Silva, Ryan Stajmiger and Christopher Wayland.
The Paramount Band includes Kory Danielson (Conductor/Keyboard 1), Celia Villcres (Associate Conductor/Keyboard 2), Dave Saenger (Guitar 1 – Electric/Acoustic/Alto Recorder), Scott Tipping (Guitar 2 – Electric/12-string/Alto Recorder), Dan Peters (Guitar 3 – Electric/Acoustic/Descant Recorder), Janis Wallin (Bass Guitar) and Jim Widlowski (Drums).
Note: Masks are encouraged but not required. 
School of Rock runs through June 4th at the Paramount Theatre, 23 East Galena Blvd, Aurora.  Valet parking is available, plenty of street parking too.  Running time is 2 hours, 30 minutes, with an intermission. 
Performances are Wednesdays at 1:30 and 7:00 p.m.; Thursdays at 7:00 p.m.; Fridays at 8:00 p.m.; Saturdays at 3:00 and 8:00 p.m.; Sundays at 1:00 and 5:30 p.m.  Tickets range from $28-$79.  FYI (630) 896-6666 or www.paramountaurora.com