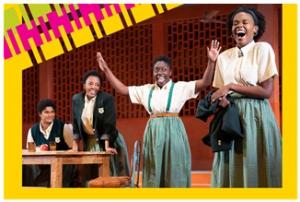 *** 3 ½ Spotlights   I can't describe how good it felt to be back in a theater after soooo long.  Then, to see a delicious play like "School Girls; or, The African Mean Girls Play", just wow!  No Kidding, "School Girls" is a funny, poignant, thought-provoking play about teen angst.  Don't miss it – at the Goodman Theatre through Aug 29th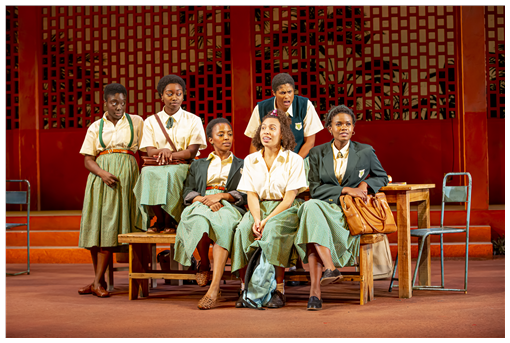 Sometime in the 80s, the students at a boarding school somewhere in Ghana are all excited because the Miss Ghana contest is holding tryouts at their school.  Unfortunately, they have no idea that Ghana doesn't stand a chance in the world-wide pageant
Thinking back to your teen years, you must remember that girl – the most popular girl in school, the one everyone followed, with her satellites orbiting around her, always ready to do her bidding.  Paulina (Clera Dawn) is that girl.  She's not just beautiful, she's smart, and she's got a boyfriend nobody's ever seen.  She's kind to those less fortunate - especially to Nana (Ashley Crowe), a new poor scholarship student who had no friends – and a shoo-in to for the Miss Ghana contest – or is she?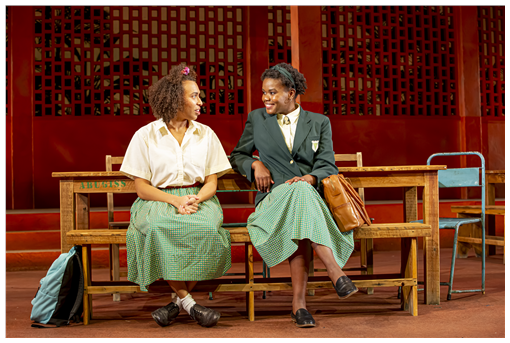 Enter the new girl, Ericka Boafo (Kyrie Courter), an American.  Without doing a thing, Ericka became the center of attention.  She knows American slang and corrects Paulina's mispronunciations of American brands.  When they're alone, Paulina shows her true colors, informing Ericka that she rules this school.   Later, she orders Nana, forcing her to break into the Headmistress's office and 'borrow' Ericka's file. 
When Paulina and Ericka get into a screaming fight, Headmistress Francis (Tania Richard) intervenes.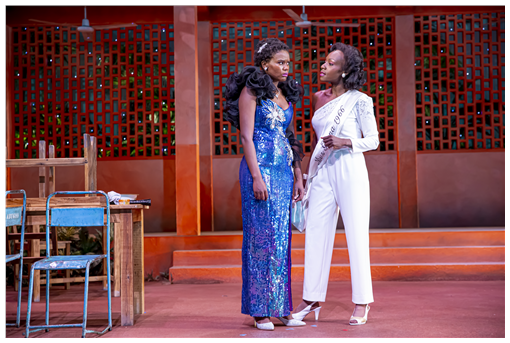 When a former Miss Ghana, Eloise Amponsah (Lanise Antoine Shelley), selects Ericka rather than Paulina because her skin is lighter, the girls learn that Miss Ghana had never really had a chance. 
The other students: Gifty (Adia Alli), Mercy (Tiffany Renee Johnson), Ama (Adhana Reid).   
"Schoolgirls" runs through August 29th in the Albert Theatre at the Goodman Theatre, 170 N. Dearborn, Chicago.  Most reasonable parking option for the Goodman is the Government Center garage on Lake between LaSalle and Dearborn, online advance payment at www.interparkonline.com/goodmantheatre. 
Running time is 70 minutes no intermission.  Performances are Wednesdays at 7:30 pm, Thursdays at 2:00 & 7:30 pm; Fridays at 8:00 pm; Saturdays at 2:00 and 8:00 pm; Sundays at 2:00 pm, with an additional performance on Tuesday, August 24th at 7:30 pm. 
Accessible & Special Performances: Touch Tour, August 21st at 12:30 pm; Audio Described Performance, August 21st 2:00 pm; ASL Interpreted Performance, August 27th at 8:00 pm; Open Captioned Performance, August 28th at 2:00 pm.  Tickets start at $15.  FYI (312) 443-3800 or www.goodmantheatre.org/schoolgirls