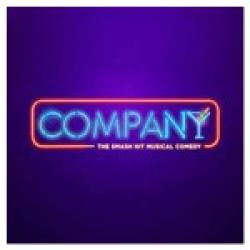 ****HIGHLY RECOMMENDED   Phone rings, door chimes, in comes..."Company." Chicago has swung the door wide open and graciously welcomed in this magnificent production of Stephen Sondheim's 1970 musical comedy that took Broadway by storm in 2022. This revival, brilliantly directed by Marianne Elliott, caused a fair share of raised eyebrows due to the fact that Elliott -- with Sondheim's permission, of course -- did some gender-swapping among several roles within the cast. But not to worry. This "Company" is slick, sassy, sophisticated and splendidly spectacular.  4 BIG SPOTLIGHTS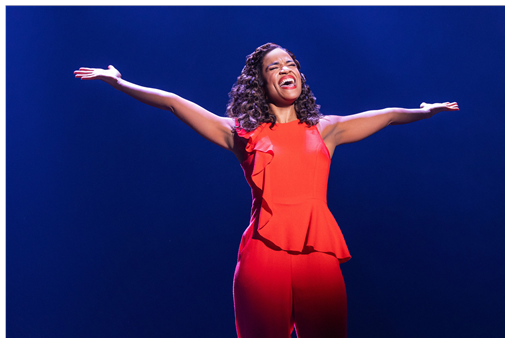 The major difference with this production of "Company" as compared to all others that have come before it is the fact that the main character of Bobby has always been played by a male actor because that's the way it was written. Here we are introduced to Bobbie, a female who, at the top of the show, is preparing for her 35th birthday and lamenting the fact that she is still single while all of her other close friends are coupled and married.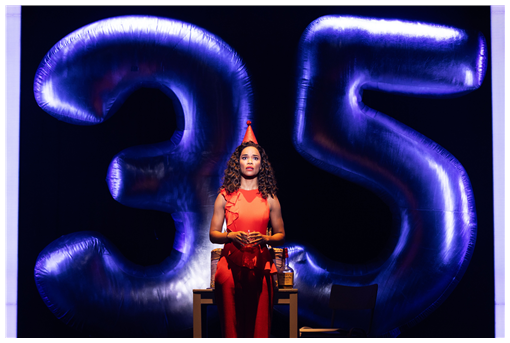 Bobbie is played by the wonderful Britney Coleman. Having understudied this role during the entire Broadway run last year, Coleman knows the role extremely well. Her performance is confident, solid and perfectly polished. She brings a grounded honesty and wholesomeness to the role, while also adding a slight bit of spunk to her portrayal so that you can't help but cheer this Bobbie on throughout the course of the show.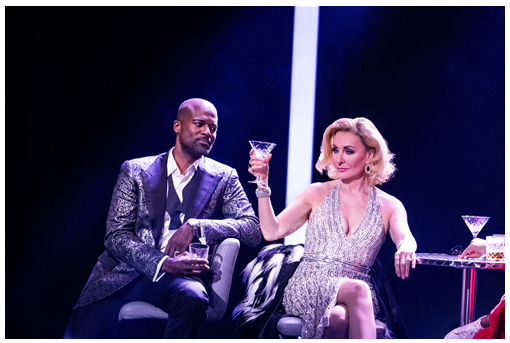 Judy McLane is Joanne, one of Bobbie's close friends who is currently on her third husband. The character of Joanne gets a great deal of the show's funniest dialogue and is gifted with perhaps the show's most widely-recognized musical number. McLane is downright enthralling as Joanne, bringing just the right touch of jaded sarcasm and acerbic alacrity to the delivery of her lines. But what about her vocal chops? She can belt "The Ladies Who Lunch" with the best of them.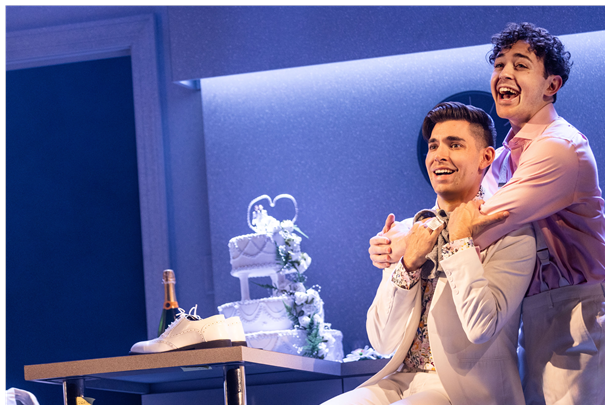 One other significant change in casting relates to the pair, in the original, named Paul and Amy. Here we have Paul (Ali Louis Bourzgui) and Jamie (Matt Rodin), a same-sex couple who are engaged but neurotic Jamie has cold feet. Both Bourzgui and Rodin bring great emotional depth and heartfelt gravitas to the scene leading up to their nuptials. Rodin, with his rapid-fire enunciation, stops the show cold with "Getting Married Today."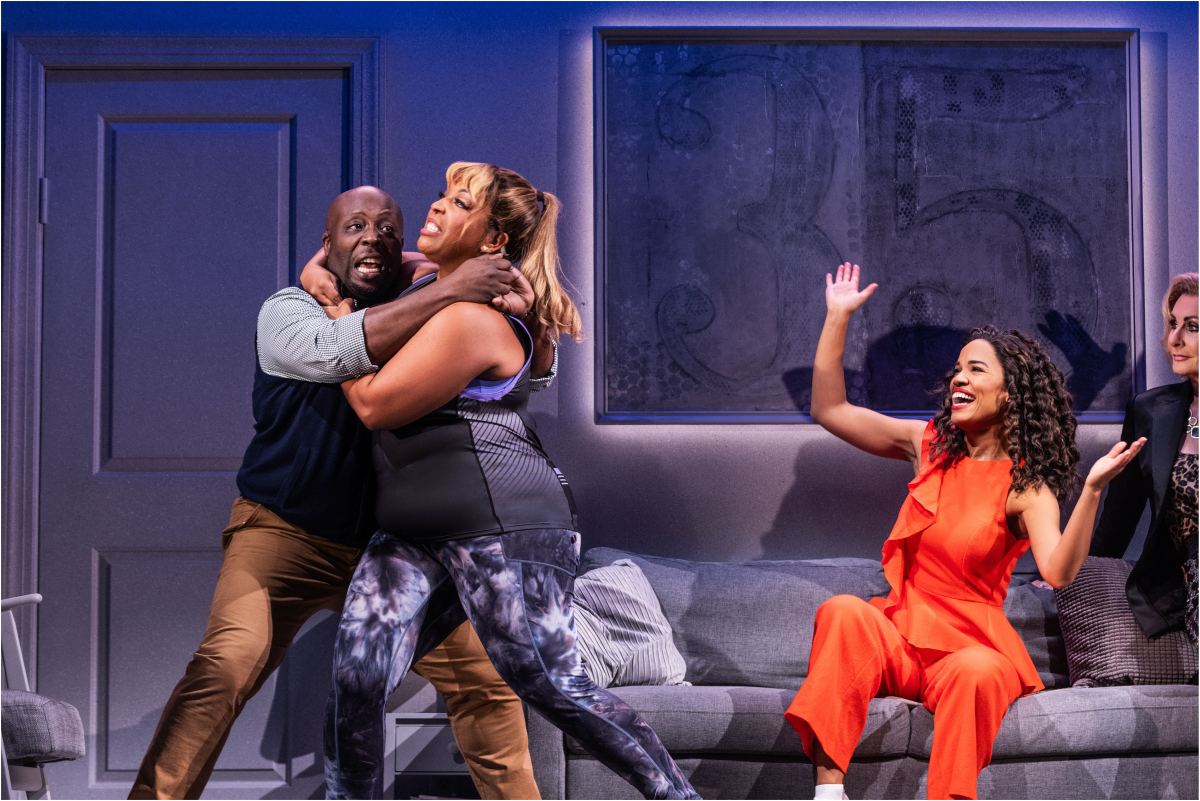 Chicago native James Earl Jones II plays Harry, who is married to Sarah (Kathryn Allison). They are both hilarious as they battle their own personal demons -- Harry trying to remain on the wagon and Sarah sticking to her diet. Jones, with his gorgeous voice, is the anchor of the trio of "Sorry-Grateful," one of the show's most lovely melodies. Also very strong is Jacob Dickey as Andy, the dense flight attendant who is wooing Bobbie during a one-night stand and joins her in the hauntingly beautiful "Barcelona."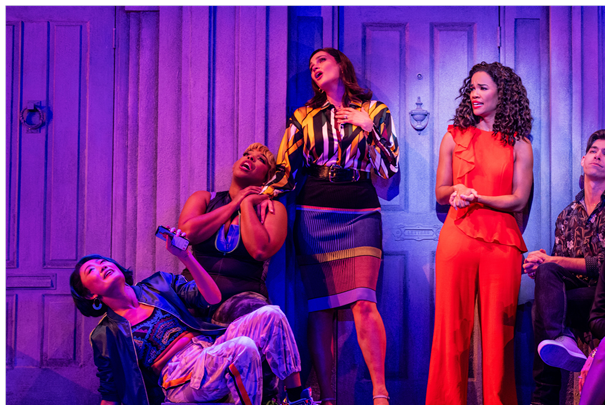 One of the reasons that this revival of "Company" is so special is because of the way it looks. Bunny Christie's scenic design rightfully won a Tony Award and her costumes really pop. Neil Austin's lighting design is magnetic. George Furth, who wrote the book for the original 1970 production, made some revisions -- working closely with Sondheim -- before a Broadway revival in 2006. Sondheim himself made slight changes to his lyrics at that time. Elliott has reverentially made even more tweaks so that her version of "Company" feels very contemporary, blissfully cosmopolitan and awfully relevant.
Just a final note on that whole gender-swapping controversy -- if it can even be defined as a controversy. Sondheim was totally supportive of the idea. He felt that theatre, above all of the other art forms, was the only one that could be altered to comment upon or adapt to the current moment. He famously said: "It's not just a matter of changing pronouns, but attitudes."
The one thing that will never change is the value of true friendship. That is something that this "Company" so gloriously celebrates.
___________________________________________________
"Company" continues through November 12, 2023
Currently playing at the Cadillac Palace, 151 West Randolph Street, Chicago, IL 60603
Tickets:  Please visit www.BroadwayinChicago.com
Run time is approximately 2 hours and 35 minutes with one intermission