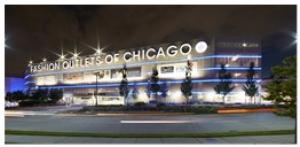 Santa returns to Fashion Outlets of Chicago, bringing with him fun family activities including pet nights and a sensory-friendly Santa experience, with comprehensive safety protocols. 
Located at 5220 Fashion Outlets Way in Rosemont, Fashion Outlets of Chicago will bring in the holiday spirit with the return of Santa to the shopping center beginning Friday, Nov. 19. The experience will offer guests a variety of photo packages, in addition to a mailbox where children can drop off letters to Santa.
Families are also invited to bring their leashed furry friends to take part in photos with Santa during Fashion Outlets of Chicago's "Pet Nights." Every Monday evening from November 29 through December 20, cats and dogs are welcome to join their owners for photos with Santa from 6 p.m. to 8 p.m.
Also returning for 2021, Fashion Outlets of Chicago invites children with special needs and their families to enjoy a Sensory-Friendly Santa Experience on Sunday, December 5 from 8 a.m. to 10 a.m. Taking place prior to shopping center opening, the Sensory-Friendly Santa Experience will be carefully managed to accommodate guests with autism and other special needs, including necessary environmental adjustments to meet guests' sensory challenges. Sensory-Friendly Santa Experiences are held in partnership with Cherry Hill Programs and Autism Speaks.
In order to ensure a healthy and happy holiday season for families, visits with Santa will maintain Fashion Outlets' existing health and safety protocols. This year, Santa's visitors will find hand sanitizing stations at the experience entrance and exit, social distancing and cleaning protocols and adherence to state and local requirements for face coverings. The shopping center also features an enhanced, high-quality HVAC system with hospital-grade MERV-13 filtration.
Located near the center's Food Court, operating hours for Santa visits are outlined below.
November Hours:
Fridays – Saturdays: 12 p.m. – 8 p.m.
Sundays: 11 a.m. – 7 p.m.
December Hours:
Mondays – Saturdays: 12 p.m. – 8 p.m. (closed Dec. 7)
Sundays: 11 a.m. – 7 p.m.
Friday, Dec. 24 (Christmas Eve): 9 a.m. – 5 p.m.