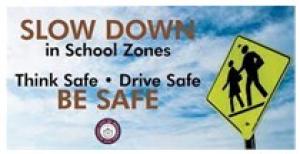 Safety Reminders for Parents & Other Motorists in Our School Zones
• Parents are asked to please follow the proper pick-up and drop-off procedures at your child's school. If you are parking and walking up to the school, please do so in an authorized area that is near a crosswalk and always walk small children across.
• Never drop-off children in the middle of busy streets or encourage them to cross where no crosswalk is available for them. Be patient for safety purposes.
• Always slow down in school zones and stay alert for children and teens who may be crossing streets or walking through parking lots. Always yield to pedestrians who are using crosswalks.
• Call 911 immediately to report any safety concerns