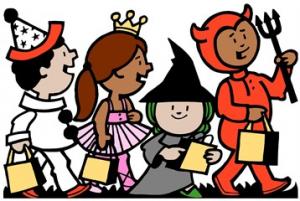 Chicago families looking for a safe and fun trick-or-treating experience this Halloween can head to The Bucktown Green, 1714 N. Hoyne Ave. (behind Bucktown-Wicker Park Library), on Sunday, October 31 from 1 - 5 p.m. for, a socially distanced event hosted by the nonprofit Wicker Park Bucktown Chamber of Commerce.
25 businesses from Wicker Park and Bucktown will be spread out throughout The Bucktown Green to give out candy, and a Halloween Photo Wall with festive displays will be set up for Instagrammable photo opps. Dozens more businesses will also give out candy at their storefronts throughout the neighborhoods.

20 families will be admitted into The Bucktown Green every 15 minutes. Timed tickets are $5 per family of 5, and must be purchased in advance at www.wickerparkbucktown.com.
The event will be run in full compliance of the latest health and safety guidelines, including enforcing proper social distancing with timed-entry ticketing, and guiding attendees through a one-way route during the event. Hand Sanitizer will be provided at entrance and exit. No eating of candy or drinks is allowed until families have left The Bucktown Green and properly washed or sanitized their hands.
This event is sponsored by Canine Crews, Rose Pest Solutions, and Wicker Park Bucktown Special Service Area #33. Event partners are Bucktown Community Organization and Flowerlife.
The Wicker Park Bucktown Chamber of Commerce serves as a cornerstone of the Wicker Park and Bucktown commercial districts, advancing the financial goals of neighborhood businesses through the creation of a dynamic economic climate, increasing the neighborhood's visibility and viability, and encouraging profitable relationships within the community. The Chamber administers Special Service Area (SSA) #33, guided by a volunteer Commission of SSA taxpayers who serve on active committees. For more information, please visit www.wickerparkbucktown.com.