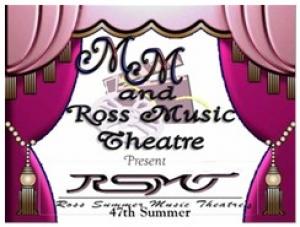 This year Ross Summer Music Theatre presents the area premiere of "Catch Me If You Can", based on the book by  Frank Abagnale Jr. Stan Redding as well as the Steven Spielberg/Tom Hanks/Leonardo Di Capriomovie of the same title.
Show dates are July 23, 24, 30, 31 at 7:30 pm and July 25 and August 1st at 3:00pm. Shows are at the beautiful Reinhart Auditorium in Merrillville High School. Tickets are $12.00 for adults and $11.00 for seniors and students sold in advance, $15.00 for adults and $14.00 for seniors and students at the door.  Cast members are selling tickets at a super discount price of $10.00 for a limited time.
Due to Covid restrictions, RSMT is blocking off every other row to help socially distance. Seats are limited to around 300 to 350 seats. Tickets can be purchased online at https://our.show/catchme.
"Catch Me If You Can" is the high-flying musical comedy about chasing your dreams and not getting caught.  Nominated for four Tony awards, including Best Musical, this delightfully entertaining show was created by a Tony Award-winning 'dream team,' with book by Terrence McNally (The Full Monty, Ragtime) and a swinging score by Marc Shaiman and Scott Wittman (Hairspray).
Seeking fame and fortune, precocious teenager, Frank Abignale, Jr., runs away from home to begin an unforgettable adventure. With nothing more than his boyish charm, a big imagination and millions of dollars in forged checks, Frank successfully poses as a pilot, a doctor and a lawyer – living the high life and winning the girl of his dreams. Eventually Frank's lies catch the attention of FBI agent, Carl Hanratty, who pursues Frank across the country to make him pay for his crimes.
"Catch Me If You Can" is a big and bright spectacle with high-energy dance numbers and a riveting story, making it an ideal choice for Community and Professional theatres who will relish the opportunity to sing Shaiman's and Wittman's sparkling new songs.
This year's performance is dedicated to RSMT founders, Jerauld and Margilee Reinhart, who for the first time in 57 years will not be a part of a Ross Summer Music Theatre show. Jerauld passed away in 2014, and Margilee this past March. They were responsible for teaching and mentoring thousands and thousands of actors in this area. Many are still performing in one way or another, several pursuing professional and and semi-professional careers.
A special Alumni Show is set for July 25th to honor all those who have been a part of RSMT in the past 57 years.
BRIEF 57 YEAR HISTORY OF ROSS SUMMER MUSIC THEATRE
In 1964, Ross Summer Music Theatre was founded by the amazing couple, Jerry and Margilee Reinhart.  For the next 46 years, Jerry would continue  to direct and run all music rehearsals.  For the following 5 years, he would continue to be musical director and consultant on other aspects of the show.  Margilee was right by his side, handling costumes, tickets, and anything else that had to be done to get the show on. When Jerry passed away in 2014, Margilee hung on, continuing with tickets and box office until she was about 90.  In March 2021,  Margilee passed away just two weeks before her 92nd birthday.  RSMT was on her mind to the end; the week before she passedshe asked, "What show are we doing this summer?"
"CATCH ME IF YOU CAN" marks the 57th summer of RSMT.  For the first time in that 57 years, neither Senior Reinhart will be at the show, not available to help, not available to direct the orchestra, not to even watch.  This cast and crew has set out to be the start of next generation, the continuation of the old brought about by the new, introducing people of all backgrounds to the excitement of the Broadway Musical.  It is now our job to keep the torch burning so it can continue to be passed on for the next 57 years or more.
As a cast and crew, we dedicate this show to Jerry and Margilee Reinhart for starting something that is so monumental that it will continue to thrive long after they have gone and yet will always be influenced by them.--