4 Stars
For Shakespeare aficionados, Promethean Theatre Ensemble has done a tremendous job in their performance of William Shakespeare's "Richard III" at Chicago's Factory Theater.
Marvelously cast as Richard the Duke of Gloucester is Cameron Feagin, who thrills us with her earnestness and fury, as she exhibits Richard's wide range of emotions, such as rage, lust, zeal, wrath, covetousness, fanaticism, and bloodthirst. This conniver and deceiver-in-chief makes himself sound so pious and angelic, while actually being a dissembler who enjoys duping people about his real motives. How well Shakespeare has captured the verbiage whereby Richard beguiles others with his calculated schemes of flattery and deceit as he slowly and cunningly gains and consolidates power. With others often blind to his game or overtly thinking the best of him, the duke succeeds in hiding his true self from his family, friends, and followers, while he lays bare his undisguised thoughts and feelings to the audience. As we watch, we witness the villain who shrewdly plays the role of victim and enlightens us about his master plans.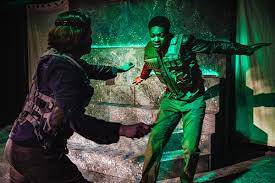 While Feagin proficiently conveys the highs and lows of Richard's despicable character, all of the other actors brilliantly support her—and together, they recreate the historical events that once took place in England during the mid- to late-1400s. In particular, Simmery Branch (Lady Anne), Mark West (Buckingham), and Brendan Hutt (King Edward IV) are notable in their performances. Other cast members include: Joseph Beal, Gunner Bradley, Elaine Carlson, Ryan Cason, Jared Dennis, Barry Irving, Heather Jencks, Darren Jones, Jack Morsolvillo, Andi Muriel, Michael Reyes, Kevin Sheehan, Heather Kae Smith, and Destin Lorde Teamer. Note that understudy Jessica Goforth substituted for Andres Coronado in playing Queen Margaret for the press opening on Sunday. Director Steve Scott does incredible work with his choreography and direction on a rather small stage. The smoothness by which he starts and ends scenes and moves the characters along the floor is like a fine mechanism, especially when we consider the large cast involved. Most actors play multiple characters, and they need to be presented convincingly, which means that several costume changes must take place offstage.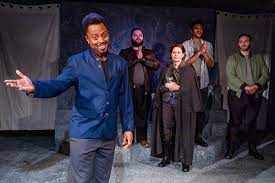 The scenic design is simple; and like the original Globe Theatre, in London, the proscenium juts out, so that the audience sees the action from three sides of the stage (like the letter "U"). That said, what is most memorable about the set is the use of lighting on the stairs at the back of the stage to indicate a throne or a space where a person could sit in contemplation. Thanks to lighting designer Benjamin Dionysus, the lights shift nicely throughout and help keep our focus on the action. The actors are all in modern dress, and with the exception of a Japanese-themed bathrobe with some cranes on them, everybody is dressed in solid colors, mostly in black and dark shades, wearing nothing flashy—except for some of the ladies' footwear (which, in my opinion, should have all been in black). I liked when some actors put on flak jackets when the story turned to aspects of military pursuit. A shoutout has to go out to Maureen Yasko, the fight and intimacy director, who supervised close contact between cast members during violent scenes. Sound design by Sebby Woldt is accomplished nicely. Additionally, text coach Paulette Hicks makes Shakespearean English flow off the actors' tongues nicely. Finally, the well-designed artwork that graces the cover of the program and the marketing materials has been adapted from a royalty-free photo by Lians Jadan on Unsplash.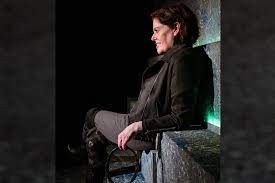 Shakespeare leaves open the possibility that any person can be manipulated by others and can be the object of ill will, deserved or not. Think about how artfully the bard was able to catch Richard III's trickery in voice and mannerisms and then do a 180—and tell the audience exactly what he thinks. Perhaps dwelling on his deformed back (due to scoliosis) led in large part to young Richard's belief that he was unlovable and, as a means of overcompensation, he chooses to amass power over other people as opposed to winning their true affections. Towards the beginning of the performance, Richard talks about "clothing the naked villain", such that he cannot be recognized by most. What a fascinating psychological portrait of a man who would be king!
Most of us are already familiar with the famous line that opens the show: "Now is the winter of our discontent." But it is springtime in Chicago, and you will not be discontented with this production. Despite its 2-hour and 45-minute running time (including a 10-minute intermission), it is well-worth seeing, as the story in its entirety remains faithful to Shakespeare and to British history. Considering how carefully it points up how reprehensible people can manipulate others in order to dominate them, this show can most certainly open our eyes to the means and ways of dictators and tyrants in any era, including our own.*
Promethean Theatre Ensemble's "Richard III" plays through June 25, 2022, at the Factory Theater, 1623 W. Howard Street, Chicago.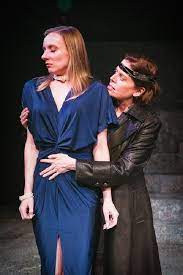 Tickets: $30 general, $25 seniors, $15 students
Performance schedule:
Thursdays, Fridays, Saturdays at 7:30 p.m.
Sundays at 3:00 p.m.
To purchase tickets or obtain further information about this show, visit: https://www.prometheantheatre.org/project/richard-iii/.
For general information about Promethean Theatre, go to: https://www.prometheantheatre.org/.
Note that COVID restrictions are still in effect. You will be asked to show a vaccination card and matching ID. You will also be required to wear a mask covering your nose and mouth while in the theater. We appreciate your cooperation.
*Because Steve Scott's "Director's Note" is so compelling and timely, I am appending an extended excerpt, directly taken from the program:
"Although it was written more than four centuries ago, Shakespeare's Richard III is a casebook study of the many demagogic icons of the modern era…. Intensely savvy, seductively funny, outlandishly theatrical, and meteorically unpredictable, Richard is the ultimate seducer, the longed-for savior that his followers crave and enable–until they realize, perhaps too late, that there's venom under the easy smile and humble piety. And although he's one of Shakespeare's most compelling tragic figures, the real tragedy falls on those enablers: the politicians, the followers, the reluctant skeptics who allow and encourage his zealous monstrosity.
"At the end of the day, Richard III is not just a deliciously compelling portrait of literature's most alluring villain. It is a charge to all of us – the disaffected, the trusting, the complacent or the fearful – to look beneath the swaggering allure and confident poise of the would-be savior and root out the incipient tragedies that will befall us all."