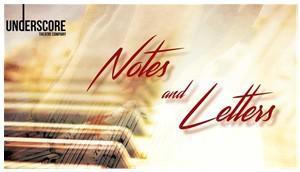 4 Stars, Highly Recommended!  "Notes and Letters" is a four-character musical, centered around the lives of two couples who live in Chicago between 1916 and 1918. This world premiere presentation is nicely written by Annabelle Lee Revak and is a combination romantic comedy/drama that is based in part on a true story, having to do with a small downtown shop, called Williams' Custom Pianos. What is most impressive about this show is that Revak not only wrote the script but all the original songs and music. Her lyrics are heartfelt, and the musical style she employs (e.g., the beginnings of ragtime and jazz) is appropriate for that era and moves the action along. Above all, the romantic scenes that she portrays are cleverly-inspired, and the actors' expressive body language makes them sensational. Due to the fine directing by Leah Geis, the characters utilize all parts of the small stage and skillfully interact with one another. There is not a dull moment during the entire two hours and ten minutes, including intermission.
The story is about a young man Joe Loula (Sam Martin), who is a recent immigrant from Prague, Czechoslovakia. He has come to the United States to escape the war in Europe and has brought along his skills as a carpenter and furniture builder. By means of happenstance, Joe meets Charlie (Michael Mejia) on the street as he looks for work in Chicago. Even though Joe has never built a piano before, Charlie immediately hires him, because he is desperate for help when there are so many customer orders. At the shop, Joe meets Charlie's girlfriend Nora (Caitlin Dobbins), who supports herself by tending bar at the Green Mill but who also wants to help Charlie succeed in his business. Charlie, however, says that he can easily handle the clerical tasks and finances and rebuffs her wanting to become his business partner, even though it's clear that they are already romantic partners. Nora's best friend is Olivia (Katy Campbell), who Charlie has previously taken under his wing, just as he has recently done with Joe. Olivia is a composer in her own right, loves playing the piano, and wonders if her music is any good. (This part made me wonder if the playwright, who is also female and a musician, was projecting a lot of her own angst about success and failure onto this character, but I digress.) The bottom line is that Charlie and Nora want to push Joe and Olivia together. However, Joe never mentions that he has left his fiancé Marge behind in the Old Country. And suddenly, now he is in love with two women, half a world apart. He interacts with Olivia through her (musical) notes, whereas he stays in touch with Marge through her letters.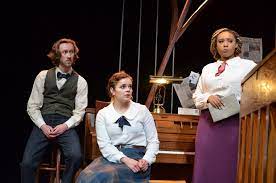 Thanks to choreographer and artistic consultant Ebrin R. Stanley, the early twentieth century song and dance numbers shine with five-star brilliance. The musical performance in and of itself is wonderful, in large part due to the hard work of music director and pianist Anna Wegener, together with drummer Anthony Scandora and upright bass player Abigail Cline. Some of the more memorable parts are the two and four voice blends. While all the cast members do a fine job singing, I was particularly fond of Campbell's voice. Scenic design by Rebekah Clark and props design by Kathryn Healy are excellent for such a small stage. The array of sheet music and posters on the walls gives the set a sense of place and space and could not have been done any better. Having two pianos on stage works well. And the abundance of wood in the room makes for an authentic-looking setting. Costume design by Christina Leinicke is definitely characteristic of the era, and the clothes are beautifully constructed.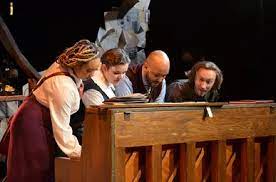 Artistic director Whitney Rhodes introduced the show at Thursday night's press opening. In addition to setting the scene, she explained how much of the history within the show parallels current events today and our uncertain times having to do with fallout from the war in Eastern Europe. That being said, the plot has several twists and turns related to the World War I era, and it is exciting when the audience is not entirely certain where the story is going to head. In particular, the impact of the war on the love triangle is very interesting. But this theme needs to be better developed in the second act, rather than having Olivia simply say to Joe, "I got all your letters, all 37 of them." And things are left much too vague. This leads us to perhaps the biggest issue I have with the production: The story becomes more and more contrived as time goes on, and the threads need to come together better at the end. The ending as it stands now is rather depressing, except that the gang gets together again for one last hurrah. From my perspective, this twist of fate cannot be turned into a "silver lining" (as in the song of the same name that ends the show). Perhaps one person could have received a large inheritance or have made lots of money on a lottery ticket—and although this would have been deus ex machina, the show would have ended on a better note (pun intended). As things stand now, owning a piano shop while being economically impoverished makes no business or financial sense. The sad part is that the characters probably know this, and all I could think of was "Liquidation Sale." Finally, there appeared to be a technical issue on the night I watched the performance. Martin acted the part of Joe Loula very well, but there were moments during his singing when there seemed to be an issue either with the sound mix, the miking, or the amplification, or perhaps he didn't project as well as he should have.
As a whole, "Notes and Letters" has so many stellar aspects that it would take time to praise them all. One thing I really liked a lot about this production is that the audience really feels that we have gone back in time by about a hundred years. The fact that the characters read headlines from old newspapers adds to both the immediacy of the drama and its historical context. The acting, the character development, the music, the songs, and the dancing in this show are great. It is fun evening's entertainment and a credit to the multitalented playwright/lyricist/composer Annabelle Lee Revak. But there is still some room for improvement. With just the right touches to the script, the show can be made even more rousing than it already is. It is most certainly destined to go places.
"Notes and Letters" is a production of the Underscore Theatre Company and is running through May 28, 2022, at the Richard Christiansen Theater, 2433 N. Lincoln Avenue, Chicago. Note that this is the upstairs theater at the Biograph/Victory Gardens.
General admission tickets are $32.
Discounts are available via telephone or in person at the box office for:
Groups (per person) - $28
Seniors - $27
Military, first responders - $22
Industry - $20
Students - $15
Performance schedule:
Fridays and Saturdays – 7:30 p.m.
Sundays – 2:00 p.m.
Additional performances: 
Wednesday, May 25 at 7:30 p.m.
and Saturday, May 28 at 2:00 p.m.
For tickets and additional information, please visit https://victorygardens.org/event/notes-letters/ or The Biograph Theater Box Office 2433 N. Lincoln Avenue, Chicago, or call them at 773-871-3000.
For specific questions, please call or go to: tickets@victorygardens.org.
Note that COVID restrictions can change at any moment. Presently, you must show your vaccination card and a picture ID when you enter the building. And this statement is taken from the program book: "Thank you for doing your part to mitigate the spread of COVID-19 by wearing your mask during the entirety of this performance."