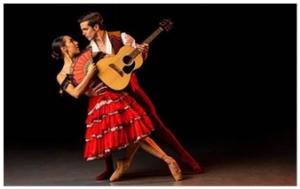 5 Stars! Very highly recommended!  Sheer brilliance dominates the Joffrey Ballet's enactment of "Don Quixote" at Chicago's Lyric Opera House. This classical ballet, choreographed by Yuri Possokhov, features the original French choreography by Marius Petitpa and the original music by Ludwig Minkus, dating from the Bolshoi Ballet of the late 19th century. Yet Possokhov has added his own touches, with a renewed focus on the title character Don Quixote (Miguel Angel Blanco) and his squire Sancho Panza (Derrick Agnoletti) through a series of dream sequences. The focus nonetheless remains on the romance between Kitri (Victoria Jaiani) and the Basilio, the barber (Dylan Gutierrez). Both the prima ballerina and the danseur perform brilliantly and trip the lights fantastic. Gutierrez astounds us with his generous and flighty leaps and bounds; while Jaiani, with her ruffles and flourishes, performs gracious arabesque penchés and spiraling twists and turns. Their height differential adds flair to the performance, beginning with their Grand Pas de deux in the first act when they first express interest, feelings, and affection for each other. This is followed later in the second act when, during her signature whirl, she astounds us by pirouetting 32 times consecutively.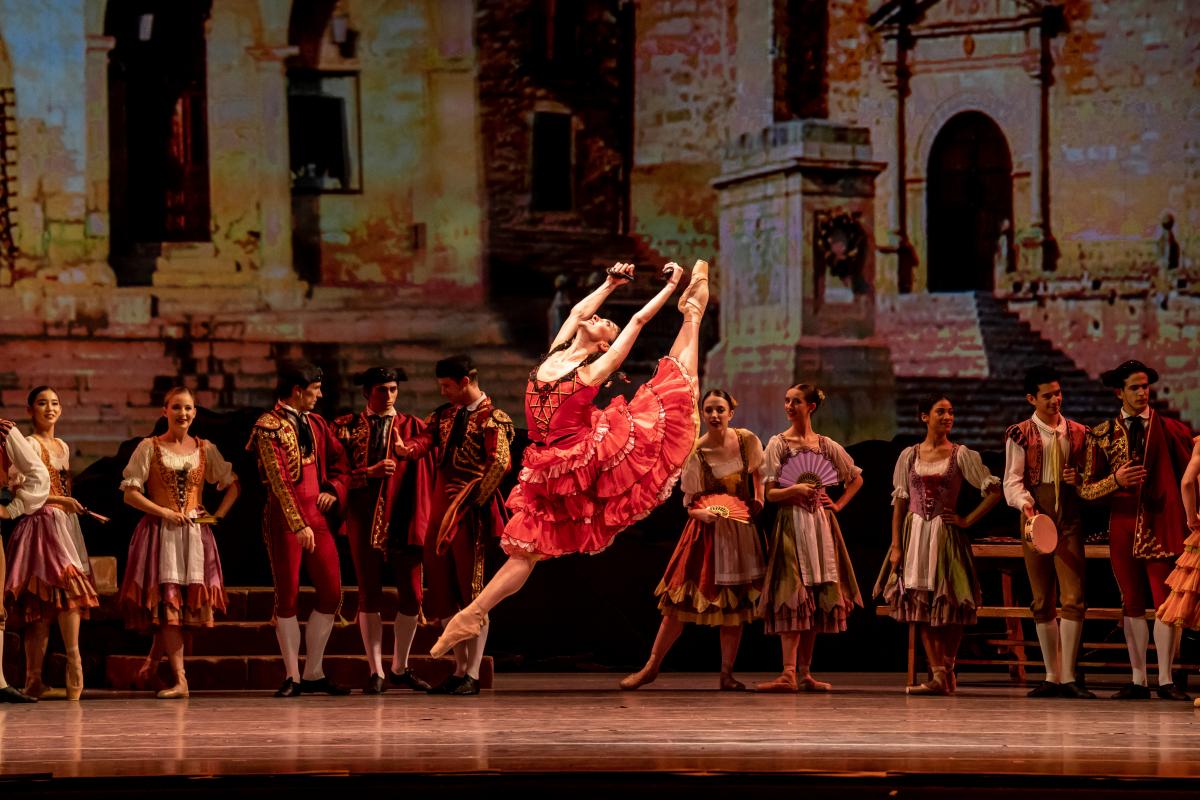 Of course, there is always trouble in paradise, as Lorenzo, Kitri's father (Raúl Casasola) has already betrothed her to marry Gamache (Fernando Duarte), who is a buffoon considerably older than she is. And of course, it is Don Quixote who saves the day and makes things right. Other featured dancers are: Mercedes, a street dancer (Brooke Linford); Espada, a famous toreador (Stefan Goncalvez), Kitri's Friends (Amanda Assucena and Valeria Chaykina), and the Dryad Queen (Gayeon Jung). The combination of ballet with flamenco is breathtaking, especially when it comes to watching the corps de ballet in their supporting roles.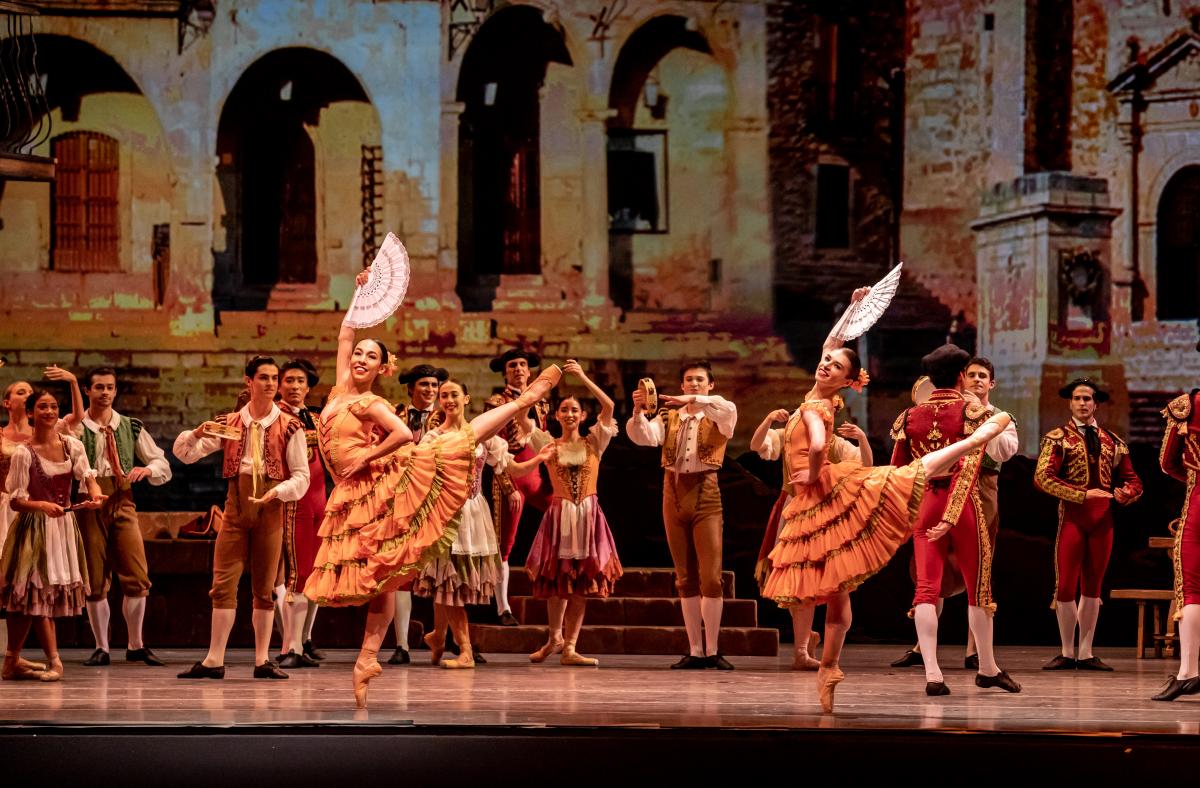 There are so many wonderful aspects of this performance that they are almost too many to name. Vonorthal Puppets has beautifully designed Don Quixote's frolicking horse, and, of course, the two performers inside do a splendid job mimicking a real animal.
Costume designer Travis Halsey has crafted and stitched traditional ballet outfits that bring us back thematically to the original 17th century, while others take us approximately to the year 1900, when the ballet was first performed. Of note are the authentic toreador suits worn by the men and Kitri's stunning red dress.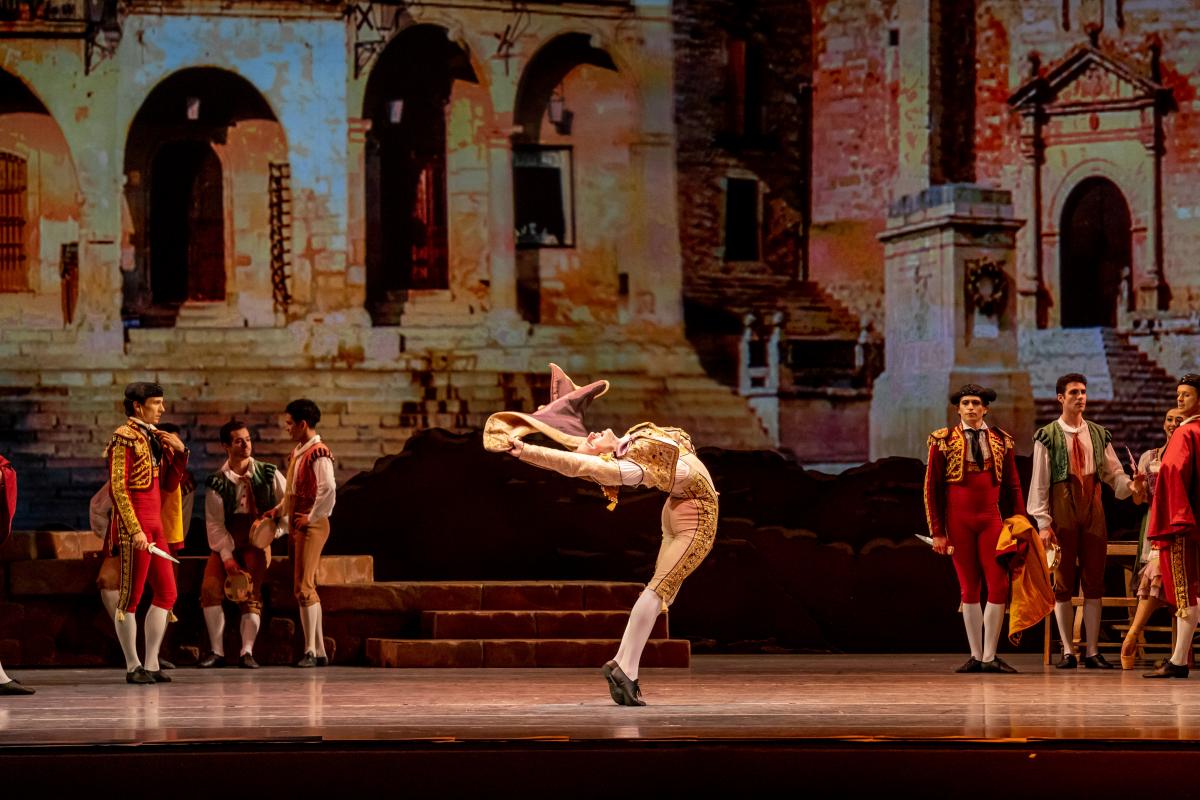 I especially liked the costume change in the middle of the second act, when the couple—finally allowed to be together—both change into white for the wedding scene, which plays on the fantasy that both are romantic partners who are meant to be together. Of course, this production would not be what it is without Minkus's impressive ballet music. The Lyric Opera orchestra, brilliantly conducted by Scott Speck, brings the story home for audiences of all ages to enjoy.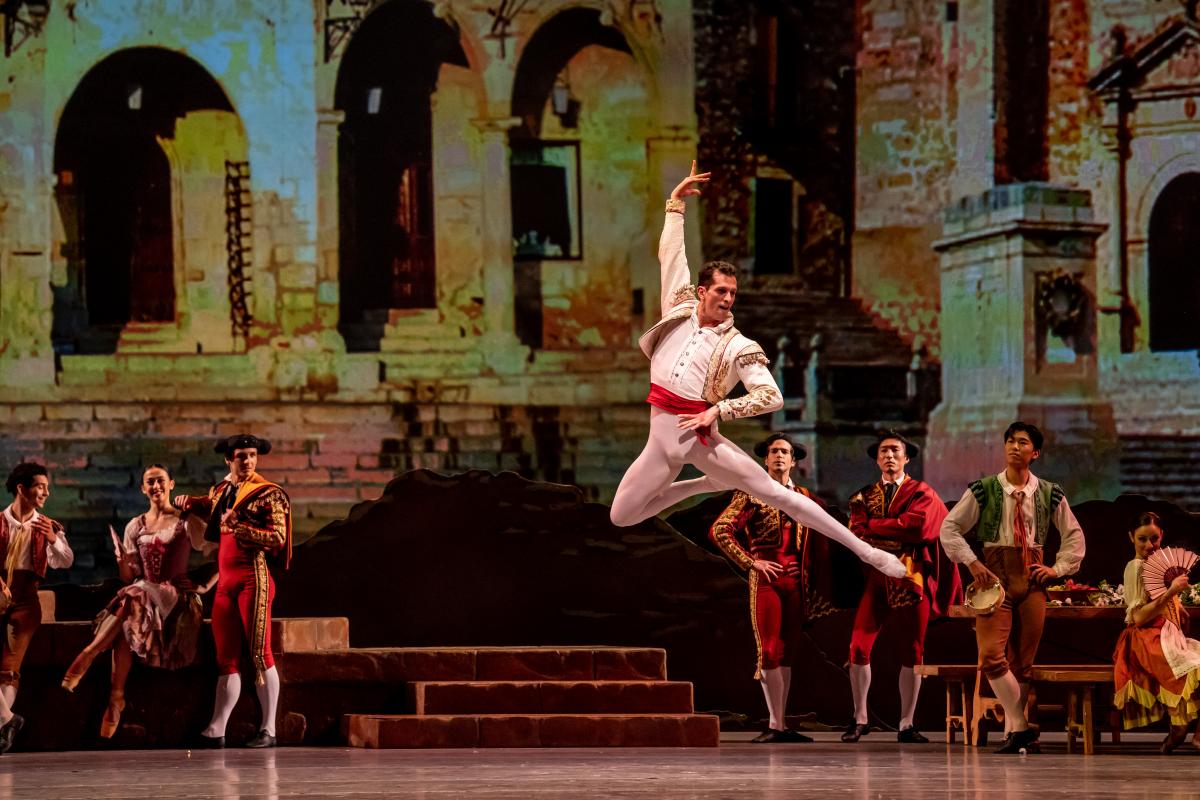 Jack Mehler's scenery and lighting design is without equal, as the lights differentiate different scenes but are not intrusive. The bed moving in and out of the set is done very well. Most amazing is the projection design as well as the clever use of scrims, creating the necessary whimsy and illusion. Kudos must go to projection designer Wendall Harrington and projection programmer by Paul Vershbow for a magnificent job. Some of my favorites are the ghostly windmills and the taverna scene underneath the aqueduct, both in the second act. Speaking of the second act, the flying scenes by Don Quixote and the character of Cupid are wonderful; Flying by Foy is the creator of these highlights. And during the pause in the second act, we get to see projections of drawings that may have come directly from illustrations of the novel "Don Quixote", drawn over the years. Speaking of the original book, the story, penned by Miguel de Cerventes in 1605, is considered to be the first modern novel, and it has lived for many years in Spanish and in translation. Briefly, it is a tale about a knight who is seemingly naïve and courageous at the same time. He chases windmills and gallantly fights for human values and culture in the face of scientific and technological progress.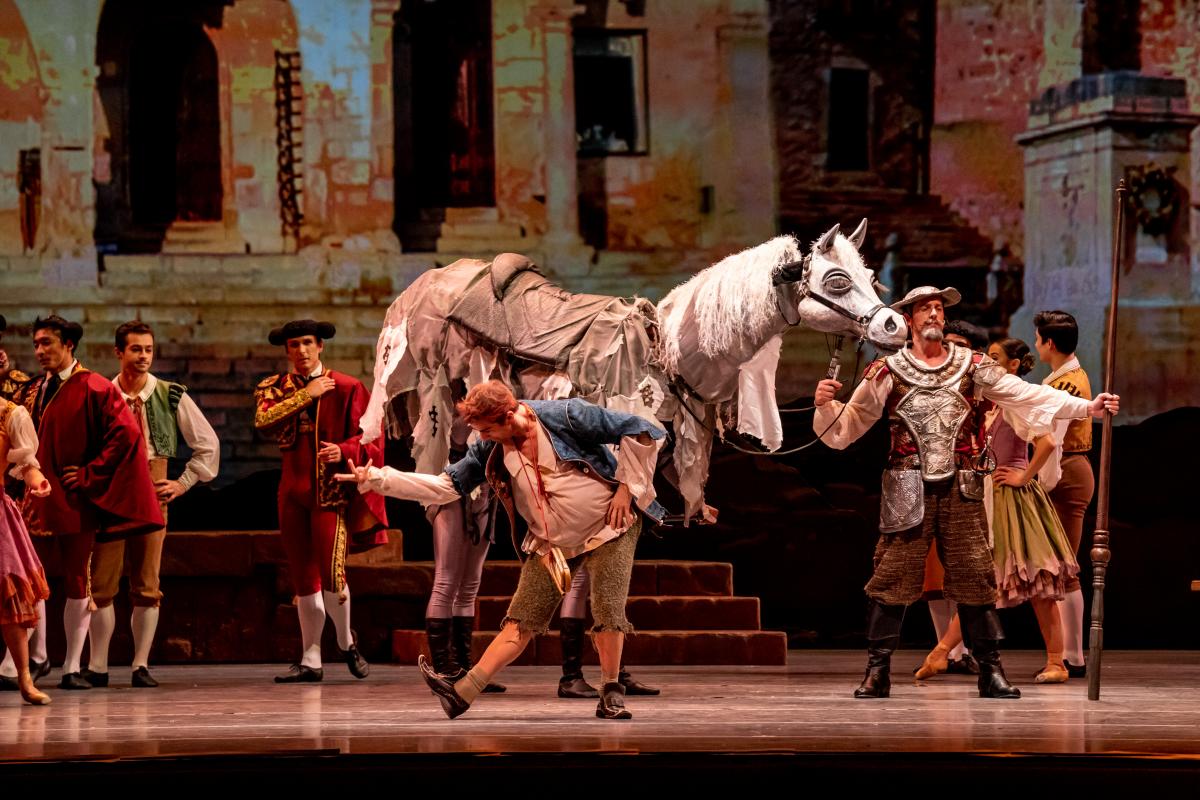 My guest was my cousin, the dance maven, who had seen "Don Quixote" performed three times before, twice by the Bolshoi Ballet. She told me exactly what to look out for in this performance and how it differed from those she had seen before. We agreed that the dancing was not 100% synchronous, and some members of the corps de ballet were a bit uneven. But considering that this was opening night (with no previews or dress rehearsals), it made no difference to us!
As a result of the surge of COVID-19 cases in Chicago in January 2022, The Joffrey Ballet postponed its February production of "Don Quixote" until now. The press opening on Thursday, June 2nd was on a splendid summer-like night. The fancy-free fun and frivolity of the dance made the audience leave with exuberance! This is an imaginative production like no other! So please take yourself and those you love—of any age—to see it! It's a one-of-a-kind experience!
"Don Quixote" runs through Sunday, June 12, 2022, at Lyric Opera House, 20 North Upper Wacker Drive, Chicago.
Single tickets start at $35.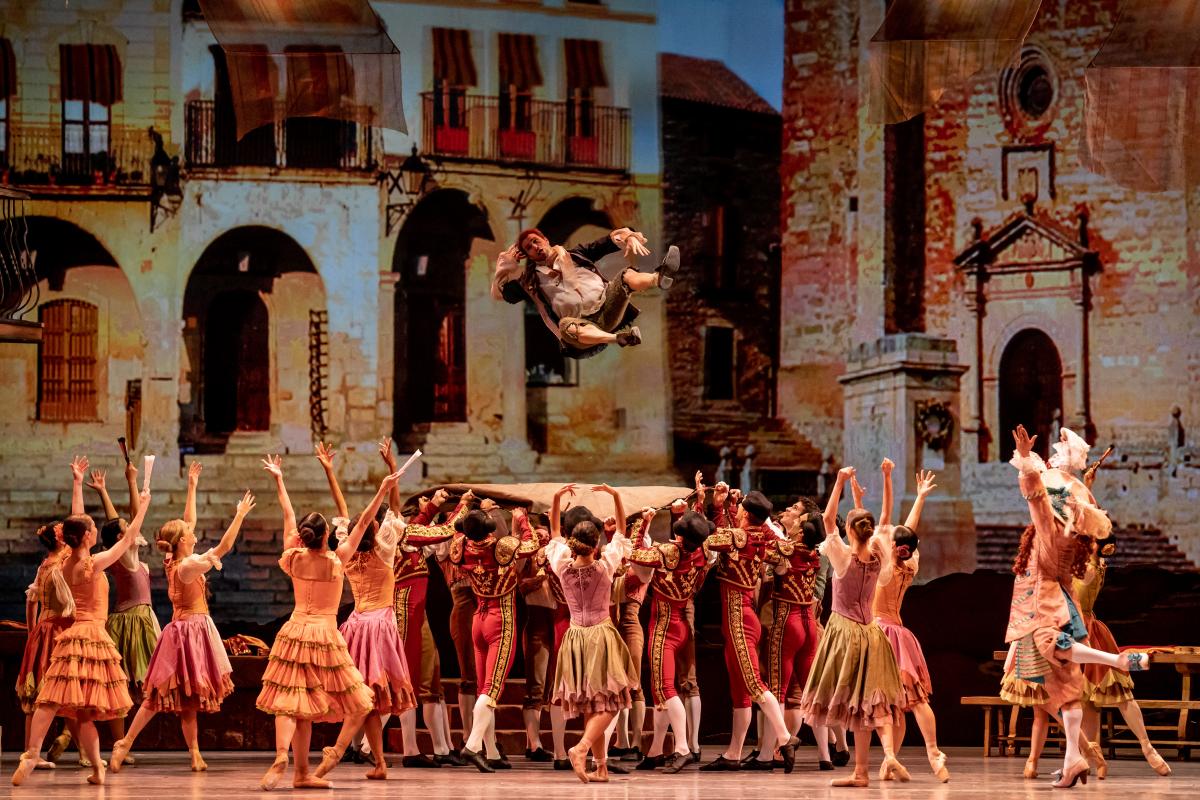 Performance schedule:
Friday, June 3, 7:30 p.m.
Saturday, June 4, 2:00 p.m. and 7:30 p.m.
Sunday, June 5, 2:00 p.m.
Thursday, June 9, 7:30 p.m.
Friday, June 10, 7:30 p.m.
Saturday, June 11, 2:00 p.m. and 7:30 p.m.
Sunday, June 12, 2:00 p.m.
Tickets are available for purchase at The Joffrey Ballet's official Box Office located in the lobby of Joffrey Tower, 10 East Randolph Street, Chicago, or online at https://joffrey.org/.
For more information about this show, visit: https://joffrey.org/season-and-tickets/2021-2022-season/don-quixote/.
Ticket holders for postponed performances (due to COVID) had their seats automatically transferred to a corresponding performance date. More information can be found at https://joffrey.org/season-and-tickets/2021-2022-season/don-quixote/.
For general information and a list of other performances, see: https://joffrey.org/.
"The Joffrey requires that all audience members provide proof of full vaccination (when eligible) against COVID-19, as recommended by the Centers for Disease Control and Prevention (CDC) or World Health Organization (WHO), for Joffrey performances and events at Lyric Opera House. Those who arrive without proof of full vaccination status or without valid photo I.D. will not be admitted to any Joffrey event or performance. Additionally, protective face coverings must be worn properly over the nose and mouth at all times while inside the theater." See https://joffrey.org/season-and-tickets/plan-your-visit/safety-at-the-joffrey-ballet/ for additional information.
Note: The ushers will go up and down the aisles and check if you're wearing your mask.