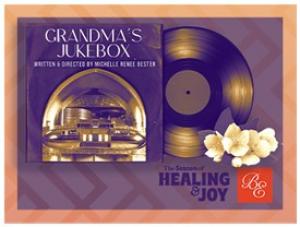 Four Stars! Highly Recommended!  "Grandma's Jukebox" is a charm! The point of this cute story is that a grandmother's legacy can live long beyond her death: not just in the characters' memories of her but in how they subsequently choose to lead their lives. The genre of this show is what's known as a "jukebox musical." The songs within it are all popular hits that have been previously recorded by major artists; these are then recreated and assembled around a story, invented at a later date. Playwright and director Michelle Reneé Bester has done just this, using her own grandmother as her inspiration. The plot is centered on the concept of a (physical) jukebox as a means of tying the music, characters, and action together.
Four African American characters—known as the "Fab Four"—are presumed cousins, each of whom was adopted by their grandmother at an earlier point in their lives when things had gone awry for them. Grandma, it seems, was the salve who tended to their wounds when each was hurting in their own way. But now with her death, Grandma has decided that the four must learn to stick together and support each other emotionally, if not also financially, in order to survive. One of her last wishes was that the four undergo some psychological counseling. Reluctantly they agree, and that is how the audience learns their stories.
Jessica (Jessica Brooke Seals) suffers from a difficult husband and a bad marriage. Christopher (Vincent Jordan) is an ex-felon who has served his time and now wants to launch his own not-for-profit organization, but nobody wants to give him a fresh start. Mikey (Blake Reasoner) previously escaped from an abusive father (who he's named after), and now he wants to express himself by creating his own music. The youngest, Parker (Aeriel Williams), a/k/a "P", wants to find her own voice. (Her parents were tragically killed when she was three years old, and that's when Grandma took her in.) She is the quiet one who is convinced that Grandma is trying to communicate with all of them through the (unplugged) jukebox, located in the middle of her living room. And needless to say, none of the others believe her! The fifth character is Richard (J. Michael Wright), Grandma's (white) adopted grandson. He is a lawyer and is initially at some distance from the others, although we never know why. He is in charge of Grandma's will and is the executor of her estate. Previously Grandma saw her family in need of help and healing, and so she asked Richard to take on the role as therapist. Therefore, it became his job to ask poignant questions of the group. In the process of vocalizing their personal issues, the four become closer to Richard too.
While the plot is very good, the best part has to do with how smoothly the songs and music have been incorporated into the story. All five actors are marvelous singers in their own right, and their voices blend beautifully! The fifteen featured songs are those that my generation grew up with, such as "Beat It", "I'll Be There", "Gonna Be Alright", "Hurt Me So Good", and "I Wish." If you like this style of popular music from a previous era, then you will love this performance! (P.S. I loved it!) Credit for the music goes to musical director Robert Reddrick; band leader and guitarist Oscar Brown, Jr.; keyboardist Adam Sherrod; bass player Mark Miller; and drummer Myron Cherry. Sound designer DJ Douglass has created just the right mix of vocals and instrumentals.
Set design by Bek Lambrecht is that of Grandma's living room, with the walls looking as if it were a home from the 1920s but with a china cabinet and a jukebox circa late 1950s/early 1960s. I particularly liked that whenever the jukebox came on, the lighting in the room shifted, so as to add a supernatural dimension to the scene. Kudos to lighting designer Denise Karczewski and technical director Harrison Orneals. Costumes by Marquecia Jordan are of modern vintage.
Considering how enjoyable the show is, its flaws are relatively minor. With Grandma's recent death, I wanted to see the weight of grief on the faces of the actors and have them express some more raw emotion (without becoming melodramatic). Jessica's line that everybody grieves and heals in their own way is not sufficient, although P's poutiness is nicely done. In addition, I wanted to hear a few more anecdotes about who Grandma was, not just what she did for each of the five of them. I really wanted to know how and why did she become the encouraging person who had chosen to take all of them in.  Was she plain, ordinary folk who saved her last dime? Or did she have the financial wherewithal to take on such a big responsibility? Or was she herself abused and neglected when she was younger so that she wanted to help others through a bad situation? Was she a teacher or a nurse at one time or a spiritual leader at her church? I wanted to learn about some shared memory that all five could relate to. Could it be Grandma's smothered chicken or her peach cobbler or something that she might have done to keep the family together while she was alive? Of course, that would have meant that the show would have lasted something beyond 90 minutes (with no intermission). But at the very least, one of the characters should have said something about the hometown where Grandma grew up: for example, the locale where the production is currently playing!
Finally, there were times when I felt that this presentation was just a bit too light and "family-friendly." My guest and I disagreed about this, but I thought that some swearing was in order when Mikey talks about having been abused. Maybe Jessica could have uttered just one more curse word about her no-good husband. There also could have been a sentence about why Christopher had formerly been imprisoned, and then we'd have a better sense about why Grandma decided to take a chance on him. It would have been good to see him relive more of his anger when he was denied a bank loan. In short, we need to witness more of the heartache among each of the characters so that we can better understand why Grandma was so valued by all.
That said, the fine acting, the fantastic singing, and the high quality of the musical performance make up for any likely flaws. So now turn on your inner jukebox, and let's go on a sentimental journey with decades of music from 1960 through 2001. In this way, we can relive Grandma's memory and her desire for healing her family—and in so doing, we can forget our own cares and heal ourselves. Most certainly, Grandma's spirit is still with us, as this show has us clapping and shouting by the end. Seeing this production is a great experience that you don't want to miss!
"Grandma's Jukebox" is playing through June 26, 2022 at the Black Ensemble Theater, 4450 N. Clark Street, Chicago.
Tickets are $55.
Performance schedule:
Fridays – 7:00 p.m.
Saturdays – 3:00 p.m. and 7:00 p.m.
Sundays – 3:00 p.m.