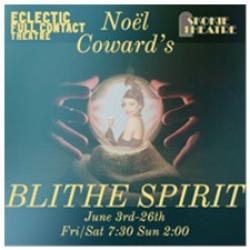 5 Stars! Very Highly Recommended!  The line outdoors should have been much longer on the opening night of Noël Coward's comedy "Blithe Spirit" at the Skokie Theatre. But on a summer-like evening when there was so much competition for theatre dollars, many seats were left unfilled—when they shouldn't have been! This was a stellar performance by the Eclectic Full Contact Theatre Company, featuring a brilliant and convincing cast who handled this classic farce sensationally! Witty, funny, and smart, this nearly three-hour play (including intermission) went by in the blink of an eye. What a delight it was! How we were all howling with laughter! And how great it was to laugh together with a live audience!
The story is an ingenious and charming one. It takes place in a small town in England in the mid-20th century. Charles Condomine (Andrew Pond) has been married to his second wife Ruth Condomine (Maiko Terazawa) for the last five years. His previous wife Elvira (Jessica Lauren Fisher) died seven years previously. Charles has decided to write a book about spiritual mediums, basically poking fun of their claim that they can conjure up deceased persons from the netherworld. So as to get material for his book, he invites the spiritist and clairvoyant Madame Arcati (Jan Slavin) to come to his home and hold an hour-long séance, together with his good friends Dr. Bradman (Christopher John Grella) and his wife Mrs. Bradman (Lisa McConnell). Charles and Ruth make it a point to tell their housemaid Edith (Kaeley Osterman) that they and their guests are not to be disturbed during the hour but never reveal the reason why.
While Madame Arcati is eccentric and bills herself as having the power to conjure up ghosts, she herself is unsure as to whether she can accomplish this feat. However, as it turns out, she summons a ghost to the Condomine's house that nobody can see or hear except for Charles! It is the spirit of his deceased wife Elvira. While the others say that they have had an interesting evening, they are now surprised to see that Charles is acting peculiarly. He is either talking aloud to himself or yelling or saying inappropriate things. Ruth is especially offended, as she is the nearest to him. The audience, of course, knows that Charles is communicating with the spirit of his moody and petulant deceased wife. In the first act, Ruth is very upset that her husband is insulting her and that he gives excuses for his bad behavior by stating that there is a ghost of his ex-wife in the room. But at the beginning of the second act, she becomes convinced that he is not lying to her. Instead she demands that he become her mediator so that she can tell the ghost to go away and leave both of them alone.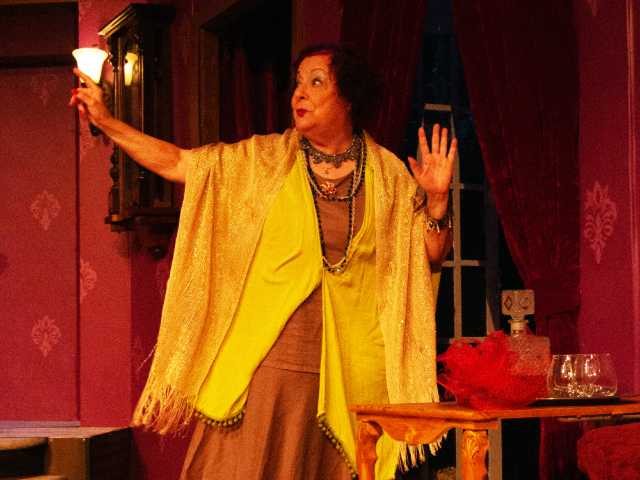 The script is superb in how well Coward has fashioned his dialogue. The audience relishes in seeing how the sentences that Charles utters are taken very differently by Ruth and Elmira and how he sometimes acts the part of the interpreter. What an amazing job the playwright has done in describing preternatural phenomena to those of us who cannot sense a reality above and beyond that of the physical world. Although Coward provides us with the illusion of ghosts to dramatize experiences that cannot be explained logically or by earthly means, it is director Michael Woods who ultimately wrenches the audience's imagination. He does an amazing job with the script, allowing each of us to crisply envision the scene from the perspective of the various characters. In part, he has accomplished this by expertly crafting the distance between the visiting spirits and the live human beings. The strength of the interaction among them creates the illusion. Once the audience is privy to the underlying spirit world, we can only imagine how odd it must appear to those who cannot see or hear the spirits when suddenly, for example, a vase of flowers floats across the room or a window suddenly opens and a cold breeze blows. We witness how Charles asks Elvira to provide a demonstration that involves at least one of our five senses so that Ruth and Madame Arcati can know that the apparitions are truly real.
Scenic designer Amanda Grisson has done a wonderful job with the set. It is a perfect backdrop for the action and authentic to the late 1930s. I especially liked the comic portrait on stage right, which immediately presages that we are dealing with a comedy rather than a drama. Displaying a Ouija board over the fireplace adds a fine touch, considering the theme of the show. Having diaphanous green scarves left on the furniture and on the walls allows the audience to recognize that spirits currently pervade a now-haunted house. Mike Wagner has done a nice job with the lighting design to tell this ghostly story, especially with the uses of the green light. Costume design by Emily Bloomer is appropriate for the era. The costuming worn by the living characters is only excelled by the garb that the spirits wear. Sound designer Laurel Barrett has produced a perfect sound design and mix together with the recorded music, including the authentic sound of Irving Berlin's song "Always" on the gramophone.
It becomes clear from this misadventure that Madame Arcati actually does have some talent as a medium. Although she previously could detect ghostly ectoplasm as well as vibrations, she is grateful for finally realizing her goal of summoning spirits and exorcising them. If there is any one performance that should be called out for excellence, it is that of Jan Slavin who plays this timeless and amusing character to a T! (Note that her character's sensitivity to red meat and caffeinated tea is much like my own idiosyncrasy, which would have been considered unusual in the year 1941—when this play was first written—as compared to today. But I digress.)
As for poor Charles, he is sorry that the veiled door to a mystical realm has been opened and that it can never truly be closed again. When the show ends, he is a wholly changed character. Although the entire incident has scared him out of his wits, he knows in his heart that he has truly not gone mad. But speaking of madness, you will be mad about this play! This is the first mainstage show that Eclectic Full Contact Theatre has produced since 2019, and it's a winner! So run, don't dawdle, and get yourself a ticket to watch this splendid show. This intimate stage production will live with you "Always."
"Blithe Spirit" is playing through June 26, 2022, at the Skokie Theatre, 7924 Lincoln Avenue, Skokie.
Individual tickets are$38.
Student and senior tickets are $24.
Performance schedule:
Fridays and Saturdays – 7:30 p.m.
Sundays – 2:00 p.m.
For more information about "Blithe Spirit" and to learn about the other offerings by Eclectic Full Contact Theatre, see https://www.eclectic-theatre.com/.
To purchase tickets for "Blithe Spirit", please go to https://www.skokietheatre.org/blithe-spirit.html  or phone the box office at 847-677-7761.