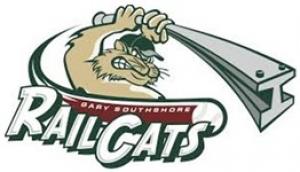 The Gary SouthShore RailCats gave the West Division-leading Fargo-Moorhead RedHawks all they could handle, but they were unable to break through during the late stages as they suffered a 4-3 loss to finish the series. 
The 'Cats held the 'Hawks to just two hits, but both went over the wall to provide all the offense they needed. 
After consecutive zeroes in the first two innings, the RailCats plated the game's first run in the bottom of the third.  Alec Olund led off with a single and advanced to second on a groundout before Tom Walraven forced an error out of Fargo-Moorhead third baseman Leobaldo Piña to put the RailCats ahead 1-0. 
However, their lead was short-lived.  Piña atoned for his defensive mistake by blasting a solo home run in the top of the fourth to level the score at one. 
The RedHawks took their newfound momentum with them to the plate in the fifth inning as well.  Two walks put runners on first and second base with two outs ahead of Manuel Boscan, and his three-run home run, his fourth of the series, placed Fargo-Moorhead in front 4-1. 
It did not take long, though, for the RailCats to answer back.  Sam Abbott stepped up to the plate in the bottom of the fifth inning and blasted a home run past the berm in right-center field, his team-leading fifth of the season, to pull Gary SouthShore back within two. 
Gary SouthShore made their first and only move to the bullpen as Jack Eisenbarger entered in relief in the top of the seventh.  He did not allow a single base runner in his three innings on the mound and also struck out four batters to keep the 'Cats in the game. 
His efforts did not go unrewarded initially.  Against RedHawks closer Alex DuBord, the RailCats cut their deficit to one in the eighth inning.  Daniel Lingua walked, Michael Cruz singled him to third, and Jesus Marriaga beat out what would have been an inning-ending double play to bring a run in.  Marriaga advanced to second on a passed ball and stole third, but the 'Cats were unable to bring home the game-tying tally. 
They gave themselves another good chance to do so in the bottom of the ninth.  Walraven and Zach Welz ripped consecutive one-out singles, and Michael Woodworth's fielder's choice moved the tying run 90 feet away from home plate once again.  But, as the pressure mounted, DuBord kept his composure on the mound and got the final out to preserve the win for the RedHawks. 
The RailCats have an off-day tomorrow, but they return to The Steel Yard on Tuesday at 6:45 p.m. to begin a three-game series against the Kane County Cougars.  All the action can be found on www.aabaseball.tv, 95.9 WEFM, and the Gary SouthShore RailCats Broadcast Network through the Mixlr app.