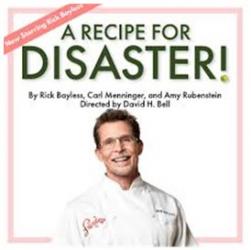 *** Recommended *** A Recipe for Disaster revisited … I was surprised to get an invitation to experience A Recipe for Disaster recently, since I'd reviewed the show last fall.  In the meantime, co-creators Rick Bayless and Amy Rubenstein joined the cast on select dates, so Windy City invited us back.  Although there are several new cast members, the story is the same – everything that could go wrong on influencer night at the Contumacious Pig, does go wrong.  The show is a lot of fun, even the second time around, and the food and drink samplings are mostly delish.  Bayless and Rubenstein even stick around for a Q and A after the performance.  3 Spotlights   
A few things to remember: allergies and/or vegan preference should be specified in advance; seating is assigned; there is an elevator to Petterino's club level; and complementary coat check is available, I recommend using it.  While waiting, many availed themselves of the adult beverages on offer.  As waiters began serving a delish cocktail sampling created by Lanie Bayless, the kitchen door slammed open and people started yelling at each other.  By the time people figured out that these were actors, the show was underway. 
Shelley (Rubenstein), aka the house manager, was answering the phone while trying to make sure everything was in order for Influencer Night at the Contumacious Pig (basically the pig-headed pig).  Of course it's anything but in order!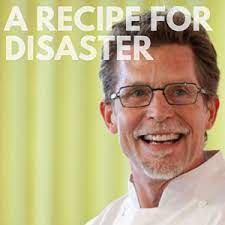 The chef has called off sick - she's actually sulking because the sous chef got a good mention from a food writer.  Someone cancelled their order for an organically grown pig, the supplier can't help, so they've ordered one from Amazon.  Between phone calls, Shelley hired a random guy wearing a really bad wig, who says his name is Boris (Marcus Jackson) as a server.  And the guests were invited into the restaurant. 
Sous chef Jude (Bayless) doesn't think he's ready to take over for the chef on such an important night – until Iggy (Pablo Laucerica), the line chef, points out that the recipes chef is using are his anyhow.  As the wait staff serve two different tasting samples, Jude pulls himself together enough to explain what they are.  
When Kiki (Darien Tene), a vegan influencer, and her friend, Loreen (Desiree Staples), arrive, Kiki demands Shelley's personal attention.  She walked around taking selfies and telling everyone who would listen about her vegan preferences.  Loreen, on the other hand, is more interested in 'acquiring' a complete set of tableware and glasses.
When Shelley gets word that the health inspector is here, she tells Felix (Daniel Trinidad) to hide the shrink-wrapped pig.  Meanwhile, there's something not quite right about the soup.  After adding a drop or two of booze, the chefs pronounce it delicious, but as soon as their backs are turned, Boris pours in the whole bottle.   
Jude has taken a Valium – or two – to calm down, but he does manage to explain the next taste sampling. 
When Inspector Clyde (Ryan Reilly) gets there, she leads him on a tour – keeping him away from the messy kitchen – and the shrink-wrapped pig which keeps turning up.  Kiki thinks Clyde owns the Contumacious Pig, so she takes selfies with him.
What else can go wrong?  You'd be surprised!  You'll have to see A Recipe for Disaster to find out!    
Note: Guests must show proof of vaccination before entering the building.  Guests are required to remain masked when not actively eating or drinking throughout the show.
Recipe for Disaster" runs through April 24th in the Club Level at Petterino's, 150 N. Dearborn (Randolph Street entrance), Chicago.  Paid parking is available at several nearby garages.  Running time is approximately 1 hour, 28 minutes, no intermission.  Limited to 30 guests per performance.      
Regular performances:
Wednesdays and Thursdays at 7:30 pm;
Fridays at 8:00 pm;
Saturdays at 3:30 & 8:00 pm;
Sundays at 1:30 & 6:00 pm
There will be no 1:30 pm performance on Easter Sunday, April 17th. 
Rick Bayless will be appearing on the following dates:
Wednesday, April 6th at 7:30 pm
Thursday, April 7th at 7:30 pm
Friday, April 8th at 8:00 pm,
Saturday, April 9th at 8:00 pm
Sunday, April 10th at 6:00 pm
Wednesday, April 13th at 7:30 pm
Thursday, April 14th at 7:30 pm
Friday, April 15th at 8:00 pm,
Saturday, April 16th at 8:00 pm
Sunday, April 17th at 6:00 pm
Wednesday, April 20th at 7:30 pm
Thursday, April 21st at 7:30 pm
Friday, April 22nd at 8:00 pm,
Saturday, April 23rd at 8:00 pm
Sunday, April 24th at 6:00 pm
Regular and VIP ticket options starting at $90 (partial view), include six bite-size tastings and three cocktail and wine samplings.  VIP experience includes a pre-show charcuterie board and cocktail, premium seating and a gift bag including dessert, a party favor and a signed photo of Chef Rick Bayless and the cast. 
FYI www.windycityplayhouse.com.