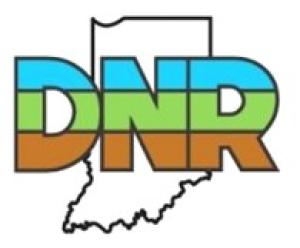 Hunting and trapping seasons in November
Hunting
Deer Firearms: Nov. 12 – Nov. 27
Dove: Nov. 1 – Nov. 27
Pheasant (Cock only): Nov. 1 – Dec.15
Rabbit: Nov. 1 – Feb. 28, 2023
Raccoon, Opossum: Nov. 8 – Jan. 31, 2023
Quail:
– (north of Interstate 74): Nov. 1 – Dec. 15
– (south of Interstate 74): Nov. 1 – Jan. 10, 2023
Canada Geese:
– North Zone: Nov. 19 – Feb. 12, 2023
– Central Zone: Open until Nov. 6, reopens Nov. 19 – Feb. 12, 2023
– South Zone: Nov. 5 – 20, Nov. 26 – Feb. 12, 2023
Ducks:
– North Zone: Open until Dec. 11
– Central Zone: Open until Nov. 6, reopens Nov. 19 – Jan. 8, 2023
– South Zone: Nov. 5 – 6, Nov. 26 – Jan. 22, 2023
Trapping
Beaver: Nov. 15 – March 15, 2023
Mink, Muskrat, Weasel: Nov. 15 – Jan. 31, 2023
Raccoon, Opossum: Nov. 8 – Jan. 31, 2023
River Otter: Nov. 15 – March 15, 2023
Buy your license today
Listen up, hunters! Don't risk license delays due to technical difficulties or long lines at your local retailer. Plan to buy your deer hunting license early. If you want to buy online, check that you can log into your Access Indiana account. If your email changed since the last time you logged into your online account, you may need to set up a new Access Indiana account with the new email address by contacting DNR at INhuntfish@dnr.IN.gov to help remove the link from the old email.  
Interested in harvesting multiple deer or hunting across multiple seasons? Consider buying a deer license bundle, which allows you to harvest up to three deer (only one may be antlered) during archery, firearms, and muzzleloader seasons. Note that season bag limits apply, and there are restrictions on taking bonus antlerless deer on some DNR properties. 
Find more information about deer licenses, seasons, and regulations on our website. Remember, the resident youth consolidated hunt/trap license includes all deer hunting privileges. Always check your license for accuracy before your hunt.
Can't find your hunter education card?
If you lost your hunter education card, you can order a replacement online.
Be sure to enter your hunter education card into your online account before purchasing a license or give it to the retailer when you purchase your license at a store.
Want to take a hunter education class? Check out our website.
Hunting for answers or a new license?
Search no more! For questions about equipment, regulations, or which license you need, use our Deer Hotline by emailing INDeerHotline@dnr.IN.gov or calling 812-334-3795, 8:30 a.m. to 4 p.m. ET, Monday through Friday.
For questions related to the CheckIN Game system, your online license system account, license-purchasing errors, or deer control permits, email inhuntfish@dnr.IN.gov or call 317-232-4082.
To report hunting violations or trespassing, locate your law enforcement district here or contact Central Dispatch at ICODispatch@dnr.IN.gov or 812-837-9536.
To report a poacher, call 1-800-TIP-IDNR or use this form.
Remember to buy your deer license early. Find a list of license retailers online and be sure to check your license for accuracy before you leave the store. If you plan to purchase your license online, log into your Access Indiana account before the season begins—don't risk delays!
Firearms season safety tips
As firearms season approaches, it's important to be aware of key safety measures. Keep your firearm unloaded until you are settled into your tree stand or hunting blind. Never climb a fence or cross a creek with a loaded firearm. A simple misstep could cause a fall or an accidental discharge of your firearm, putting yourself and your hunting partners at risk of injury or even death.
Keep the muzzle pointed in a safe direction. Remember to make sure your firearm is pointed in the opposite direction of your hunting partners as you walk to your hunting spot. Practice muzzle control, even when you know the firearm is not loaded.
Keep your finger off the trigger. Outside of the trigger, guard your firearm until you are ready to shoot at your intended target.
Always identify your target and what lies beyond your target before pulling the trigger. Know for certain that any noise you hear in the bushes is a deer and not your hunting partner walking toward you.
Be safe this season. Now fire away!
Share your story: How the Indiana Nongame Wildlife Fund affects you
This year marks the 40th anniversary of the Indiana Nongame Wildlife Fund. To celebrate, we're sharing a series of 40 stories across 12 themed months. December focuses on the future of rare and endangered wildlife.
Will you help us? Email us with your ending to this sentence prompt: "To help rare and endangered wildlife, I plan to..."  and we will include selected answers in the December installment. Email your response to Mariah Mason at mmason1@dnr.IN.gov by 11:59 p.m. Sunday, Nov. 6. In the meantime, be sure to check out our most recent stories, which demonstrate the small actions you can take to make a big impact on wildlife near you.
Coexisting with coyotes
Indiana's coyotes start to put on their winter fur this time of year. While this makes them look large and fluffy, they weigh in at less than your average sleepy beagle. Coyotes can be helpful to people by feasting on mice that invade homes in winter and voles that raid crops and stored feed. Most coyotes live near people, pets, and livestock, and never cause any problems. 
People can help ensure problems remain few and far between in a few ways. Licensed hunters and trappers can help maintain healthy coyote populations through regulated harvest, and people can also take steps around their homes and livestock to prevent coyotes from causing problems. Find a wealth of resources on our coyote page.
Checking your sights
Don't shoot your shot just yet! Making sure your gun or bow is shooting accurately is an important part of the hunting process. Not only does it help make the equipment safer to use, but it can also save you ammunition in the field.
Shooting ranges for both archery and firearms can be found across the state, and many of our Fish & Wildlife areas (FWAs) offer services for both. Prep for hunting the right way at an FWA—find a shooting range near you.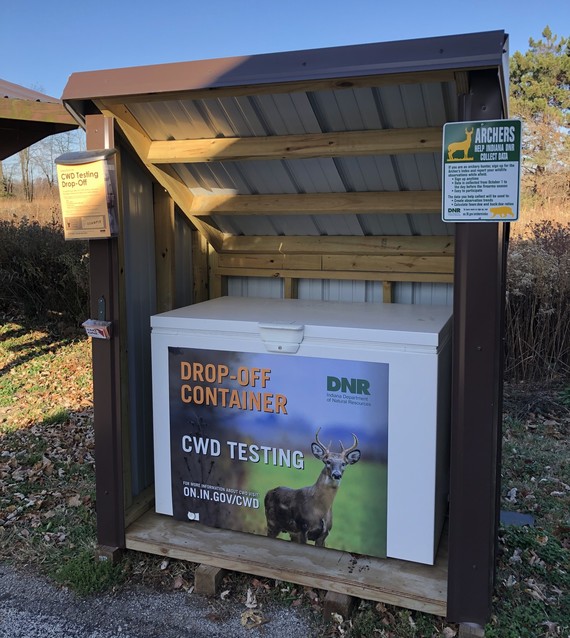 Remember to test your deer for chronic wasting disease
Hunters can bring their deer to select Fish & Wildlife areas (FWAs) and State Fish Hatcheries (SFHs) throughout hunting season. Deer heads can be dropped into designated coolers at select FWAs and SFHs, or hunters can make an appointment for their deer to be sampled by a biologist during office hours. The 2022-2023 sampling locations and their hours of operation are listed on our website. Hunters who submit a deer for CWD testing will receive a metal tag reminiscent of Indiana's historical deer harvest confirmation process.
Can't make it to an FWA or SFH? Hunters may also independently submit their deer for testing to Purdue Animal Disease Diagnostic Lab (ADDL) for a fee. Hunters should complete the submission form and follow the shipping instructions on Purdue ADDL's website.
Come see cranes at Jasper-Pulaski FWA
As fall wanders into Indiana, migration is underway for sandhill cranes, and these charismatic birds are gathering at Jasper-Pulaski Fish & Wildlife Area (FWA). Come see them! Experience the sights and sounds of flocks numbering in the thousands from the viewing platform, which is accessible for all ages and abilities. Time your visit for when numbers are high by checking our website, which is updated weekly with crane numbers.
November fishing opportunities for Lake Michigan anglers
For anglers willing to brave cold temperatures and brisk wind, Lake Michigan provides abundant fishing action in November. Native lake trout move nearshore to begin spawning starting in late October. They target rock rip rap along the shore and along breakwaters at Portage, East Chicago, and Michigan City. These fish are accessible from boats and from shore, and even the lower reaches of Burns Ditch and Trail Creek using jigging blade baits, spoons, or tubes. Casting large spinners or spoons and slowly working back near the bottom of the lake can be a productive way to catch them. Trolling can also be an effective technique, using spoons or dodger/fly combinations near the lake's bottom.
November is also the time when native lake whitefish move near shore to use some of the same rocky habitat areas to lay eggs or spawn. Whitefish provide an excellent pier fishing opportunity out of Michigan City and Portage Lakefront Park. Single eggs, or small pieces of night crawler fished on the bottom are the most successful technique to catch these fish. Known as one of the finest tasting fish from Lake Michigan, lake whitefish can be prepared many ways, including baking, frying, grilling or even the classic Wisconsin fish boiling.
Among other opportunities, November provides excellent stream and harbor fishing experiences for migrating steelhead trout. These tackle busters enter the tributaries to Lake Michigan and are accessible throughout the stream reaches on the Little Calumet River, Trail Creek, Salt Creek, and the St. Joseph River in South Bend/Mishawaka. Spinners, egg sacs, night crawlers and shrimp under a float are great baits to use. Look for deep holes where the fish will overwinter until spawning in March and April the next year.
Can't find the perfect spot to fish? Check out our Where to Fish map for the best fishing opportunities near you.
Visit Tri-County FWA's new accessible hunting blind
Through a recent partnership with the Michiana Chapter of Delta Waterfowl, Tri-County Fish & Wildlife Area (FWA) installed an accessible hunting blind for hunters with mobility issues. After Michiana Chapter members approached Tri-County FWA staff to discuss the idea, the partnership worked to find a suitable location, secure materials, and design the blind.
The blind features a 60-inch-wide sidewalk that connects the blind to the paved parking lot, as well as a van-accessible parking spot. The entrance to the blind is 60 inches wide, and the interior dimensions of the blind (shooting window height, door handle, etc.) are wheelchair accessible. All slopes are less than a 5% grade, and there are no obstructions.
Since its completion Oct. 7, the blind has already been used during Youth/Veterans Waterfowl weekend for hunters with mobility issues. You can find the blind near the Shock Lake boat ramp on the west side of Tri-County FWA, off State Road 13.
Report gray foxes for research
Seen any foxes lately? Indiana's gray fox research with the Wildlife Ecology Institute and Luther College is entering its last year of data collection, and DNR wants to hear from you. Report any observations online, especially if you spot a roadkill sighting, as researchers will collect them to sample.
Although foxes can be hard to tell apart, remember that gray foxes have reddish brown legs and ears, and red foxes have black legs and ears. If you're a trapper or hunter, you can also help the project by providing gray fox samples. Submit reports and learn more at Wildlife Ecology's website.
New NRC meeting dates
The Indiana Natural Resources Commission (NRC) is a 12-member board that facilitates conversation around proceedings related to the Indiana Department of Natural Resources. Tentative commission meeting dates have been set for 2023.
The tentative dates are as follows:
Tuesday, Jan. 17, 2023
Tuesday, March 21, 2023
Tuesday, May 16, 2023
Tuesday, July 18, 2023
Tuesday, Sept. 19, 2023
Tuesday, Nov. 21, 2023  
Interested in learning more about NRC discussions? Find minutes for previous meetings on their website.
Great Scott! Have you seen our fish stocking database?
Are you looking for updates on the latest fish stockings? Our new dashboard has you covered. You can use our database, updated every 24 hours, to find the latest updates on fish stocked in your area. You can also view previous years' data through our filters (to as far back as 1960, no DeLorean required).
It's time to control your woody invasive species
Invasive species threaten nearly all Hoosier wildlife habitats. With fall here, the time for foliar herbicide applications (i.e., spraying the herbicide on the leaves) is rapidly fading, as leaves must be green and in the process of photosynthesizing for herbicides to work.
As one season of treating invasive species ends, another begins. In fall, there's plenty of time to treat invasive shrubs like autumn olive, bush honeysuckle, privet, and winter creeper by applying specialty herbicides to stems. Cut-stump and basal-bark applications are especially effective methods that work well in late fall and early winter to kill the roots and prevent resprouting in spring.
Interested in finding the best method to control invasive species in your backyard? Contact an invasive species regional specialist, a Pheasants Forever and Quail Forever Farm Bill wildlife biologist, or your local wildlife biologist.
Turkey, meet taste: Pulled wild turkey BBQ
You don't have to hunt for the perfect meal any longer—we've got the tastiest turkey recipe for you, courtesy of Neal Brown, of Howe & Brown Hospitality.
Ingredients
1 wild turkey, plucked, with breast meat removed
3 carrots cut into chunks
1 head of celery cut into chunks
3 onions cut into chunks
1 head of garlic cut in half
1 bunch of fresh thyme
2 tbsp. oil
2 tsp. salt
Honey BBQ Sauce
⅔ cup ketchup
½ cup apple cider vinegar
¼ cup dark brown sugar
¼ cup honey
1 tbsp. cocoa powder
1 tsp. each of smoked paprika, ground cumin, ground coriander, salt, black pepper
1 pinch ground nutmeg
Instructions
Preheat the oven to 375 F. Remove the thighs and legs from the de-breasted turkey frame. In a roasting pan, layer the vegetables with the turkey thighs, legs, and de-breasted frame. Add 2 tbsp. oil and 2 tsp. of salt. Then, roast for 1.5 hours or until the turkey is browned and the vegetables are caramelized. For the turkey stock, remove the pan from the oven and transfer its contents to a stock pot. Pour water over the vegetables and the meat until they are covered. Simmer for 8 hours, skimming off the foam. Then, remove the turkey pieces from the stock and reserve. Strain the stock and return to a clean pot. Simmer on low for another hour, skimming the foam. Freeze for future use.
Honey BBQ Sauce
Combine honey BBQ sauce ingredients and stir. Heat the mixture in a saucepan until the brown sugar dissolves and is no longer grainy.
BBQ Turkey
Pull the turkey meat, separating tendons from the meat. Mix with the sauce.
Want more helpful (and tasty) resources like this recipe? Check out our YouTube channel.
Recent news releases
Fall walleye stocking in northern Indiana
DNR stocks channel catfish statewide
Upcoming events
More
The Indiana Natural Resources Foundation celebrates and preserves Indiana's natural legacy by raising funds to support the Indiana Department of Natural Resources (DNR) and its programs. Together, we have helped expand public lands, restore wildlife habitat, and create outdoor educational and recreational opportunities for Hoosiers.
About Fish and Wildlife Management in Indiana 
Fish and wildlife management and public access are funded by fishing and hunting license revenue and also through the Wildlife and Sport Fish Restoration Programs administered by the U.S. Fish & Wildlife Service. These programs collect excise taxes on sporting arms and ammunition, archery equipment, fishing equipment, and motor boat fuels. The money is distributed among state fish and wildlife agencies based on land size and the number of licensed anglers and hunters in each state. Find out more information about fish and wildlife management in Indiana at Wildlife.IN.gov.