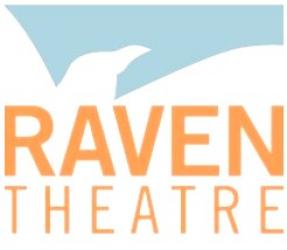 Raven Theatre, Chicago's newest Equity-affiliated theatre, is pleased to welcome back audiences this fall with the world premiere of Joshua Allen's The Last Pair of Earlies, directed by Wardell Julius Clark. This new drama, which follows the hardships and hopes of Wayland and Della Rose Early as they chase a sweet Southern dream on the South Side of Chicago, will play October 27 – December 12, 2021 on Raven's 85-seat East Stage, 6157 N. Clark St. (at Granville) in Chicago. Single tickets and a variety of 2021-22 subscription packages are currently available at raventheatre.com or by calling (773) 338-2177. The press opening is Monday, November 1 at 7:30 pm.
The production features Tarina Bradshaw, Demetra Dee, Keith Illidge, Marcus D. Moore, Jonny Morrison and Shadana Patterson.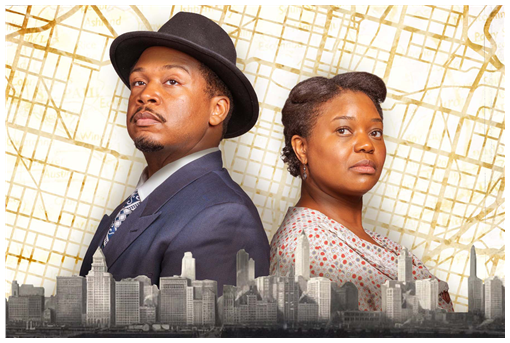 Marcus D. Moore and Shadana Patterson in a publicity image for Raven Theatre's world premiere of The Last Pair of Earlies. Photo by Jenn Udoni.
Please note: Raven Theatre will require proof of vaccination and masking at all performances through the end of 2021. For all of Raven's COVID-19 and vaccination information, visit raventheatre.com/covid-19.
Ever since he was a teenager in Mississippi, Wayland Early could count on two things – his talent for making handmade shoes, and the love of his bride, Della Rose. But danger forces them to flee north to Chicago. Before they know it, nearly two decades have passed, and both Wayland and Della find themselves increasingly unable to count on anything, including their marriage. As they each contend with the weight of their spent youth and unrealized dreams, a life-altering question comes to the surface: are we still enough for each other? Joshua Allen emerges from the award-winning writers' room of Empire with a hometown world premiere. 
Comments Raven Artistic Director Cody Estle, "We are excited to welcome playwright Joshua Allen to our theater. Joshua is a Chicago native and will be joining us during the creative process and we look forward to introducing his work to Chicago's theater community and to our audiences. We are equally excited to open our doors and get back to doing what we do best – making plays!"
The production team includes Sydney Lynne (scenic design), Alex Rutherford (costume design), Sim Carpenter (lighting design), Christopher Kriz (sound design and original music), Caitlin McCarthy (props design), Jyreika Guest (intimacy director), Olivia Canaday (assistant director), Lorenzo Blackett (production manager), Alan Weusthoff (technical director), Liz Gomez (master electrician), Eileen Rozycki (charge artist) and Wilhelm Peters (stage manager).
PRODUCTION DETAILS:
Title: The Last Pair of Earlies
Playwright: Joshua Allen
Director: Wardell Julius Clark
Cast: Tarina Bradshaw (Myrna Lee Franklin), Demetra Dee (Young Della Rose), Keith Illidge (Jimmy Riley), Marcus D. Moore (Wayland Early), Jonny Morrison (Young Wayland) and Shadana Patterson (Della Rose Early).
Location: Raven Theatre East Stage, 6157 N. Clark St. (at Granville), Chicago
Dates: Previews: Wednesday, October 27 at 7:30 pm, Friday, October 29 at 7:30 pm, Saturday, October 30 at 7:30 pm and Sunday, October 31 at 3 pm.
Press performance: Monday, November 1, 2021 at 7:30 pm
Regular run: Thursday, November 4 – Sunday, December 12, 2021
Curtain Times: Thursdays, Fridays and Saturdays at 7:30 pm; Sundays at 3 pm. Please note: there will not be a performance on Thursday, November 25 (Thanksgiving).
Tickets: Previews $30. Regular run $40. Students/active military and veterans $15. Tickets are currently available at raventheatre.com or by calling (773) 338-2177.
Touch Tour/Open Captioned performance: Sunday, November 28, 2021 at 3 pm. Touch tour begins at 1:45 pm.
Group tickets: Special group rates are available. For information, call (773) 338-2177 or e-mail info@raventheatre.com.
Plan Your Visit:
Free parking is provided in a lot adjacent to the theatre – additional street parking is available. Nearest El station: Granville Red Line. Buses: #22 (Clark), #36 (Broadway), #151 (Sheridan), #155 (Devon), #84 (Peterson).
About the Artists
Joshua Allen (Playwright) is a Chicago native whose plays include The Last Pair of Earlies, The October Storm, Chrysalis and About Monday Morning. His work has been produced and developed at Hudson Stage, the Cape Cod Theater Project, Primary Stages, the Lark's Playwrights' Week and the John F. Kennedy Center for the Performing Arts. An alumnus of New Dramatists, he has also been a member of the Ars Nova Play Group and the Dorothy Strelsin New American Writers' Group at Primary Stages. Joshua is a graduate of the University of Southern California and the Juilliard School. His television credits include In Treatment (HBO), Empire (FOX), Almost Family (FOX) and the upcoming From Scratch (Netflix).
Wardell Julius Clark (Director) is an award-winning actor, director, producer, activist who hails from Fairfield, Alabama but now calls Chicago home. He earned his BFA from The Theatre School at DePaul University. Wardell is a Company Member with TimeLine Theatre. He is also an Ensemble Member at Sideshow Theatre. Wardell recently returned from Williamstown Theatre Festival where he directed the world premieres of Black Moon Lilith, A Ghost in Satin and don't get got this summer a part of the Solo Play Festival Celebrating the Black Radical Imagination. Select Chicago directing credits include Michael Jackson and The Devil's Book, Whitney Houston and The Devil's Book (Jackalope Theatre Company), Kill Move Paradise (Timeline Theatre - 2020 Jeff Award Winner - Best Director (Large), Sheepdog (Shattered Globe), His Shadow (16th Street), The Shipment (Red Tape), Dutch Masters (Jackalope). Select acting credits include The Whisper's Apprentice and Once in a Bleu Moon (Sideshow Theatre), Flyin' West (American Blues), Suddenly Last Summer (Raven), Silent Sky (First Folio), Othello (Theater at Monmouth) and The Gospel According to James (Victory Gardens). His television and film credits include Proven Innocent, Shameless and Chicago Fire seasons 1 & 4. wardelljuliusclark.com
About Raven Theatre
Raven Theatre tells stories of today and the past that connect us to our cultural landscape. Through its plays, as well as its educational programming, Raven is committed to serving our communities' needs through the arts.
Raven Theatre Company is funded in part by the The MacArthur Fund for Culture, Equity, and the Arts at Prince, Elizabeth F. Cheney Foundation, Polk Bros Foundation, The Shubert Foundation, S&C Electric Company Fund, Paul M. Angell Foundation, The Gaylord and Dorothy Donnelley Foundation and the Illinois Arts Council, a state agency.