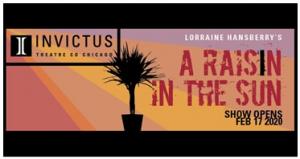 The Youngers, an African American family living in a cramped three-room apartment on the South Side of Chicago in the late 1950s, have always been a proud and close-knit group. With the recent passing of the hard-working and loving father who toiled daily for the betterment of his children, the family is suddenly in a state of disarray. Nervously awaiting the delivery of a check from the life insurance policy in the amount of $10,000, matriarch Lena (Cheryl Frazier) wants to use a portion of the money to purchase a small home for her and her family. Her son Walter Lee (Michael Lewis) has other ideas. Working as a chauffeur for a wealthy capitalist, Walter wants to venture out on his own to become a successful businessman himself. He has aspirations to use that
money to form a partnership with two other associates and purchase a liquor store. Walter's wife Ruth (Nyajai Ellison) has been working herself to the point of exhaustion taking in other people's laundry to wash and press. Lena's daughter Beneatha (Ashley Joy) is a very intelligent young woman who has dreams of studying medicine and becoming a doctor. Walter scoffs at her determination and suggests that she should be content with just becoming a nurse, like all other women. Lena insists that Walter open a savings account so that a specific amount of money should be allotted for Beneatha's college tuition. Two gentlemen are romantically interested in Beneatha and they couldn't be more opposite from one another: George Murchison (Keith Surney), the spoiled son of a rich father who himself in only devoted to Western culture and Joseph Asagai, a Nigerian student who encourages Beneatha to embrace her African heritage. Even Walter and Ruth's ten-year-old son Travis (a charming performance
from the gifted young actor Nelson Simmons, but Amir Henderson will alternate in the role) wants to contribute to the family financially and begs Ruth to let him work at the local store bagging groceries.
Director Aaron Reese Boseman has created some wonderful stage images. While some of the pacing could be tightened up a bit in Act Two, many of the performances are solid and this production almost has a revitalized freshness to it, thanks in large part to composer Christie Chiles Twillie's jazz-infused score. Playing off of that energy is Lewis as Walter Lee. His interpretation is the antithesis of the suave, immaculately tailored and polished sophistication of Sidney Poitier in the 1961 film version. With his white dress shirt never tucked into his trousers and his necktie always loosened around his collar instead of tightly knotted in place, Lewis may seem to appear as portraying a jazz musician instead of a driver. He taps into all of the emotions -- hopelessness, the pride of being a father, drunken rage, manic derision -- and much of it is captured in his wildly expressive eyes. Never is Lewis more touching than when he
launches into Hansberry's poetic monologue in which Walter describes his days spent alone behind the wheel of the car, just driving as far as a tank of gas will take him away into the far reaches of nearby Indiana one day and Wisconsin the next. A truly sad but beautiful moment. As Beneatha, Joy just gets stronger as the play progresses. By the final few scenes you realize that it is her character who has the most to lose and she, who has set the highest goals for herself, who sacrifices the most as well. Frazier is outstanding as Lena, and her confrontation with Lewis' Walter when the truth of what happened to the money is eventually revealed is an emotionally devastating kick in the gut. 
What a joy it is to experience Invictus Theatre's production of "A Raisin in the Sun" in the very city in which it is set. With grace and dignity, this groundbreaking play will break your heart. What a shame it is that we lost Lorraine Hansberry at the age of 35. This play serves as the promise to even greater works had she been fortunate enough to live long enough to be able to create them.
_______________________________________________________
"A Raisin in the Sun" continues to March 15, 2020
The Buena, Pride Arts Center, 4147 North Broadway, Chicago, IL
Performances: Thursdays to Saturdays at 7:30 PM, Sundays at 3:00 PM and Mondays at 7:30 PM
Tickets: $25, $15 for students
Tickets are available at www.invictustheatreco.com and at the door (subject to availability)
Running time is 3 hours and 15 minutes with one intermission