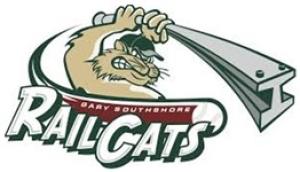 The Gary SouthShore RailCats have signed pitchers Nate Alexander and Tai Tiedemann for the 2024 season.
Alexander, 27, played for the Boise Hawks of the Pioneer League in 2023. He made 27 appearances out of the bullpen. The 6-foot 4-inch righty struck out 46 batters in 43.2 innings pitched. Alexander finished the season with an impressive 3.09 ERA and 1.328 WHIP.
"Nate comes to the RailCats after becoming one of the top bullpen arms in the Pioneer League last season," said manager Lamarr Rogers. "He averaged 96-98mph while posting an impressive strikeout to walk percentage of 3.29 during the 2023 season, Nate will be a welcomed addition to the 'Cats bullpen.
The Texas native was drafted by the Miami Marlins in the 24th round of the 2018 Major League Baseball Amateur Draft out of the University of Texas at San Antonio. Alexander spent two seasons within the Marlins farm system, reaching as high as the Single-A Clinton LumberKings. Alexander posted a 4-3 record with 43 strikeouts in 34 appearances for the LumberKings.
Tiedemann, 27, spent 6 seasons in the Texas Rangers organization after they selected him in the 8th round of the 2016 Major League Baseball Amateur Draft. Last season, Tiedemann played with the Spire City Ghost Hounds of the Atlantic League, where he made 9 appearances out of the bullpen.
"Tai comes to Gary after receiving positive feedback from the Texas Rangers organization. He's a big bodied experienced pitcher who has a career winning record since his signing with the Rangers back in 2016. He's been both a starter and reliever and I'm excited to welcome Tai to our RailCats team!"
The California native enjoyed his best success in 2019 with the Hickory Crawdads, the Single-A affiliate of the Texas Rangers. With the Crawdads, he posted a 4-2 record with 71 strikeouts in 27 appearances over 72.1 innings. Tiedemann climbed as high as Double-A within the Texas Rangers farm system.
Season ticket packages, groups and hospitality offerings for the 2024 season can be reserved by calling 219-882-2255 or emailing info@railcatsbaseball.com.