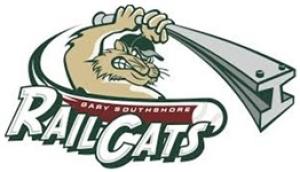 Oconomowoc, WI – The Gary SouthShore RailCats (6-4) were powerless to stop an inspired Lake Country DockHounds (3-6) lineup as they dropped the series opener 11-2. 
Early on, the RailCats jumped to a lead out to the game's first lead in the top of the second.  Following an LG Castillo single, Sam Abbott connected on his first home run of the season, a towering two-run shot to left field, racing Gary SouthShore ahead 2-0. 
However, their lead was short-lived.  Harrison Smith responded by hitting a two-run home run of his own, leveling the score at two in the bottom half of the inning. 
The very next inning, a Jaxx Groshans two-run home run provided the DockHounds their first advantage of the evening as they pulled in front 4-2. 
With the momentum on their side, they erupted for four runs in the fourth inning, three of which on a Nick Banks three-run home run, pushing their edge up to six runs. 
Joan Valdez entered in relief to shut the DockHounds down in the fifth, but a pitching change woke their bats back up in the sixth inning.  Two runs came across on back-to-back hits, a Blake Tiberi double and Banks single, moving Lake Country into double digits in the run column. 
Smith stepped up once again to conclude the scoring in the bottom of the seventh.  His single brought Marcus Chiu home from second base, upping the DockHounds' edge to nine and adding the final touch to the win. 
The RailCats and DockHounds match up in the second game of this three-game series at 6:35 p.m. tomorrow at Wisconsin Brewing Company Park.  All the action will be streamed on www.aabaseball.tv and broadcast on the radio on 95.9 WEFM and the Gary SouthShore RailCats Broadcast Network through the Mixlr app.