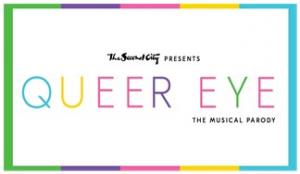 ★★★★★It has been a crazy and hectic world of theater in our city. Openings almost every night, making it both exciting and tiring. Just one week after an opening at Second City's Mainstage, tonight they had a new show opening at their UP Stage ( in Pipers Alley). The show is "Queer Eye: The Musical Parody" and takes a look at the old tv show "Queer Eye for the Straight Guy" ( I think that was the show's name) or was it just "Queer Eye"? Doesn't matter!
This is a two act show, and to be very honest, the first act was a bit slow and not quite as funny as the second act, which is worth waiting for. I wish they could find a way to get the first act to be as hysterical, but I realize setting the scene is not as funny as what happens after we get to know the "Fab 5". The "Fab 5" is the panel that will help Sam be the man he should be and move out of his mother's basement. The mother ( Dakota Hughes is a stitch) has submitted her son's name. We meet Sam (Bryson Howard, a perfect nerd) and the panel is aghast. His Alter-Ego, the other Sam is played to perfection by Jordan Dell Harris.
The Fab 5 are Eddie Ledford ( who truly blossoms in Act Two), Evan Tyrone Martin ( another standout in the second act), Dominic Rescigno ( who is perfect in every scene from start to finish- his cooking class is amazing as is his puppetry), Tina Arfaee (a/k/a Tan) and last , but not least, the amazing Evan Starkweather ( who is always right on). This is one fine panel of experts who as it turns out "Got Nothin'".
The other performer in this show is Bridget Adams-King as Rachel and Claire. Just as Dakota Hughes plays Sam's mom, and also the TV executive, Ms Adams-King also plays the girl of Sam's dreams. The puppet love making scene is adorable if not quite as strong as the one you might see if you attend Paramount Theatre's "Hand To God".
As you know ( or should) the performers at Second City are part of the creation of their shows, but this one has a book by Evan Mills with music by Mills and Heidi Joosten ( who also did the orchestrations as well as the music direction), so a little different. I can see these performers doing some changes along the way as they see what works and what does not. The direction by Stephen Schellhardt and Evan Mills allows for a great flow in the action and except for an audience reaction about  "Hair" : in the second act, the action never slowed. I must say that both Adams-King and Ms Hughes have some of the quickest costume and character changes I have ever seen on a stage.
In almost every show we see at any of the Second City stages, we are used to having the performers yell out and then use the word that an audience member says to continue. The "improv" that they are known for is not in this actual "book" show, so be prepared for a little different show from start to finish. As I said, they will ad lib, and I am sure improvise some changes, but unlike the other shows, the audience is not a part of this one, except to laugh and enjoy.
"Queer Eye: The Musical Parody, a fun filled musical adventure will play on an open run basis thru the summer with performances :
Thursdays, Fridays and Saturdays at 8 p.m.
Sundays  7 p.m.
Tickets range from $39 and can be purchased by calling 312-337-3992 or online at www/secondcity.com
The UP Comedy Club is located at  230 W. North Avenue ( at Wells) in Pipers Alley building. Third floor
Masks are optional once you enter the theater.
Our server, Mickey, a transplant from Washington State made sure that our orders were perfectly served so we never missed a moment of the action.
To see what others are saying, visit www.theatreinchicago.com, go to Review Round-Up and click at "Queer Eye: The Musical Parody",