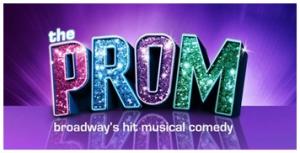 Highly Recommended  Those looking for a new show in the style of the old classic musical comedies will find a winner in The Prom. It's the story of a group of once-successful Broadway performers who try to build their reputations by getting involved in the efforts of a girl from a small Indiana town to attend her high school prom with her girlfriend. Certainly most of the audience members who would attend this show are likely to be on the side of this young girl, The Prom gently pokes fun at woke culture as well – and also at the celebrities who embrace social causes.
Politics aside, The Prom can be enjoyed as a sweet story of mostly good people trying to do the right thing – and those who might have some learning to do about accepting differences eventually come around. There are a lot of catchy show tunes – from sweet love ballads to high energy group numbers – and the whole affair is directed and choreographed by Casey Nicholaw, the genius behind shows like The Book of Mormon and Aladdin. While The Prom was nowhere near being the hit those other two were – his work is just as brilliant here, giving sprightly dances that look like the way teenagers move (and performed by a youthful ensemble that can pass as teens.
Though there are no big names in the cast, they're all solid performers, with Courtney Balan, Patrick Wetzel, Bud Weber and Emily Borromeo as the Broadway folks; and Kaden Kearney and Kalyn West as the two girls who want to attend the prom together.
All in in, The Prom is a great feel-good musicals – maybe as much fun as your own prom was.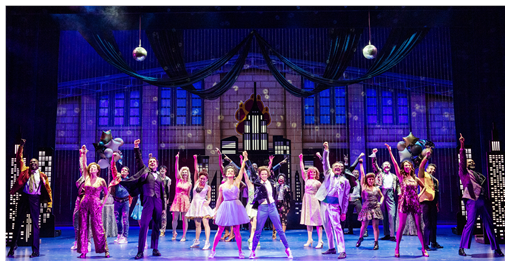 Note: Guests must show proof of vaccination with photo ID before entering the theater.  Guests are required to wear masks while inside the building.
The Prom runs through May 14th at the Cadillac Palace Theatre, 151 W. Randolph Street, Chicago.  Running time is 2 hours, 25 minutes with an intermission.  Recommended for age 12 and up. 
Remaining performances are Wednesday, April 20th at 2:00 & 7:30 pm, Thursday, April 21st at 7:30 pm, Friday April 22nd at 7:30 pm, Saturday, April 23rd at 2;00 & 8:00 pm, Sunday, April 24th at 2:00 pm.  Tickets range from $31-$82.  FYI (800) 775- 2000 or www.BroadwayInChicago.com.
Review courtesy of TSP News