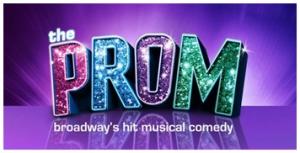 **** Recommended **** A bouncy, feel-good musical, The Prom, will have you dancing in your seat while tugging on your heartstrings.  Since it stars four 'Broadway stars', The Prom features huge production numbers, catchy tunes, glittery costumes and lots of in-jokes about Broadway.  Add in a love story and a happy ending, makes it fun to watch, The Prom gets 3 ½ Spotlights
The Prom opens at the glamorous opening night party for the cast of a new musical, The Eleanor Roosevelt Story.  The celebration ends abruptly when the reviews are awful – and co-stars, "Tony Award Winner Dee Dee Allen" (Courtney Balan) playing Eleanor Roosevelt and "Drama Desk Award Winner Barry Glickman" (Patrick Wetzel) playing Franklin D. Roosevelt, are slammed for being too narcissistic to understand their roles.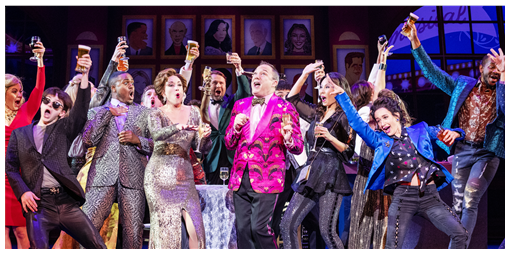 Teaming up with waiter/temporarily-out-of-work actor and Juilliard grad, Trent Oliver (Bud Weber), and life-long chorus girl who never got to play Roxie, Angie Dickinson (Emily Borromeo), they decide to prove they're not so self-absorbed and narcissistic by taking up a cause.  Their agent, Sheldon Saperstein (Shavey Brown) tries to come up with a plan while Angie checks what's trending.  Nothing will work, they declare, until a story about a high school senior in Indiana, who wasn't allowed to take her girlfriend to the prom, pops up.  This is the perfect cause, they decide.  Since Trent is cast in a non-Equity production of Godspell opening in Indianapolis, they even have transportation.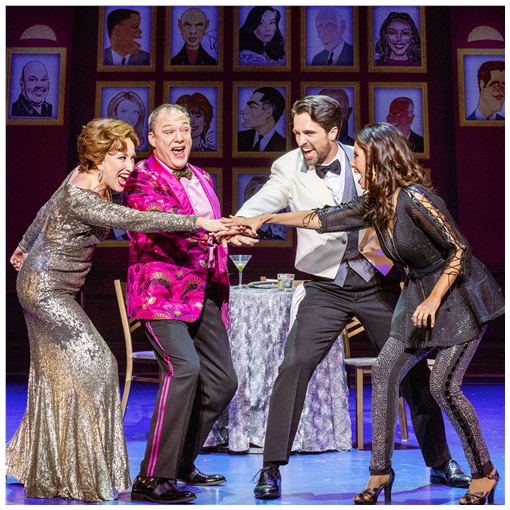 In tiny Edgewater, Indiana, Emma (Kaden Kearney) is being ostracized and bullied because she wants to take her girlfriend to the prom.  Mrs. Greene, PTA President (Ashanti J'Aria), is adamantly opposed.  As Emma is pleading her cause, the actors loudly burst into the room carrying signs supporting Emma.  Mrs. Greene is fed up and cancels the prom. 
The Principal, Mr. Hawkins (Sinclair Mitchell), is on Emma's side and helps her with a legal challenge.  Mr. Hawkins, who has had a secret crush on Dee Dee since he saw her very first musical, explains that when 15-year-old Emma came out, her parents threw her out. 
After Emma wins her legal challenge, the prom is back on.  Everyone starts pairing up with dates, singing The Acceptance Song, as Emma asks her girlfriend, who turns out to be the popular Student Council President/daughter of the PTA President, Alyssa Greene (Kalen West).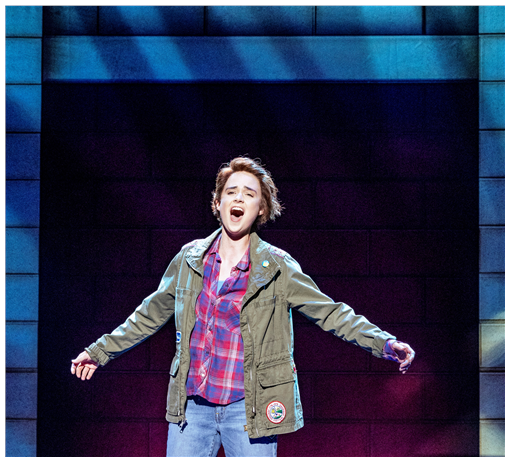 Barry, who has grown close to Emma by sharing his story with her, takes her shopping for something special for the Prom.   A touching song called Tonight Belongs to You segues from Barry and Emma to Mrs. Greene and Alyssa, to kids in formal clothes dancing, but when walks into the Prom, nobody's there.  When she calls Alyssa, she finds out that Prom was moved to the Elks Club.  Alyssa claims she didn't know, but Emma is profoundly hurt and humiliated. 
The stars decide she needs to go on television so they instruct Sheldon to book something.  Meanwhile, Angie coaches Emma out of her nerves with a song called Zazz.  When Sheldon can't get a booking – except on PBS, which 'nobody' watches.  Then Dee Dee calls her ex-husband to book Emma on his show – which meant she'd have to give him her house in the Hamptons.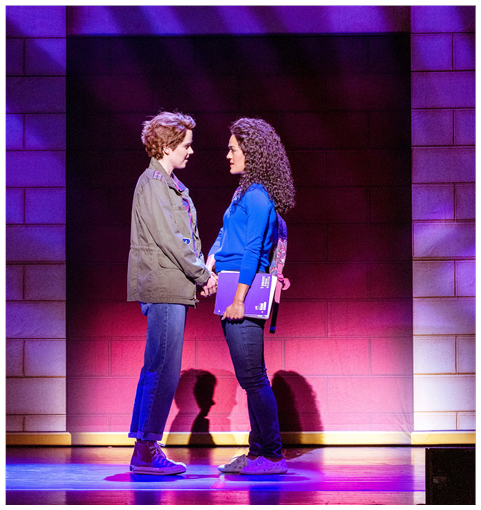 Emma refuses the television appearances, since she has her own plan.  When she goes online and records a song she wrote, it goes viral, with lots of comments from other teens, and all the talk shows are calling.  The stars are so proud of her, they chip in to pay for a Second Chance Prom.   
The Prom was made into a Netflix movie starring Meryl Streep, James Corden as Dee Dee and Barry, Nicole Kidman and Andrew Rannells as Angie and Trent.  Newcomer Jo Ellen Pellman stars as Emma with Ariana DeBose as Alyssa.
The Prom is actually based on events surrounding Constance McMillen's plans to attend her prom with her girlfriend.  It happened in Mississippi rather than Indiana but the events are pretty much the same – legal challenges, one prom for McMillen and another for the rest of the school. After some celebrities got involved with the case, a 'Second-Chance' prom was held.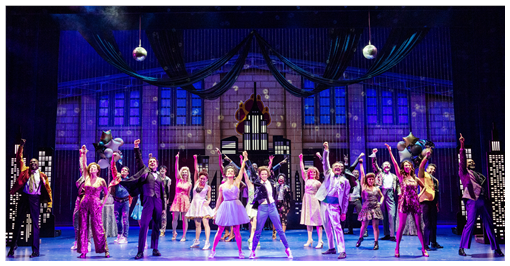 Note: Guests must show proof of vaccination with photo ID before entering the theater.  Guests are required to wear masks while inside the building.
The Prom runs through May 14th at the Cadillac Palace Theatre, 151 W. Randolph Street, Chicago.  Running time is 2 hours, 25 minutes with an intermission.  Recommended for age 12 and up. 
Remaining performances are Wednesday, April 20th at 2:00 & 7:30 pm, Thursday, April 21st at 7:30 pm, Friday April 22nd at 7:30 pm, Saturday, April 23rd at 2;00 & 8:00 pm, Sunday, April 24th at 2:00 pm.  Tickets range from $31-$82.  FYI (800) 775- 2000 or www.BroadwayInChicago.com.