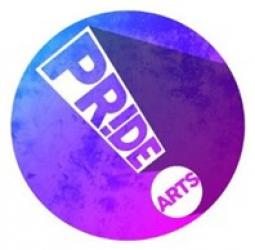 PrideArts today announced a film festival of 29 films from eight countries that will stream online in four separate programs, each available online for one week. The unusually diverse selection of films was chosen by a PrideArts panel that reviewed hundreds of submissions. The films explore a range of queer life topics in genres that range from comedy and drama to science fiction, Zoom dating, Star Trek fandom, and modern dance. The 28 short films from eight different countries will be shown over three separate programs of approximately two hours per program, with each program streaming for one week.
The four-week festival will conclude with a weeklong streaming of BOY MEETS BOY, a new feature film by German filmmaker Daniel Sanchez Lopez that has earned acclaim in international festivals and is set to enjoy a theatrical release in Europe. Sanchez Lopez's film follows two young men – a Brit and a German – who meet online for sex, but who develop a deeper connection over one long night in Berlin.
(Pictured are BOY MEETS BOY actors Matthew James Morrison  (left, lower) and Alexandros Koutsoulis (right, upper). 
Access to each program of shorts and to BOY MEETS BOY will be $12.00, which will grant viewing of the program or feature purchased for a full week – allowing audiences greater flexibility in viewing the films at their leisure.  Tickets and more information will be available shortly at www.pridearts.org.
 
A complete listing of each program appears below. 
LISTING INFORMATION
PRIDEARTS SUMMER FILM FESTIVAL
July 18 – August 14, 2021
Streaming Online
Three weekly programs of short queer films, followed by a weeklong run of the Chicago premiere of the 2021 feature film BOY MEETS BOY, directed by Daniel Sanchez Lopez, from a screenplay by Sanchez Lopez and Hannah Renton.
$12.00. Admission allows unlimited viewing through the end of the week of release for the shorts program or feature film purchased.
More info and ticketing at www.pridearts.org
SHORTS PROGRAM A (1:51:34)  – July 18-24, 2021
10 short films from the US, UK, Korea, Germany, and Italy
SHORTS PROGRAM B (1:51:00) – July 25 – 31, 2021
8 short films from the US, Brazil, India, and Germany
SHORTS PROGRAM C (1:58:00) – August 1-7, 2021
10 short films from the US, UK, and Mexico
Feature Film – BOY MEETS BOY (Germany, 1:15) – August 8-14, 2021
Directed by Daniel Sanchez Lopez, Screenplay by Daniel Sanchez Lopez and Hannah Renton
COMPLETE PROGRAM
Shorts Program A – Streaming July 18-24, 2021
From FROM A TO Q. 
1701: A BLERD STORY (USA, 7:21). Written and directed by Matt Jennings.
A black gay nerd uses "Star Trek" to cope with life.
 
FROM A TO Q (UK, 18:52). Written and directed by Emmalie El fadli.
22-year-old Alex wakes suddenly from a dream where she's intimate with Kayla. Only problem is; Kayla happens to be Alex's best friend and Alex has never been with a girl before.
 
GOD'S DAUGHTER DANCES (Republic of Korea, 24:53). Written and directed by Sungbin BYUN.
A transgender female dancer, Shin-mi, gets a call from the Military Manpower Administration, to attend for the Military Service Examination. Shin-mi, with everything in readiness, takes her steps to the Military Manpower Administration.
MALL 
MALL (Germany, 7:03, pictured above). Written by Florens Huhn, Directed by Jerry Hoffmann.
The introverted Didi is out with his man dominated family in a Megastore. Didi walks around alone in the toy section, where the storage racks are sorted strictly by gender: boys' toys on the one side, girls' stuff on the other. But Didi only has eyes for one side of the racks. (Click on image above to access file).
MARCELLO (Italy, 13:42 ) Written and directed by Francesco Di Giuseppe.
Marcello always stares at Andrea, a young girl who loves wearing lipstick and craves for his attention during biochemistry classes. Despite the initial wrong impression, Andrea is not what Marcello is staring at, but there is something deeper behind. MARCELLO is a journey through the path of gender expression as well as personal growth.
 
STAY (Italy, 11:59). Written and directed by Francesco Marsella.
Ana just paid Bibi for sex. When they finish, she expects Bibi to return to her place, but she has no intention to leave the bed first and the philosophical clash she created later.
 
SUNDOWN TOWN (USA, 10:00). Written by Mylo Butler and Jada Lewter, Directed by Butler.
Bryce & Mitchell's trip home is disrupted after making a pit stop in a mysteriously unwelcoming town.
 
SWIVEL (UK, 6:39). Written and directed by Lois Norman.
What if, you can be all of who you are and still allow another? That just for one night, judgement no longer exists? What if, an intimacy of touch, a truth of want, swivels around your doubt and trusts? What if, love is not a gender, it is a swivel of the heart?
 
TOTAL CATCH (USA, 2:22). Written and directed by Sarah Clark.
Dating is hard... Zoom dating is harder.
 
ULRICHS 1867 (Germany, 9:50) Directed and choreographed by Sven Niemeyer.
Karl Heinrich Ulrichs (1825-1895), was a lawyer, journalist, publisher, writer, pioneer of sexology and is known as the "first open gay man" and "LGBTQ+"-activist in Germany. His words urging acceptance of same-sex attraction are read and interpreted through dance set to a techno score.
Shorts Program B – Streaming July 25-31, 2021
From AS SIMPLE AS THAT. 
ANTONI-A (USA, 27:30). Written and directed by Miguel Miller.
Antoni-a is a cross-dresser sex worker with a troubled past that we discover while formidable detective Ana Frank is interrogating her. Bloodied and beaten, Antoni-a relays the harrowing events that caused her bruises and Mr. Silverman, her John's death.
 
AS SIMPLE AS THAT (Brazil, 19:08). Written by Felipe Cabral, Directed by Luciana Bitencourt
Suspicious that her son is gay, Joana shares her doubts with her husband. To her surprise, the boy's father knows much more about the subject than she imagined. After all, why was she the last to know?
 
DIFFERENT QUAKE (USA, 6:03). Written by Brandon Shim, Directed by Jack D. Fleischer.
During an intense earthquake, a love triangle erupts between church missionaries Mark and their potential convert Vanessa. But that different quake saves and transforms them.
 
LOVE CONQUERS (USA, 6:33). Written and directed by Eric Bendross.
A conflicted young man contemplates coming out to his super religious mother, but what happens next is nothing like either of them expects.
 
RIMI (India, 13:05). Written and directed by Nischhal Sharma
Yasin and Mauro live everywhere but nowhere. The streets are their home, the night is their life. Why adapt when you can do what you want? Even love is for sale so they can only rely on their friendship -but what happens when everything gets out of hand?
 
THE LAST ROMANTICS OF THE WORLD (Brazil, 23:00). Written and directed by Henrique Arruda.
2050. The world as we know it is about to be ended by a pink cloud. Far away from the urban chaos, Pedro and Miguel seek only eternity.
From THE LAST ROMANTICS OF THE WORLD. 
WISH FULFILLMENT (USA, 15:53). Written by David Simpatico and Matt Brown, Directed by Simpatico.
A son comes out to his father...12 different ways.
Shorts Program C – Streaming August 1-7, 2021
From THE UNSURE MASSEUR. 
A FIRE THAT NEVER DIES (USA, 6:58). Written and directed by Chheangkea Ieng.
A young man becomes infatuated with his upstairs neighbor after believing that his late mother has sent him.
 
COMPOSITIONS FOR UNDERSTANDING RELATIONSHIPS (USA, 5:30). Directed by David De La Fuente.
"A Love Letter"
 
EDEN (Mexico, 15:00). Written and directed by Tavo Ruiz.
Eden is the queer re-tale of Adam and Eve's story in modern times. A visually striking story about first love situated in Berlin.
From EDEN. 
FAMILY MISFORTUNES (UK, 11:11). Written by Aidey Pugh, Directed by Joseph Burke.
When father and daughter just want to be loved for who they are.
 
FROZEN OUT (USA, 5:00). Written by Hao Zhou and Tyler Hill, Directed by Hao Zhou.
An émigré retreats to frozen prairies, forests, and swamps, trying to find a meaningful story and escape the anxieties of dislocation. Delivered as a film-letter to the protagonist's sister in rural China, the film considers his queer self-exile as well as identities that were too difficult to express back home.
 
IN[APP]LICABLE (USA, 11:08). Written and directed by Cam Owen.
After moving from small-town Louisiana to New Orleans, Ted navigates the city using a dating app.
 
MORE OF SOMETHING (USA, 18:00). Written and directed by Kevin J. Nettles.
Two guys meet for a hook-up, but find there is something more, if you are open to it
 
ROADKILL (USA, 15:00). Written and directed by Aliza Lorraine Brugger.
Tillie's lonely life as a roadkill removal worker is destabilized when Wanda, a lively stranger, comes to town.
 
THE MORE THINGS CHANGE (USA, 16:00). Written and directed by Debra F. Simone.
For the longest time, Dana thought transition would change everything...but she's still grinding it out at work, dealing with a crazy boss, and has no time for family, friends, or any fun at all.
 
THE UNSURE MASSEUR (USA, 14:00). Written and directed by Reid Waterer.
A young man considering a career as a masseur visits one and ends up learning more about the job than he ever imagined. Alternate synopsis: Trapped in our gig jobs economy, an aspiring masseur learns the sacrifices required from an experienced massage therapist.
 
Feature Film – Streaming August 8-14, 2021
 
BOY MEETS BOY (Germany, 1:15) – August 8-14, 2021
Directed by Daniel Sanchez Lopez
Screenplay by Daniel Sanchez Lopez and Hannah Renton
 
Set in one memorable day during an unexpected brief romance in Berlin, Boy Meets Boy is a love letter to everything that can happen between two strangers. For Johannes, white and German, and Harry, Black and British, a shared kiss in a nightclub leads to a day spent ambling through the urban landscape. Their immediate intimacy and undeniable chemistry unfold against the ticking clock: Harry is leaving Berlin in a few hours. THE DIGITAL FIX says BOY MEETS BOY is a look at how the internet has transformed love and sex for the young generation…it's a work that specifically tackles the disillusionment that gay hookup culture can cause. The film never takes its eyes off the root causes, rather than the symptoms, of this fatigue: as a result, it doesn't feel judgmental or moralistic."
 
ABOUT PRIDEARTS
PrideArts tells queer stories on a variety of platforms, including both live and virtual performances. Since its founding in 2010, PrideArts has had several chapters, including operating as an itinerant theater for their first six seasons, and as the developer and primary tenant in the Pride Arts Center from 2016-21. The newest post-COVID chapter is still in development.
Pre-COVID, the company produced full seasons of plays and musicals, as well as events including cabaret, film, and more. The company has earned 39 Jeff Awards and nominations, and six nominations in the most recent (2019) ALTA Awards from the Alliance of Latinx Theater Artists of Chicago. Programming has reflected the diversity of queer communities by including work made by and illuminating the experiences of women, gay men, transgender people, and BIPOC.
PrideArts is supported by The MacArthur Fund for Arts & Culture at The Richard Driehaus Foundation, The Illinois Arts Council, City of Chicago's City Arts Fund, the Elliott Fredland Charitable Trust, The Pauls Foundation, The Heath Fund, The Service Club of Chicago, the AmazonSmile Foundation, Arts and Business Foundation, Tap Root Foundation, Arts and Business Council, and Alphawood Foundation.
 
PrideArts is a member of the Smart Growth Program of the Chicago Community Trust. PrideArts is a member of the LGBT Chamber of Commerce of Illinois, Northalsted Business Association, Lakeview East, Uptown United, and The League of Chicago Theatre.
 
For more information and to donate, visit www.pridearts.org or call 1.773 857 0222.