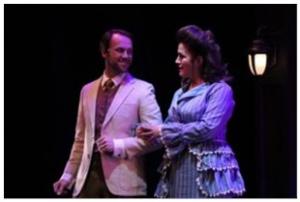 Through photos and his knowledge of the theater world, the audience at The Ruth Page Center For The Arts, learns a great deal about the making of a musical, circa the 1950's. This is a highly educational thirty minutes of theater, and if you are someone with a great thirst for knowledge, you should make Porchlight's "LOST" musicals a "must see". This part of the evening rates *****.  (and now for the production itself).
Somewhat recommended ** Perhaps, there is a solid reason that "Can-Can" is a "lost" musical. Many hit musicals that do not age well, and are put to pasture, so to speak, are reviewed later, then revised and then brought back for another shot at reaching a new generation. "Can-Can" is just not one of those plays. While there are some solid songs in the play, "I Love Paris", "C'est Magnifique", "Live and Let Live", "It's All Right With Me" and a host of others including the title "Can-Can", the book is not very strong, so many audience members found themselves bored.
The story is set in Paris, circa 1893. Pistache ( Keely Vasquez is a charmer with a solid voice and great stage presence), a café owner, who allows her "girls" to do an illegal dance "The Can-Can" is being singled out as an establishment that must be closed. A newly appointed Judge, Aristide Forestier ( sharply handled by Devin DeSantis , who is both charming and truly shows his "pipes" in this one) decides to visit the establishment so he can begin to clean up Paris. They meet and become the "forbidden love" and all Hell breaks loose with their relationship and his quest for rights for the people.
The other love story involved is that of Boris (deftly handled by Nik Kmiecik) an artist who loves and lives off of his loving dancer, Claudine ( a wonderful performance by Kayla Boye). He desires a critic to approve his work. The critic, Hilaire Jussac ( played to perfection by Tony Carter) is in reality after Claudine, so we have a small lovers triangle which must be overcome…and is!
While the premise is possible, I think it was hard to carry out. I was in the ensemble for this show in 1961 at Music Theater in Highland Park ( a summer tent theater in the round on Skokie Blvd and Lake Cook Road). It was a fun show to do, following "Guys and Dolls" ( another Burrows show), but even then we all felt the book was very off. In Summer Stock, it was the star that brought the people and in this one it was Genvieve ( those old enough to recall Jack Paar will remember her), so the seats were filled. I have not seen ( or heard of a production since this "lost" production. Perhaps, this one should have stayed lost!
I do want to say that the cast that pulled off this show did a great job. They are working on a short time period while sharing a set with the main production ( a smash hit " A Gentleman's Guide to Love & Murder") under the direction of  Adrian Abel-Azevedo and with slick choreography by Shanna Vanderwerker and music direction by Linda Madonia. Hats off to:Liz Conway, Laz Estrada, David Girolmo, Parker Guidry, Maya Kitayama, Mollyanne Nunn, Isaih Silvia-Chandley, Ariel Triunfo and the Roosevelt students, Ben Broughton, Noah Coon, Jordan Cruse, Julia Fleckenstein, Emma Parssi and Ian C. Weber for all their wonderful work in putting this show on.
"Can-Can" is a two night production with the final performance being Thursday, March 7th at 7:30 p.m. at The Ruth Page Center for the Arts located at 1016 N. Dearborn. Tickets are $37 and can be ordered by calling 773-777-9884 or at http://www.porchlightmusictheatre.org
Catch us on 820 AM radio this Sunday at 2 p.m. where I will talk about my review and you can also call in and talk to me