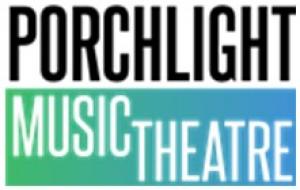 Porchlight Music Theatre is proud to announce its weekly virtual series, Movie Musical Mondays, commemorates its annual fundraising concert, Chicago Sings Rock & Roll Broadway with programming reflecting films that are celebrated in the concert. Movie Musical Monday is available every Monday at 7 p.m. CDT, free on Zoom. For more information on Porchlight's online offerings including Movie Musical Monday, please go to PorchlightMusicTheatre.org.
Porchlight created Movie Musical Monday in May 2020 as a way for fans to remain in touch and share their love of music theatre. Porchlight asks attendees to watch a selected film, RSVP to receive the Zoom link and come prepared with questions, comments or just to listen. The discussion has a host and special guests who are also fans of the film or appeared in stage productions of that week's film to lead the conversation.
"Movie Musical Monday has become a weekly tradition for many of our fans," said Artistic Director Michael Weber. "It's like a book club but for movies and our weekly gatherings have talked about classic musicals as well as modern ones, too. The hosts and special guests provide great insights into the productions and the people attending really get into the conversation with many of them seeing the film musicals for the very first time."
The scheduled films and guests for Movie Musical Monday's salute to Chicago Sings Rock & Roll Broadway include:
Monday, April 5 at 7 p.m. CDT
"Evita" (1996)
Host: Jeff Bouthiette (head of Second City Training Center Music Program; Porchlight's Billy Elliot the Musical)
Guest: Samantha Pauly (Broadway's SIX; West End's Evita)
Monday, April 12 at 7 p.m. CDT
"Bye Bye Birdie" (1963)
Host: Denise McGowan Tracy (host, Petterino's Monday Night Live)
Guest: Tammy Mader (director and choreographer, Drury Lane's Bye Bye Birdie)
ABOUT CHICAGO SINGS ROCK & ROLL BROADWAY
Porchlight's annual fundraising concert, features a company of more than 50 with a who's-who roster of Chicago's own music theatre and cabaret favorites, celebrating two American originals - Broadway and Rock & Roll. Additional information about Chicago Sings Rock & Roll Broadway is here.
ABOUT PORCHLIGHT MUSIC THEATRE
Porchlight Music Theatre is the award-winning center for music theatre in Chicago. Through live performance, youth education and community outreach we impact thousands of lives each season, bringing the magic of musicals to our theatre home at the Ruth Page Center for the Arts in the Gold Coast and to neighborhoods across the city. Porchlight has built a national reputation for boldly reimagining classic musicals, supporting new works and young performers, and showcasing Chicago's most notable music theatre artists, all through the intimate and powerful theatrical lens of the "Chicago Style." 
Now in its 26th season, the production history includes more than 70 mainstage works with 15 Chicago premieres and five world premieres. Porchlight's commitment to the past, present and future of music theatre led the company to develop the Porchlight Revisits and New Faces Sing Broadway program series, both quickly becoming audience favorites. 
Porchlight's education and outreach programs serve schools, youth of all ages and skill levels and community organizations, most notably our ongoing collaboration with Chicago Youth Centers. They annually award dozens of full scholarships and hundreds of free tickets to ensure accessibility and real engagement with this uniquely American art form. 
The company's many honors include 178 Joseph Jefferson Award (Jeff) nominations and 45 Jeff awards, as well as 33 Black Theatre Alliance (BTA) nominations and 12 BTA awards. In 2019, Porchlight graduated to the Large Theatre tier of the Equity Jeff Awards, and was honored with eight nominations in both technical and artistic categories and won three awards in our inaugural year in this tier, most notably Best Ensemble for Duke Ellington's Sophisticated Ladies. 
Through the global pandemic, Porchlight has emerged as one of Chicago's leaders in virtual programming, quickly launching a host of free offerings like Sondheim @ 90 Roundtables, Movie Musical Mondays, Porchlight by Request: Command Performances and WPMT: Classic Musicals from the Golden Age of Radio. For the 2020-2021 season, Porchlight's fall schedule included all-new ticketed virtual programs including Broadway by the Decade, New Faces Sing Broadway 1987 and the return of The Ruffians' Burning Bluebeard as well as collaborations with Hershey Felder and L.A. Theatre Works. Porchlight continues to announce new premium and free offerings in 2021.
Porchlight Music Theatre is partially supported by generous contributions from Actors' Equity Foundation; Allstate; Bayless Family Foundation; Michael Best & Friedrich LLP; Chapman | Spingola, LLP; Abe and Ida Cooper Foundation; Gen Ops Plus; Elegant Event Lighting; Glimpse Vision; James P. and Brenda S. Grusecki Family Foundation; Hearty Boys; A.L. and Jennie L. Luria Foundation; The MacArthur Fund for Culture, Equity, and the Arts at Prince; the Pritzker Traubert Foundation; Ryan and Spaeth, Inc.; Daniel and Genevieve Ratner Foundation; The Saints and Dr. Scholl Foundation.
The season program is partially supported by a grant from the Illinois Arts Council Agency, a state agency, and by a CityArts Grant from the City of Chicago Department of Cultural Affairs & Special Events. 
Porchlight Music Theatre wishes to thank members of the Matching Gift Corporate Program including abbvie; Allstate; Lloyd A. Fry Foundation; Peoples Gas; Pepsico; Polk Bros Foundation and The Saints.