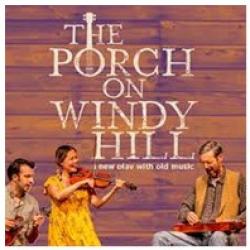 **** Highly Recommended **** The Porch on Windy Hill is billed as "a new play with old music."  That 'old music' is folk music, music that tells a story, music that's handed down through generations.  The 'new play' has a familiar concept – anger, resentment and a failure to communicate caused a family split resulting in years of silence and hurt feelings.  Making music brings the two sides together.  I loved the music so much I found myself wishing The Porch on Windy Hill was in my neighborhood.  I'd be there in a flash!  4 BIG Spotlights
The Porch on Windy Hill was written by Sherry Lutken, Lisa Helmi Johanson, Morgan Morse and David M. Lutken; this production, directed by Sherry Lutken, stars the other three writers, Lisa Helmi Johanson, Morgan Morse and David M. Lutken.  I'm not sure I've ever seen a show where the writers are the stars before.  In addition to writing, all three are excellent musicians who played and sang some of the best bluegrass I've heard in a long time.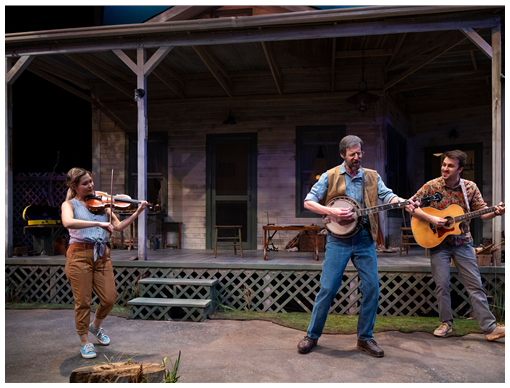 Mira (Johanson) – and don't let her hear you saying anything even close to Almira, even though she was named after her grandmother – is a Julliard-trained classical violinist.  Her boyfriend, Beckett (Morse) is trying to pick a topic for his doctorate in folk music.  After almost two years of Covid confinement, they're thrilled to be driving through the Appalachian Mountains, sleeping in Beckett's van, while collecting folk music at every stop.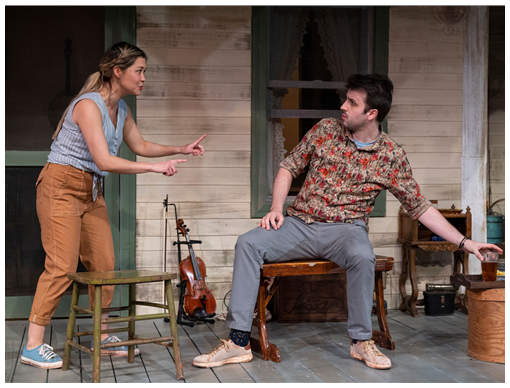 As they travel through North Carolina, they come upon Mira's grandfather's house, which she hasn't seen since she was eight years old.  Mira is noticeably uncomfortable, her grandfather, Edgar (Lutken), is wary and cautious.  Oblivious to the tension, Beckett notices a banjo and starts a conversation about music.  Soon he's running to the van to get his guitar and Mira's violin.  Becket stayed uninvolved in the family angst, choosing to focus on the music.  Whenever things started getting tense, he'd lead the conversation to another song.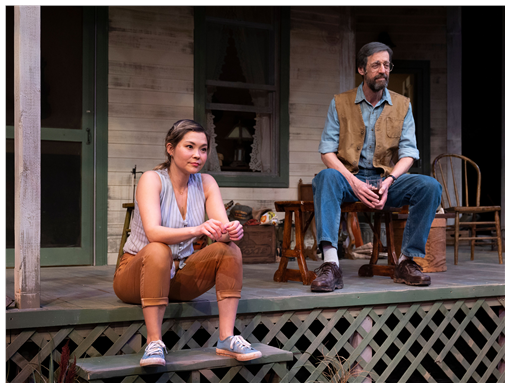 Whenever they started playing, the tension faded away.  My toe started tapping while I listened to these rousing old melodies played on guitar (Beckett), banjo (Edgar) and fiddle (Mira).  All three played multiple instruments – guitar, banjo, violin/fiddle, mandolin.  For a different kind of sound, Mira played a Chinese urdu while Edgar added a harmonica for one song.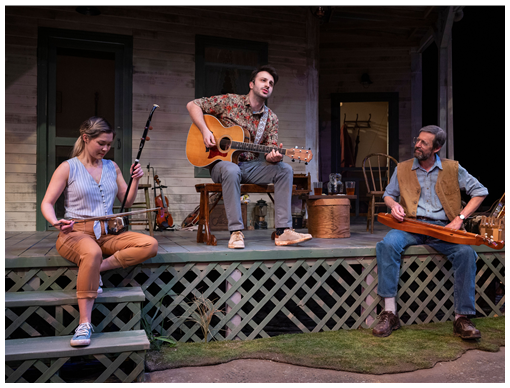 When the confrontation comes, truths come out. Mira hasn't seen or heard from her grandfather since she was eight when her mother left in a huff after an argument.  Mira's father is Korean.  When introduced to him, Edgar, a Vietnam vet, made a remark about the Tet offensive.  Things went downhill from there, until that final argument.  Mira felt that it was about her somehow (as kids do).  She expected her grandfather to smile at her – in spite of the screaming and yelling – but he didn't, and then her mother stormed out, taking Mira with her.    
As a small child, Mira learned to play mountain songs on a tiny violin.  After her parents moved to New York City, she demanded violin lessons.  She went on to study at Julliard and at Interlochen, where she was first chair.  She has often felt outcast and slighted because of her mixed race, but since Covid it's become outright scary to be Asian.   
Edgar was very hurt when his daughter left taking Mira with her which destroyed his family; even more so when his daughter came to her mother's funeral but never spoke to him.  He admitted that he'd called New York once, but no one was home and he didn't leave a message, further infuriating Mira.  Eventually, things calmed down and when it was time to leave Mira and her grandfather agreed to keep in touch.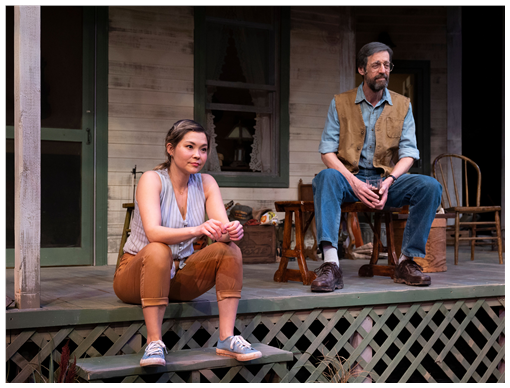 Kudos to Set Designer Mara Zinky, who designed an old-fashioned house with a front porch.  You could even see into the rooms in the house from the windows!  That porch was just as inviting as the one on my grandparents' house.  All the elements I loved were included – especially the swing and the lattice work trim under the floor. 
Note: Guests are encouraged but not required to wear masks while inside the building. 
The Porch on Windy Hill runs through May 14th at Northlight Theatre, North Shore Center for the Performing Arts in Skokie, 9501 Skokie Blvd, Skokie.  Parking is free.  Running time is 2 hours, 10 minutes including an intermission.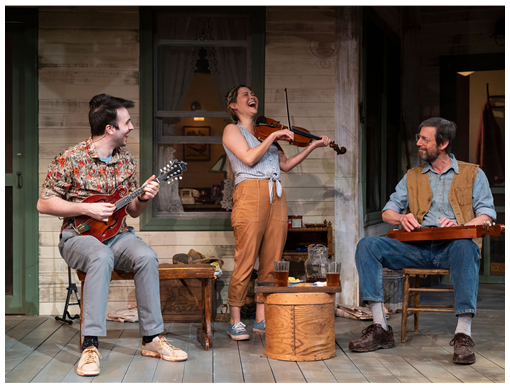 Performances:
Wednesdays at 1:00 & 7:30 pm
Thursdays at 7:30 pm
Fridays at 8:00 pm
Saturdays at 2:30 and 8:00 pm (except May 13th)
Sundays at 2:30 pm
Accessible performances:
Relaxed / Sensory Sensitivity performance, Wednesday, May 3rd at 7:30 pm
Open Captioned/ASL Interpreted performance, Friday, May 5th at 8:00 pm. 
Open Captioned/Audio Described/Touch Tour performance, Saturday, May 6th at 2:30 pm.
Tickets range from $30-$89.  FYI (847) 673-6300 or www.northlight.org