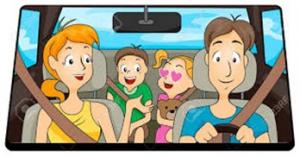 You should never use a rear-facing child safety seat on the front  passenger seat if an airbag is active. Though airbags can save lives, they can be dangerous for babies and small children.  
An airbag inflates almost instantly, in as little as 20 milliseconds, after a crash. The thin nylon airbag gets an immediate injection of hot nitrogen gas, which makes it expand so quickly that it forces it out from the dashboard at about 160 mph (257 km/h). So it poses a clear risk to a baby in a rear-facing seat, who is directly in the airbag's line of fire.  
 Airbags can also be dangerous for children under 12 years if they sit in the front seat. Children's bones and muscles are still developing, and their head is larger than an adult's in relation to their body size, so it's harder for children to maintain an upright position in even a gentle collision. This means that they face a greater risk of coming face-to-face with the blunt force of the bag as it expands.  
Under Indiana state law, children under age 8 must also be sitting in a booster seat and violators can be cited by police.