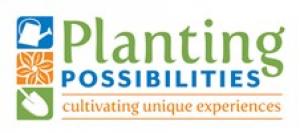 Pre-Order your geranium, heirloom tomato, and pepper plants this year. Free non-contact porch delivery to select areas in Northwest Indiana.
Spring is here and it's time to plan your summer blooms! Planting Possibilities' Annual Geranium and Heirloom Vegetable Sale will be by pre-order ONLY.
We will deliver your geraniums, tomato and/or pepper plants FREE OF CHARGE to your home or business in: Hammond, Munster, Highland, Griffith, Dyer, Schererville, St. John and Crown Point, Indiana and Lansing, Illinois.
Orders must be placed by Monday, April 26 at 5:00pm.
Non-contact deliveries will be made between May 15 and May 22.
The sale includes our own grown-from-seed heirloom tomatoes, peppers  and assorted herbs. 
All proceeds benefit Planting Possibilities.
THANK YOU, as always, for your generous support!
Order Plants Online (Preferred)
Order Plants (Download and Print an Order Form)
Planting Possibilities is a tax-exempt 501(c)(3) nonprofit organization working to provide employment, job skills training and fulfilling opportunities for adults with autism and other developmental disabilities in Lake County, Indiana.
Copyright © 2021 Planting Possibilities, Inc., All rights reserved.
Our mailing address is:
Planting Possibilities, Inc., PO Box 1805, Highland, IN 46322