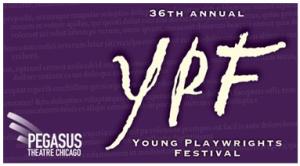 Pegasus Theatre Chicago, now producing the 36th Annual Young Playwrights Festival through January 28, is pleased to announce it has been approved by the National Endowment for the Arts (NEA) to receive a Grants for Arts Projects award of $20,000. This grant will support the Young Playwrights Festival. This grant is one of 1,251 Grants for Arts Projects awards totaling nearly $28.8 million that were announced by the NEA as part of its first round of fiscal year 2023 grants. 
"The National Endowment for the Arts is proud to support arts projects in communities nationwide," said NEA Chair Maria Rosario Jackson, PhD. "Projects such as this one with Pegasus Theatre Chicago strengthen arts and cultural ecosystems, provide equitable opportunities for arts participation and practice and contribute to the health of our communities and our economy."
"On behalf of the Board, the Pegasus staff and all the past and current playwrights, I thank the National Endowment for the Arts for this grant," said Pegasus Theatre Chicago's Executive & Producing Director ILesa Duncan. "The NEA's grant greatly supports our mission of sharing the stories of today's youth while engaging and encouraging their creativity."
The Young Playwrights Festival, the longest running such festival in the United States, has for 36 years engaged and inspired high school students across Chicago by teaching them to craft one-act plays. Under the auspices of Pegasus Theatre Chicago, the winning teen playwrights' productions are work-shopped and staged by industry professionals. The in-school programming that leads to the annual competition enhances language arts, encourages independent, high-level thinking, strong personal values and influences career development for Chicago's teens. The 36th Young Playwrights Festival is currently in production through January 28.  Tickets and more information on the Festival are available at https://pegasustheatrechicago.org/productions/36th-young-playwrights-festival/ . 
For more information on other projects included in the NEA's grant announcement, visit arts.gov/news.
ABOUT PEGASUS THEATRE CHICAGO
Pegasus Theatre Chicago has been a mainstay in the Chicago theater community for more than four decades. Its mission is to champion new, authentic voices and produce boldly imaginative theatre primarily by and about black or other people of color. The company promotes cultural equity while celebrating diversity, inclusion and first voice and is committed to initiating important conversations through the arts with strong community engagement and socially relevant programming, including the Young Playwrights Festival for high school-age scribes, which celebrates its 36th year this season. Pegasus Theatre Chicago has received 77 Joseph Jefferson Awards since its inception.
Destin Lorde Teamer and Anthony Santiago in DEAD MAN WALKING by Elliott Valadez, directed by Enrico Spada as part of the 36th YOUNG PLAYWRIGHTS FESTIVAL by Pegasus Theatre Chicago now playing through January 28. Photo by Anthony Robert La Penna
(L to R) Anthony Santiago and Gabriel Fries in TERMS AND CONDITIONS by Lucas Bigos, directed by ILesa Duncan as part of the 36th YOUNG PLAYWRIGHTS FESTIVAL by Pegasus Theatre Chicago now playing through January 28. Photo by Anthony Robert La Penna
(L to R) Magdalena Dalzell and Destin Lorde Teamer in ANOTHER STAR IN THE SKY by Jonathan Soco, directed by Jason Fleece as part of the 36th YOUNG PLAYWRIGHTS FESTIVAL by Pegasus Theatre Chicago now playing through January 28. Photo by Anthony Robert La Penna