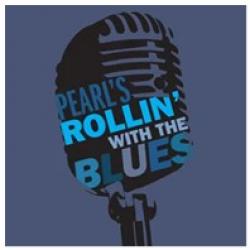 ★★★★★ If you are a lover of the "Blues", Writers Theatre in Glencoe has something special for you! Most Chicago theater audiences are familiar with Ms Felicia P. Fields ( Porchlight's "Blues In The Night", "Let The Good Times Roll" at Northlight and of course "Nothin But The Blues.). She was born to sing the blues and in her new show "Pearl's Rollin' With The Blues" conceived by Ron OJ Parson and Ms Fields and directed to perfection by Parson, you are in for a treat.
Not only does she bring the Blues to Glencoe, she has assembled an amazing group of musicians to back her up. The musical director is Chic Street Man, who also plays guitar and tells us many a story. At the keyboard  the amazing Frank Menzies, on the drums ( Percussion) Harold Morrison , on the Bass, Julie Ponce and you cannot do the Blues of Jazz without a trumpet, so they brought to the stage Ricardo Jiminez who will blow you away!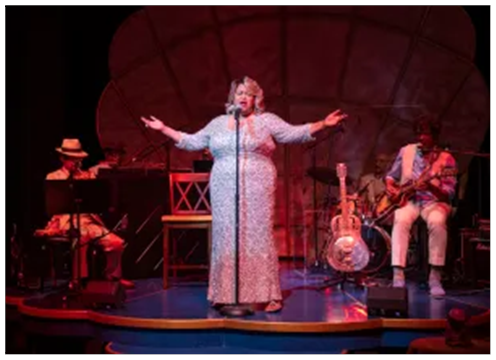 Writers Theatre's Nichols Theater has been converted into a "Cabaret Blues Club, with a runway allowing Ms Fields to talk and play off the audience members as they sit at their tables, ringside! The 15 minutes that she does is funny, and allows the audience to truly get to know her as more than just a singer. Her personality shines through brightly and all of those that she called upon to participate enjoyed every second of this part of the show. They will also have a memory that will never be duplicated. ( so you might try to get one of those tables if you want to be part of the show).
Jack Magaw has designed the set to make you feel that you are not in a theater, but rather in a club. There is even a dressing room onstage. Ms. Fields does take a break and have a few snorts, but let's face it, Jazz, Blues and Gospel all need a little something extra.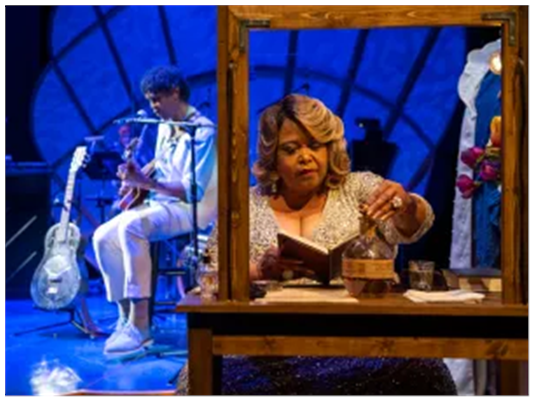 The tech portions of the show are as always sheer perfection. Lights ( Jared Gooding), sound (Eric Backus), costumes ( Rueben Echoles) and props (Rae Watson)- ALL perfect!
The songs are probably unfamiliar to most audience members, but it did not take long for them to get into the swing of the evening, clapping and stomping on cue. The music and the feeling generated by these musicians is contagious. I had never heard "Wang Dang Doodle", "C'mon In MY Kitchen" or "Mess of A Man". But I enjoyed the songs, the music and of course Ms Fields range and personality. Chic Street Man handles a lot of the vocals as well. Ninety minutes of pure enjoyment might be the headline for this one.
Near the end of the set she told us a story about her youth and her move from the South Side to the North Side. Her getting into Von Steuben High in Albany Park ( When I was in High School, this was called "The Country Club"). She told us how her life changed and what she faced. She then related to us how Gospel music and Blues are similar and then did a song "Skin Deep" which tells a story that makes the most sense. I do not believe that anyone in the audience wanted the show to end, but like all good things, the show has to play out and end, but the wonderful thing about this one is that you can come back ( and bring a friend) as it will continue at Writers Theatre thru July 24th with performances as follows: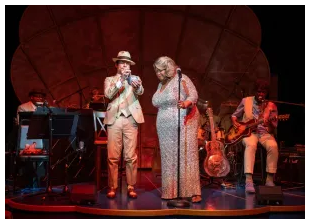 Wednesdays:3:00pm & 7:30pm
Thursdays:7:30pm
Fridays:7:30pm
Saturdays:3:00pm & 7:30pm
Sundays:2:00pm & 6:00pm
Price: $35-$90
Show Type: Musical
Box Office: 847-242-6000
Writers Theater is located in Glencoe at 325 Tudor Court. There is plenty of free parking and there are several spots to dine.
To see what others are saying, visit www.theatreinchicago.com, go to Review Round-Up and click at "Pearl's Rolling Through The Blues"