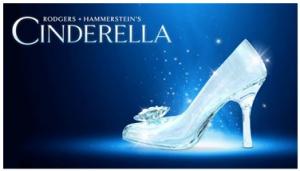 **** Recommended **** As I've come to expect, Paramount Theatre's production of Rodgers & Hammerstein's Cinderella was truly wonderful.  The cast, the costumes, the set, the music were fairy-tale perfect.  If you're bringing a small princess to the show, be aware that this is not the Disney version of Cinderella, the songs are all different and there's no Bibbidy Bobbidy Boo in this show!  It was a joy to watch!  4 Spotlights
Rodgers and Hammerstein wrote Cinderella for television.  More than 100 million people tuned in to watch the broadcast, which starred Julie Andrews on March 31, 1957.  A TV remake in 1965 starred Lesley Ann Warren and Stuart Damon, while a 1997 version starred Brandy Norwood with Whitney Houston as the Fairy godmother.  Several stage adaptations have added songs cut from other R and H shows.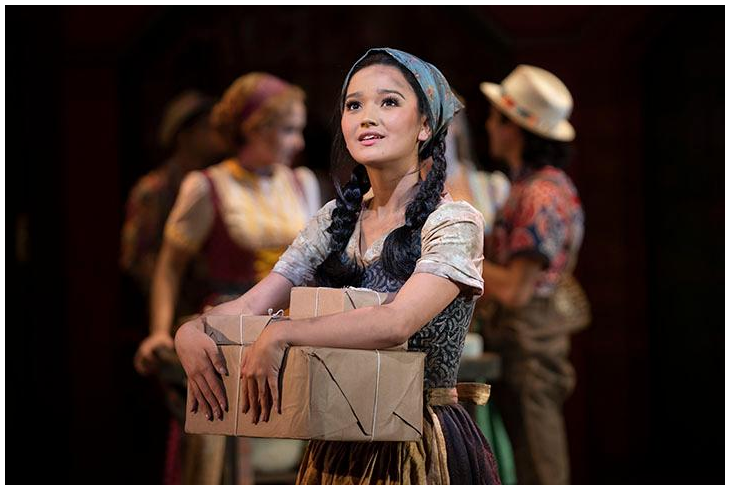 Everyone should know the story, a wicked Stepmother (Sarah Bockel; although Kelli Harrington appeared in the performance I saw) and selfish stepsisters, Grace (Jacquelyne Jones) and Joy (Tiffany T. Taylor) make Cinderella (Mikala Renfrow) into an unpaid servant.  While carrying all of her stepsisters' packages on a shopping trip, Cinderella accidentally bumps into a handsome young man. 
That young man turns out to be Prince Christopher (Markcus Blair) who is very annoyed when Lionel (Lorenzo Rush Jr.) announces that he is throwing a ball.  When he hears that every eligible young lady in the kingdom is invited to attend, he knows it's his mother's idea. 
Back at the castle, he reminds his parents, Queen Constantina (Rashada Dawan) and King Maximillian (Michael Kingston), that he wants to fall in love like they did.  Over his mother's protests, his father promised that if none of the young ladies at the ball suit, he can wait until he finds someone he can love.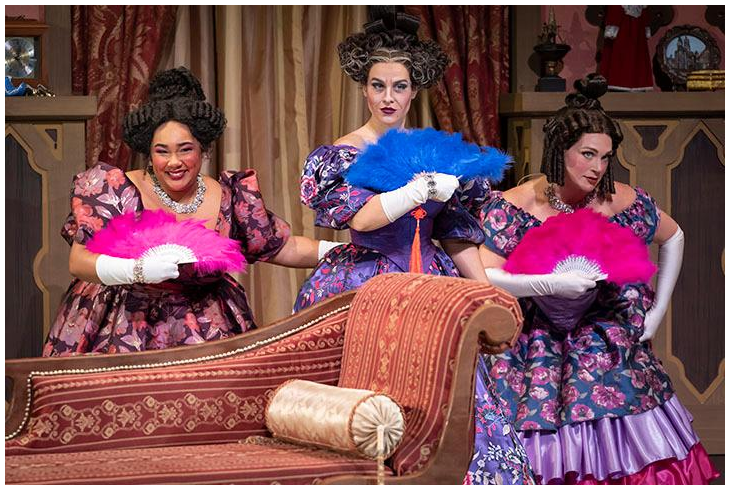 The ball means Stepmother goes into a frenzy of shopping for her daughters.  She just laughed when Cinderella asked if she could go too.  Cinderella secretly alters her mother's dress while Stepmother tries to teach her stepsisters how to charm the prince.  They're too busy bickering with each other to learn much, however.  By the way, kudos to Costume Designer Theresa Ham for their truly hideous ball gowns. 
Finally, Stepmother, Joy and Grace are ready to go to the ball.  When Cinderella, wearing her mother's dress asks to go, Stepmother tears it apart. 
It's impossible, Cinderella told her only friends, the cat and the mice.  At that time, her jazzy Fairy Godmother (Jerica Exum) strolls in and transforms Cinderella.  With a word, her work dress transforms into a ball gown – and she has glass slippers for her feet. 
Favorite songs: In My Own Little Corner; It's Possible; Ten Minutes Ago and Do I Love You Because You're Beautiful? 
Note: Guests must show proof of vaccination with photo ID before entering the theater.  Guests are required to wear masks while inside the building.
Cinderella runs through January 9th at the Paramount Theatre, 23 East Galena Blvd, Aurora.  Valet parking is available, plenty of street parking too.  Running time is 2 hours with an intermission. 
Performances are Wednesdays at 1:30 and 7:00 p.m.; Thursdays at 7:00 p.m.; Fridays at 8:00 p.m.; Saturdays at 3:00 and 8:00 p.m.; Sundays at 1:00 and 5:30 p.m.  Added performances are Thursday, December 30th, at 1:30 p.m. and Thursday, January 6th at 1:30 p.m.  Show time Friday, December 31st (New Year's Eve) is 3 p.m.  No shows Thursday through Saturday, December 23rd-25th (including Christmas Eve and Christmas Day), and no evening show on Thursday, December 31st (New Year's Eve).
Tickets range from $36-$76.  Cinderella is suggested for ages 5 and up.  FYI (630) 896-6666 or www.paramountaurora.com.