Opportunity Enterprises (OE) was presented with a check from the Cleveland-Cliffs Foundation for $25,000. The funds are part of the Foundation's annual grant program. OE's president and CEO Neil Samahon said the award will help fund the installation of an accessible kayak launch at the disability service organization's Lakeside property at Lake Eliza.
"Cleveland-Cliffs is a huge presence in this area, and we're extremely grateful for their support. This is a really cool project that will make it possible for many of our clients to get out on the water for the first time." Samahon said, noting that this is the first time the two organizations have partnered. "To come in with such a large award really speaks to their commitment to supporting diverse initiatives that improve our communities. We hope this is the first step in a long relationship that benefits the people we serve."
The award comes after the Foundation revitalized its philanthropic priorities to focus more on projects that grow healthy, vibrant communities 
Once installed, the kayak launch will be available to OE clients, including those utilizing the organization's new Respite Center and campers participating in OE's Camp Lakeside, a summer day camp for children of all abilities.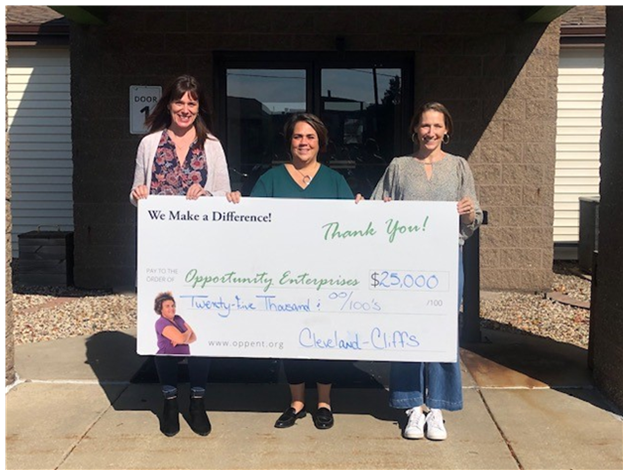 From left, OE Chief Development and Communications Officer Kacie Ensign, Cleveland-Cliffs Senior Community Relations Rep Raeann Trakas and OE Associate Director of Major Giving Jane Kobak.
About Opportunity Enterprises
For 55 years, Opportunity Enterprises works to maximize self-sufficiency and enrich the quality of life for individuals with disabilities. OE is in the business of amazing people, serving more than 1,000 people with disabilities in Northwest Indiana with over 350 staff and hundreds of volunteers. To learn more about OE or to support the organization by volunteering or making a gift, call (219) 464-9621, or visit www.oppent.org.