For the 14th year, Friends of Opportunity Enterprises (OE) will host its annual One Amazing Golf Outing on Monday, August 30, 2021 at Valparaiso Country Club. For the fourth year, Senator Ed Charbonneau continues as the event's Title Sponsor!
Additional dedicated sponsors for this year's outing also include: Urschel Giving, Chester, Inc., 1st Source Bank, Alexander Chemical Corporation, First Merchants Bank, NIPSCO, Steel Cities Steels, Inc., and Thorgren Tool and Molding Co.
"The golf outing sells out every year because this is a great way for businesses to highlight their philanthropy supporting Opportunity Enterprises mission of working to maximize self-sufficiency and enhance the quality of life for individuals with disabilities. It also is a great way to enjoy a day out of the office," states Chris Runnion, golf outing chair and OE board member.
The outing is a scramble golf fomat and all golfer's will enjoy one round of golf, a grab and play lunch, beverages during golf, and photo keepsake. For the second year, OE's One Amazing Golf Outing will offer morning and afternoon flights. Morning flight begins with registration at 6 am and a 7am shotgun – with morning golfers enjoying a continental breakfast. Afternoon flight begins with registration at 11:30 am and a 1 pm shotgun start and includes dinner. Additional golf carts are available for purchase to encourage social distancing.
Several participation and sponsorship levels are available. To register, visit: oppent.org/golf. For more information, contact OE Events Specialist, Amy Wulf, by calling (219) 464-9621, Extension 333 or by emailing amy.wulf@oppent.org.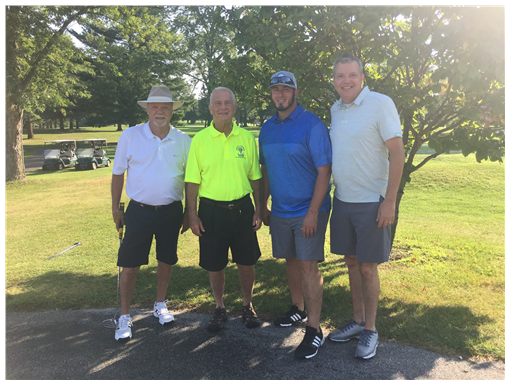 From L to R: Last year participants enjoying OE's One Amazing Golf Outing – Damon Dutz, State Senator Ed Charbonneau, Chris Gonzalez and Valparaiso Fire Chief Chad Dutz.
About Opportunity Enterprises
For more than 50 years, Opportunity Enterprises works to maximize self-sufficiency and enrich the quality of life for individuals with disabilities. OE is in the business of amazing people, serving nearly 1,500 people with disabilities in Northwest Indiana with over 350 staff and hundreds of volunteers. To learn more about OE or to support the organization by volunteering or making a gift, call (219) 464-9621, or visit oppent.org.