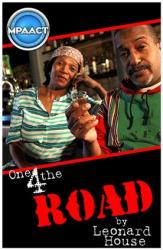 Ray Haskins (Darren Jones) is the second-generation proprietor of the bar that bears his name. Ray is a man who has experienced more than his fair share of loss and he seems to be trying to hold onto the past instead of moving forward. Not only is Ray still mourning the death of his wife but he is now dealing with the recent tragic events that robbed him of his son Teddy, a victim of gun violence.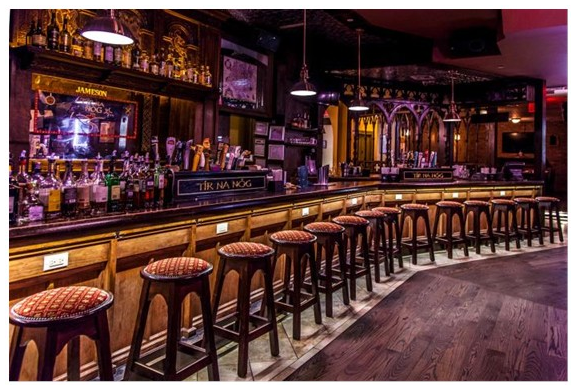 This being 1972, Ray is desperately trying to adjust to the rapidly changing social landscape surrounding him as his business struggles within his economically unstable neighborhood and a fractured community at large. Helping him along the way and preventing him from drowning in his own sorrow is Henry Slocum (Donn Carl Harper), a somewhat rascally old-timer who is a regular at Ray's and who also helped Ray's father, Big Ray, build the bar brick by brick some twenty years previously. Another patron who frequents the bar is Lizzie Tucker (Tina Marie Wright), a smart and spunky independent woman who may just possibly have a romantic interest in Ray.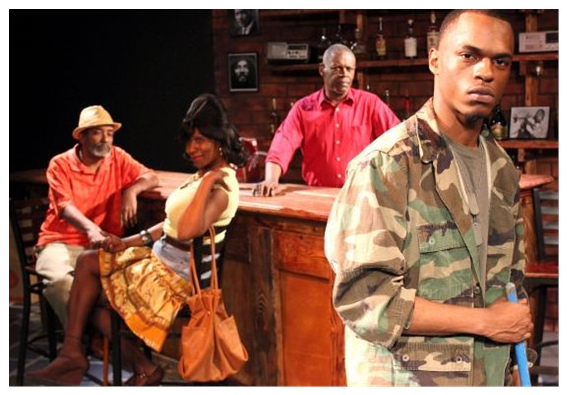 When a young Vietnam veteran stumbles in for a cold beer and some friendly conversation, he quickly realizes that Ray is understaffed, and inquires about the possibility of a job. This young man is named J.D. Youngblood, but prefers that people call him Blood (Omari Ferrell). Blood has been coasting from one couch to the next but has tired of relying on his friends for housing and soon Ray offers him the vacant bedroom upstairs above the bar, which was Teddy's old room. Blood turns out to be a hard-working and loyal employee but he suffers from the debilitating effects of PTSD.
Also periodically appearing at the door to Ray's is a mysterious young woman who Ray denies entry and whom he refuses to speak with, often times becoming enraged upon seeing her. She is Dana (Delysa Richards), who was a childhood friend of Teddy's and may have some vital details surrounding the circumstances of his tragic death.
First-time playwright House has crafted a nicely structured narrative but perhaps the addition of one or two more characters -- either as patrons of the bar or the personification of the character of Black, who is the local ganglord who is intimidating Ray -- would help to make this feel more fully formed and ultimately more satisfying. Director Runako Jahi has elicited very strong and natural performances from the three veteran actors (Jones, Harper and Wright) but it is the two young characters played by Ferrell and Richards who are the emotional core of this play.
Thankfully, House is wise enough to end his inaugural script with a pertinent message that addresses how it may be possible to break the cycle of violence. Retaliation is not the answer and the bonds of friendship can and should save you when you face dire situations. The final scene, which is touching, has Lizzie presenting Ray with a very appropriate and thoughtful gift as a form of a peace offering.
Cheers.
_____________________________________________________________________________
"One for the Road" runs until June 2, 2019
The Greenhouse Theatre Center, 2257 North Lincoln Avenue, Chicago, IL  60614
Box Office: (773) 404-7336 or Website: www.mpaact.org
All Show Times: All Thursday to Saturdays at 8:00 PM, All Sundays at 3:00 PM
Mainstage: $22 to $40 single tickets. Group tickets available
Running time is approximately 90 minutes with no intermission.