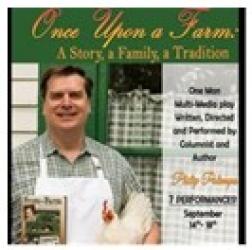 Once Upon a Farm: A Story, a Family, a Tradition was truly a one-man band, multi-media, production. Phillip Potempa wrote and directed the play, designed the set, and was the performer. This production seemed to come straight from the heart as Potempa shared his family stories and traditions though conversation and multi-media means.
An optional meal (at an additional cost) is served prior to performance in the ballroom. People in theater line before the show said the food was excellent and raved about the pumpkin bread, (from a recipe featured in one of Potempa's several cookbooks). Potempa demonstrated the preparation of the bread during the performance.
Family photos and stories brought  farm life experiences to life. The Potempas, a Polish immigrant family,  first came to Chicago and then moved to their Indiana farm in the 1920s.  Potempa took the audience on a history tour of the farm through stories and photos.
The set consisted of a farm kitchen and living room with lots of attention to detail. Music from the Walton's television show played in the background to set the stage taking you to the farm. Photos of the family farm and Potempa's family helped to connect the audience. Several segments involved audience participation that further engaged the audience.  A realistic robotic cat, which sat center front of the stage, stole the show at times, seemingly reacting on cue to some of Potempa's comments.
One segment involved an old-time radio. The static, although realistic for an old-time radio program, became a little annoying as the sound was somewhat too loud.  (When this issue was mentioned, Potempa said that it would be addressed for future performances.)
I especially loved the production because it brought back memories of visits to my Aunt Bonnie and Uncle Jim's farm in Missouri. An older woman in the audience commented during intermission, "This was our era. Young people should see this to learn about our times back then."
During the 15-minute intermission, audience members had the opportunity to visit the Farm Market Stand in the lobby to purchase items such as Potempa's cookbooks, jams, jellies, mint oil, and bird houses.
Potempa stressed that the early years are impressionable, and family traditions play a huge role in what that child becomes later in life. He gave examples of how growing up on the family farm affected his own journalistic/media career path. During the performance, Potempa recognized both his  former kindergarten and fourth grade teachers who were in the audience along with his parents, Chester and Peggy Potempa, and other family members.
I enjoyed my "visit" to the farm and would give Once Upon a Farm: A Story, a Family, a Tradition 4 out of 5 home-spun spotlights. Treat yourself to a trip to the farm! The show runs September 14 through 18 at Theatre at the Center at 1040 Ridge Road in Munster, Indiana.  Visit www. theatreatthecenter.com for more information.
Framed by two favorite smiles of my previous newsroom Features Dept editors on the "Once Upon a Farm" stage landscape
Thank you Crista Zivanovic and Robert Blaszkiewicz for sharing audience applause tonight.  Photo provided by Phil Potempa